Mac sales and the PC decline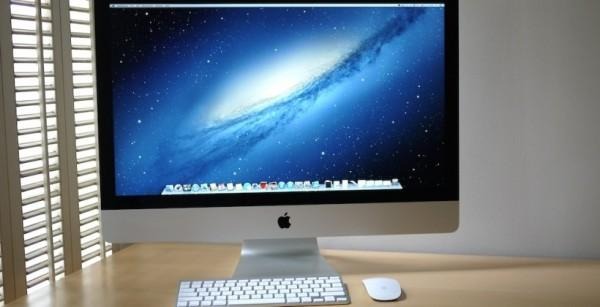 PC sales have been on a steady decline, and the reasons for which have largely been attributed to increased adoption of tablets and ever-larger smartphones. Both IDC and Gartner have shown largely similar numbers in terms of PC sales, and Gartner has recently shown a blip of health in PC growth, but Asymco's Horace Dediu has pointed out that uncoupling Mac shipments from non-Mac PC shipments hints at a bigger story.
Gartner showed a slight increase in PC shipments in the second quarter of this year — 0.1-percent. When Mac numbers are removed from this tally, Gartner's Windows PC figures alone result in a -0.8% growth in shipments, Dediu points out. The difference between Mac growth and PC growth when separated is best represented in the accompanying graph: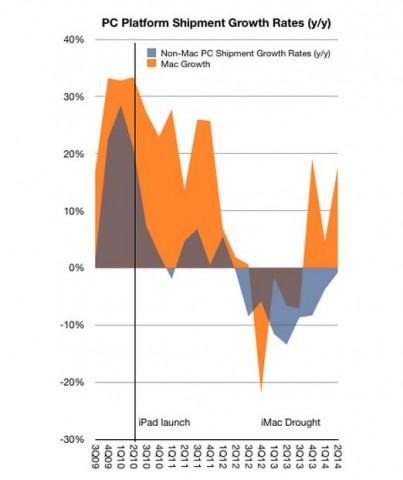 Apple saw faster growth with Mac for 31 of 32 quarters, the single stumble being attributed to the 2012 iMac production debacle. The numbers show that changes in PC shipment growth as of late aren't harming Mac's growth, and in an effort to get a better look at the data, Asymco put together a handful of graphs showing shipments, revenues, and margin.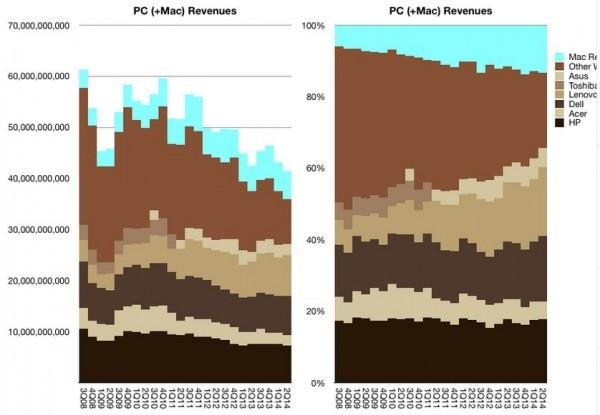 According to these six data charts (you can see them all via the link below), non-Mac PC revenue has been on the decline for about four years while operating margin has dwindled. In contrast, Mac has seen the most profits, and says Dediu, "is nearly the highest revenue PC brand." At the heart of the matter is this question, based on the Gartner numbers: "is the PC back?" When looking at the figures in the absence of Mac sales, the answer seems to be "no".
SOURCE: Asymco