Surface Mini in 2014 insiders say as Xbox One soaks up Windows devs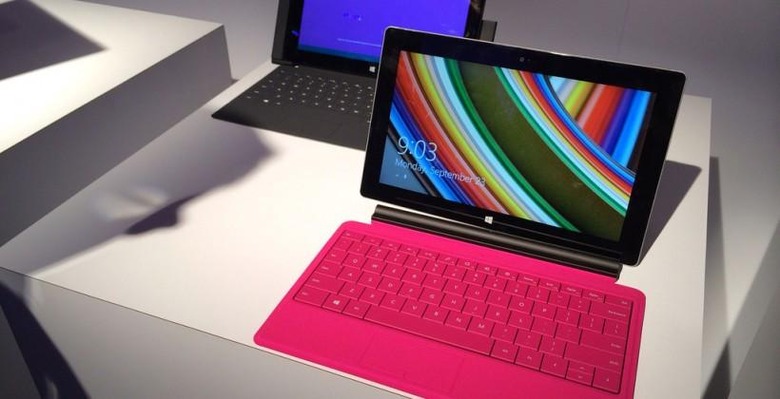 Microsoft's Surface Mini, the smaller version of the Windows tablet, is not expected to launch until 2014, insiders claim, with the software company supposedly waiting on a new version of the OS. The tablet will run Windows RT on an ARM processor, ZDNet's sources insist, but won't hit stores until the so-called "Spring 2014 GDR" update to Windows 8.1.
The Spring 2014 GDR – or "General Distribution Release" – is said to "align" with Windows Phone "Blue", Microsoft's next significant refresh to its smartphone platform. Exactly what "Blue" will offer is unclear at this point.
According to arch-insider Mary Jo Foley, the goal for Microsoft is to make the Spring 2014 GDR launch the big demonstration of the newly-combined operating system division. The update to the platform will be synchronized with the release of Windows Phone Blue and the Surface Mini; there's also chatter of a harmonized Windows Store and Windows Phone Store.
Hardware details for the smaller tablet aren't clear, with speculation that the touchscreen could range between 7- and 8-inches. It's expected to use the same VaporMg chassis construction technology as the original Surface and the second-generation hardware revealed earlier this week.
As for why Microsoft is holding off on both the Spring 2014 GDR and the Surface Mini, the Xbox One might be to blame. Microsoft has supposedly shifted some Windows developers over to temporarily work on its next-gen console, so as to meet the ship date later this year.
One possibility previously rumored is that Microsoft intends the smaller Surface to be positioned as a companion device to the Xbox One. Chatter back before the console was officially announced was that the Surface Mini would operate as a second-screen to gameplay on the Xbox One, building on the existing SmartGlass technology.