Surface 2 Review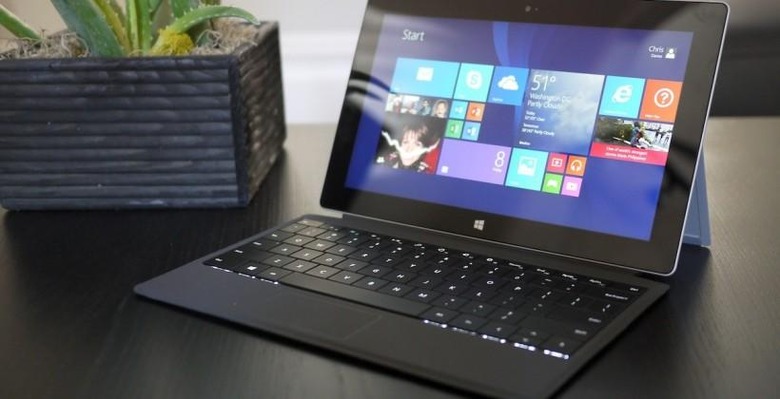 Microsoft really, really needs the Surface 2 to succeed. Praise around the first-generation Surface RT's hardware and design was tempered with more than a little criticism of Windows RT, and confused consumers left tablet manufacturers focusing on Windows 8 until only Microsoft's slate was left running the pared-back version. The Surface 2, then, aims to give Windows RT a second chance, but is Microsoft finally onto a winner or simply flogging a dead horse? Read on for the SlashGear review.
Hardware and Design
At first glance, not much has changed between the original Surface RT and this Surface 2. The finish is now silvery-gray, reminiscent perhaps of a battleship, and in fact military hardware is an apt comparison given the above-par build quality. Microsoft's VaporMg chassis is sturdy, has beautifully crisp edges, and generally feels like you could run a tank over it without slowing it down.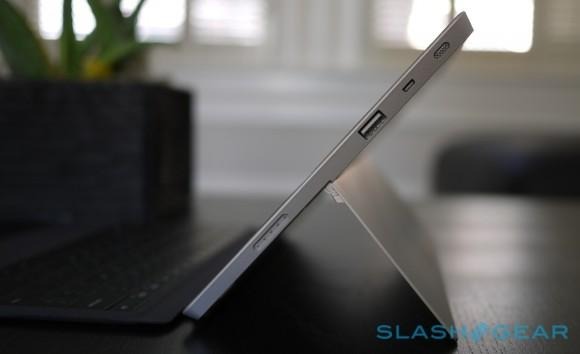 Compared to the first generation model, Surface 2 is slimmer and lighter, now down to 1.49 pounds and 10.81 x 6.79 x 0.35 inches. The useful kickstand on the back now clicks into two positions, not just one – either 24- or 40-degrees – and still spans the full width of the tablet, meaning you can prop it up on your knees; some alternatives we've seen, such as the stand on the Sony VAIO Tab 11, are so narrow that while they work on a desk, they don't on your lap.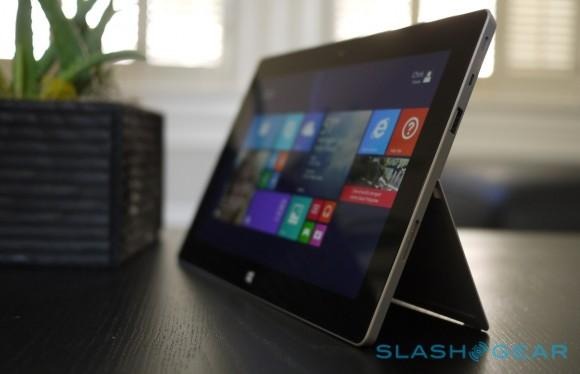 Unfortunately, that no-compromises construction means going mobile with Surface 2 can be a tiring experience. It's heavy for extended use holding it one hand, while the 16:9 aspect screen means that it's long and relatively narrow, making portrait use unwieldy. Compared to Apple's iPad Air, which at under a pound is about a third less in weight than the Surface 2, we know which one we'd rather carry for a full day, or hold while on the move.
Buttons and ports are minimal, with power and volume keys, a single USB 3.0, microSD card reader, headphone jack, and a video output for a second display, together with the proprietary docking port to which Microsoft's various keyboard covers cling to. We tried the $129.99 Type Cover 2, which has discrete keys that are now backlit for more flexibility; despite the relatively short travel, it's surprisingly useful at bringing typing up to laptop-like speed. $119.99 gets you the Touch Cover 2, which is thinner by virtue of sacrificing physical keys for virtual ones – still backlit – that are printed on.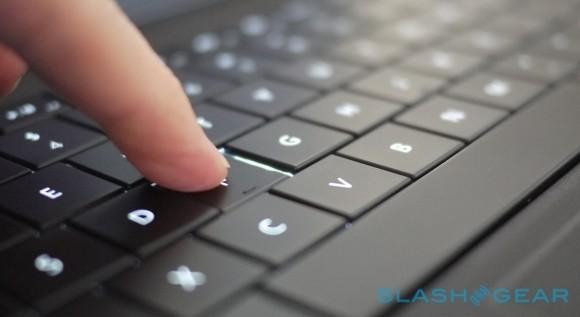 The biggest changes are to the display and what's keeping the Surface 2 ticking. The first model had a 1366 x 768 resolution, 10.6-inch screen, and Microsoft used its ClearType HD smoothing technology to try to squeeze out more detail than the panel itself necessarily supported. It met with mixed responses, however, with some complaints of fuzzy text or even headaches after prolonged use.
For Surface 2, Microsoft has taken a more straightforward approach and borrowed the 1920 x 1080 Full HD display from the Surface Pro 2. It's bright, colors are vivid and accurate, blacks inky, and viewing angles huge; paired with a good set of stereo speakers peeking out of small grilles inset into the edges and you've got a fantastic media tablet.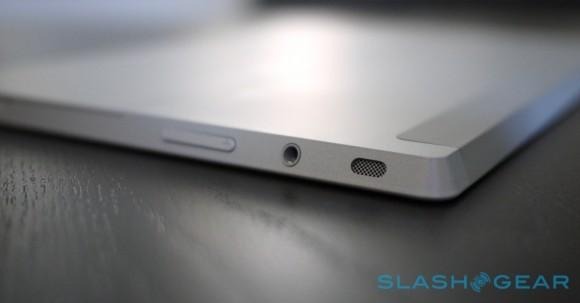 Inside, NVIDIA's Tegra 4 quadcore snuggles up to 2GB of memory, an upgrade from the Surface RT's Tegra 3 chipset, together with a choice of 32GB or 64GB of storage (that can be expanded using that memory card slot, and Microsoft throws in 200GB of SkyDrive storage for two years). There's also WiFi a/b/g/n and Bluetooth 4.0 – though still no LTE option, unfortunately – and a clutch of sensors: ambient light, an accelerometer, gyroscope, and digital compass.
The cameras have been upgraded too, with a 3.5-megapixel camera on the front and a 5-megapixel camera – still angled slightly upwards, for better framed shots when the Surface 2 is resting on its kickstand – on the back. Two microphones round things out with noise cancellation during Skype calls or video recording.
Software and Performance
Software was always the Surface's Achilles heel. Windows RT looked like Windows 8, but it wasn't Windows 8, and that fact along with its incompatibility with regular Windows apps meant the designed-for-ARM flavor of the OS confused more than it delivered. Not helping matters was the fact that the preloaded Office for RT suite ran in an environment that looked like the regular Windows desktop, but which only worked for the specially created versions of Word and the other apps.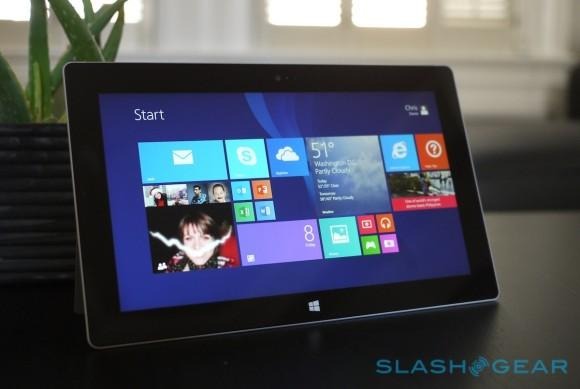 On the Surface 2, things are improved but still not perfect. The OS – now Windows RT 8.1 – now comes not only with Word, Excel, PowerPoint, and OneNote, but Outlook too, making it a far more realistic prospect for business users, but they're still traditional Windows-style apps, rather than matching the more finger-friendly Metro-style interface the rest of the tablet sticks to.
Still, otherwise there are plenty of beneficial changes. Bing search is now system-wide and far more useful as a result, indexing everything – apps, documents, and media – across the tablet and the SkyDrive storage, and presenting them in an easily navigable results page. There's also support for not only having two apps on-screen simultaneously, but adjusting how much room each gets; Surface RT was fixed in a narrow 80/20 column for split-screen use.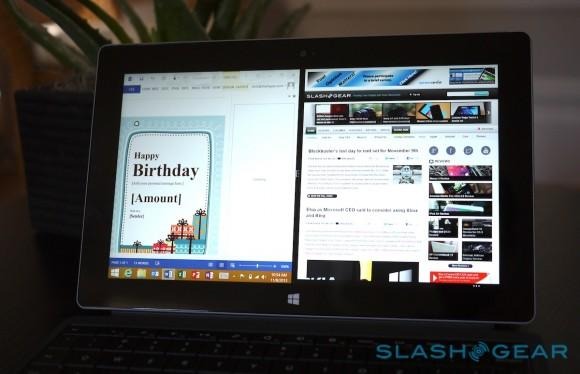 Microsoft is pushing Skype harder, too, and includes a year of unlimited calls to landlines not to mention WiFi hotspot access at 2m locations worldwide for the same period. Apps are easier to access with a full icon-based launcher, and there's support for more widget sizes on the homescreen. Mail has been redesigned – much for the better – and there are new Food & Drink and Health & Fitness apps, covering recipes and exercise tracking respectively.
The end result is an OS that feels much more cohesive to use, though there's still a familiarization period to get used to the gestures like pulling in the multitasking bar or the function bar. It's fast, too, NVIDIA's chip keeping things moving along without hesitation, and we were able to multitask, play 1080p YouTube video, and browse across multiple IE11 tabs with no problems. The usual Windows benchmarks still lack RT versions, but the SunSpider test of Javascript performance in the browser marks the improvement: down to just 390.5 ms versus 1,128.0 ms on the original Surface (faster is better).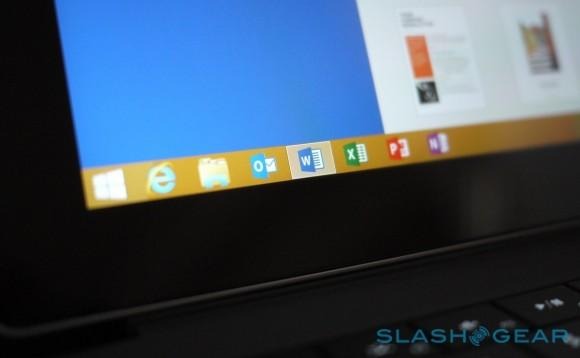 The other lingering frustration is third-party application support. Windows in general has plenty of software, but the absence of backward compatibility in Windows RT means only specially written titles will work on the Surface 2. Matters have improved since the first model's launch, but RT's patchy reception hasn't exactly filled developers with confidence that the OS is the best horse to back in tablets, and Microsoft has had to fight to persuade the key names to get onboard.
That's still a work-in-progress, and if you head into the Windows Store expecting the same breadth of titles that you'd find in the App Store for iPad or Google Play for Android tablets, you'll be disappointed. Want Chrome, or Firefox, or another big name browser other than Internet Explorer? Sorry, they're not there. Neither is an official Tumblr or Instagram app, though you'll find several unofficial titles trying to deliver the same functionality, and Google Maps addicts will have to sate themselves in the browser, since Google doesn't have a standalone app for RT.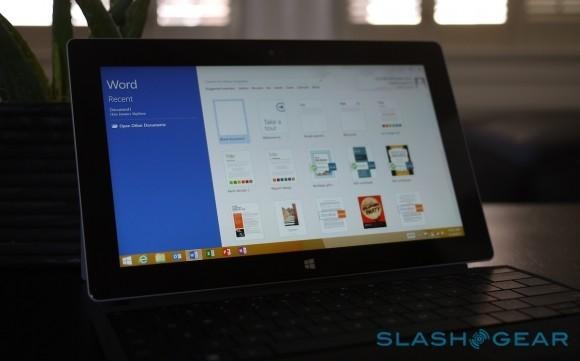 As on Windows Phone, it feels like games are one of the common points where Windows RT 8.1 misses out. Popular titles like Candy Crush are absent – instead, you get multiple "guides" and other keyword-focused fudges – while other applications often lack the breadth of features that their iOS and Android counterparts offer. You get better integration of Xbox Music into search, but there's still no Spotify client.
It's better than it was before, and it continues to get better, but Microsoft still has some way to go before Windows RT can offer the same thriving third-party app ecosystem that its rivals deliver.
Battery
Microsoft claims a bump in battery life from the Surface 2, now up to ten hours of video playback (versus a claimed eight on the first-gen model) or 7-15 days of standby. We're used to taking Windows laptop and tablet battery boasts with a heavy pinch of salt, but Surface 2 actually lives up to its billing: left to play constantly looping video at mid-brightness levels, it actually exceeded the ten hour estimate.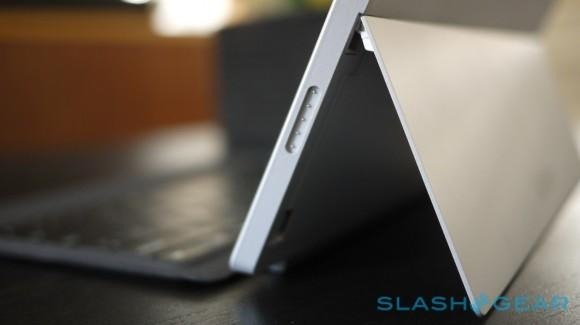 More mixed use, meanwhile, saw that drop somewhat, unsurprisingly. With a combination of media playback, some document editing, and browsing, we generally got just over six hours of use out of the Surface 2 before it needed to be recharged. It's not bad, but it's well short of the 10+ hours the iPad Air offered us.
Value
$449 gets you the Surface 2 with 32GB of storage; expect to pay $100 more if you want to double that to 64GB, though it's undoubtedly cheaper to add a 64GB microSD card instead. You don't get a keyboard cover in the box, however; Microsoft will sell you the Touch Cover 2 for $119.99 or the Type Cover 2 for $129.99, and we'd be tempted to opt for the latter.
The original Surface RT is still available, priced from $349, though the improvements in the display and performance in the new version mean we'd recommend paying the $100 more for it. Still, you get Windows RT 8.1 on both, as Microsoft has released an update for the original. The Surface Pro 2, meanwhile – which is a full PC, complete with a digital stylus – starts at $899.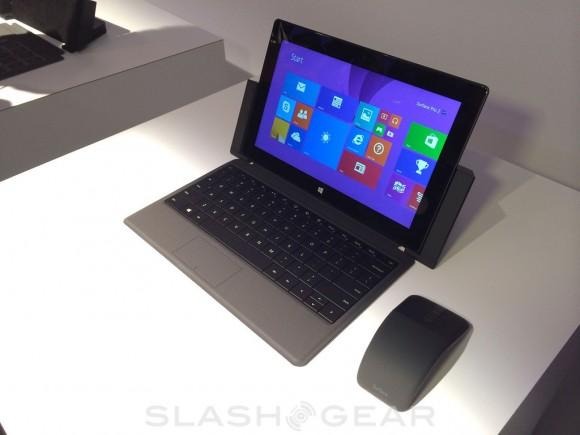 In contrast, the iPad Air is $599 for the WiFi-only, 32GB model. That's a fair difference in price – though Apple does have a 16GB version for $499 – though whether the saving is worth it depends on what you expect to do with your tablet. Throw in the Touch Cover 2 and the Surface 2 is, at $579, a capable research and office work machine, just as Microsoft's commercials promise.
We'd take issue with the idea that the iPad Air (which we reviewed last month) can't be used for business purposes – there are plenty of decent aftermarket keyboards for it, after all – and the much broader application support shouldn't be overlooked. Battery life is better, too, and although Microsoft makes much of its integration between Windows, Windows Phone, and Xbox, we're still yet to see a killer application that truly encourages adoption of all three platforms.
Even if the Windows argument has convinced you, the Surface 2's primary competition may well be tablets running Windows 8. The Surface Pro 2 may be considerably more expensive, but Dell's Venue 11 Pro – which runs full Windows on a frugal Bay Trail processor and a Full HD display – starts at $499. Even cheaper is the ASUS Transformer Book T100, priced from $349 including a keyboard dock and 32GB of storage, and while it's heavier altogether than the Surface, it's considerably more affordable.
Wrap-Up
Is the Surface 2 better than the original Surface RT? Certainly: the screen is a huge improvement, the processor faster, and Windows RT 8.1 has lost a lot of its rough edges. The third-party software issue remains, albeit abated somewhat, and we still admire the crisp design and excellent build quality.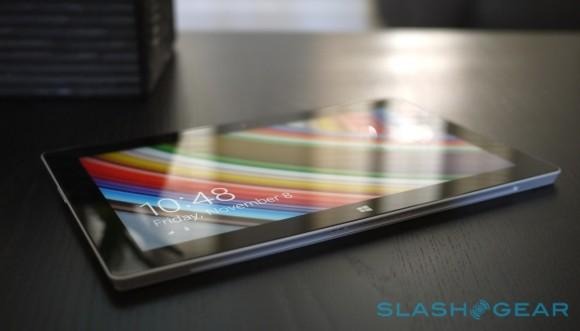 The challenge the Surface 2 faces has evolved in the meantime, though. Party lines for iOS or Windows are pretty much decided – most people, if they're considering Surface, know if they want one or the other – and in fact the main competition to the updated slate comes from within the Windows ecosystem. In abandoning Windows RT, Microsoft's OEM partners have instead focused their efforts on lowering the prices of full Windows 8.1 tablets, to the point where it's now more affordable to get the complete version of the OS running on Intel's excellent Bay Trail platform (for ARM-style levels of runtime).
That's overall a net win for Microsoft, arguably, but it leaves Surface 2 in a difficult position. What it does, it does well, but for the most part the other options out there are either cheaper or better.