Supreme Mophie Juice Pack Air drops for your iPhone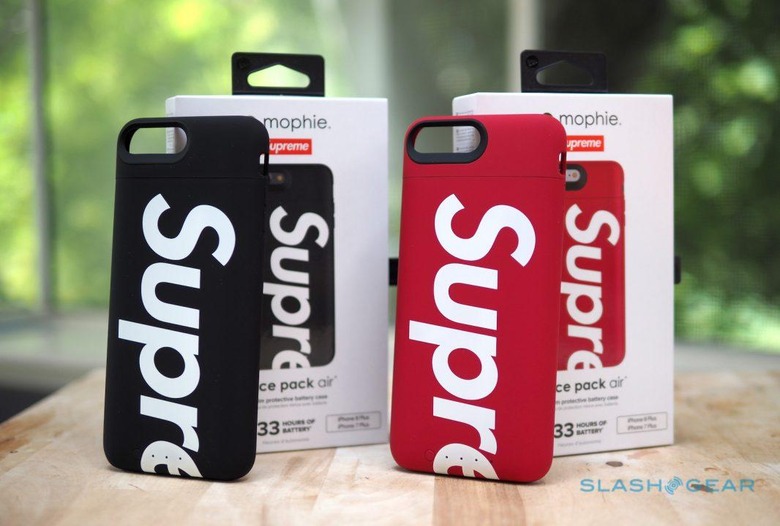 Mophie and Supreme have pushed out a new collaboration, with a new Supreme/Mophie Juice Pack Air for Apple's iPhone. The battery cases are part of Supreme's Fall/Winter 2018 collection and, as you'd expect from the streetwear brand, the company logo takes center stage.
In fact, there's more logo than there is Juice Pack Air casing to print it on. Two colors are being offered, black and the traditional Supreme red. Both have a matte, soft-touch body, with the logo screen printed on top.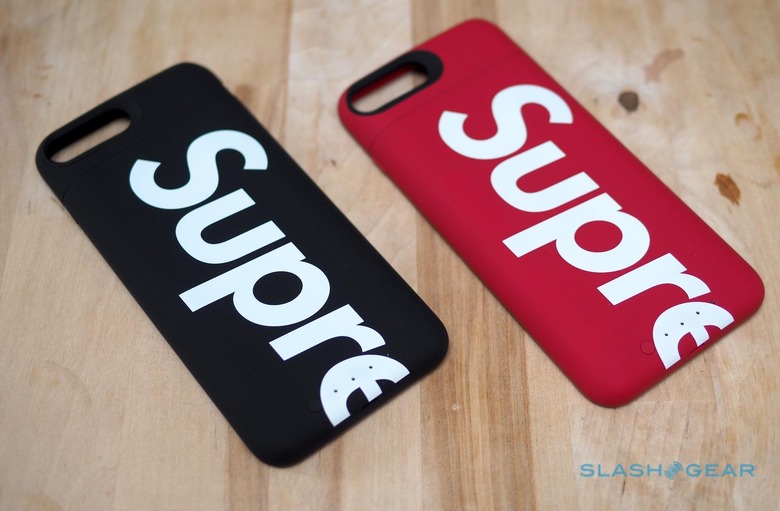 There are versions for the iPhone 8 and iPhone 7, and for the iPhone 8 Plus and iPhone 7 Plus. On the specs side, there's no real difference to the regular Mophie Juice Pack Air models. For the smaller case, that means a 2,525 mAh battery, which delivers up to 27 hours of talktime.
The larger Juice Pack Air for the iPhone 8 Plus and iPhone 7 Plus, meanwhile, gets a 2,420 mAh battery. That, Mophie says, is good for up to 33 hours of talkative, 20 hours of web browsing, 22 hours of video playback, or 94 hours of music playback. Both sizes of battery case use a microUSB port to recharge, unlike Mophie's more recent external battery packs which have Apple's Lightning connector.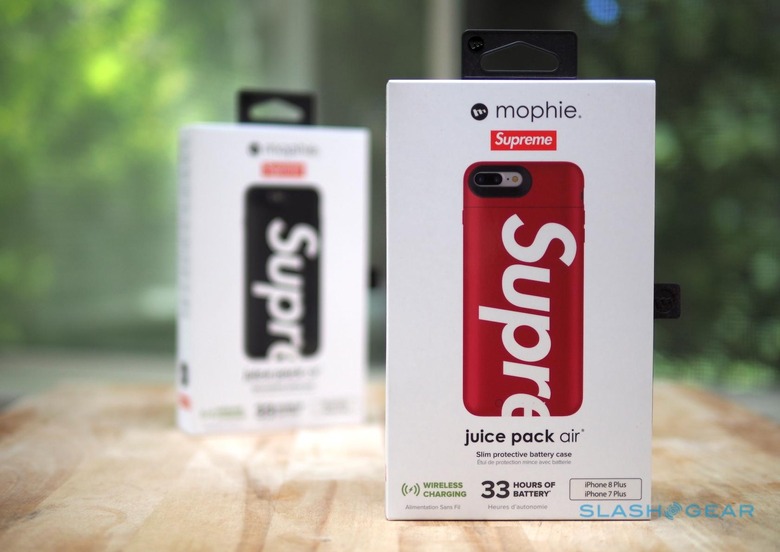 This isn't Mophie and Supreme's first dance. Back in early 2017, the two companies collaborated on a Supreme-branded Mophie Powerstation Plus Mini, for example. As is the case this time around, there's a price premium for getting the Supreme brand. A regular Juice Pack Air, for instance, is $99.95.
One advantage to using a Juice Pack Air is that it has wireless charging support. That's not such a big deal for iPhone 8 and iPhone 8 Plus users, who have native Qi charging support. If you're a hypebeast with an iPhone 7 or an iPhone 7 Plus, though, slotting your smartphone into one of these Mophie cases will add wireless charging to it too. Mophie still doesn't have an iPhone X Juice Pack Air, if you're wondering why Apple's current flagship isn't being catered for.
Of course, given just about anything with the Supreme logo sells out effectively moments after being put up for sale, your chances of finding either the black or red versions of the Mophie Supreme Juice Pack Air are slim. Sales of the Plus-sized models kicked off on Supreme's site earlier today, and promptly sold out. Sticker price for each color is $128, but expect to pay significantly more than that on the resale market.