Super-sized Tesla Supercharger stations go live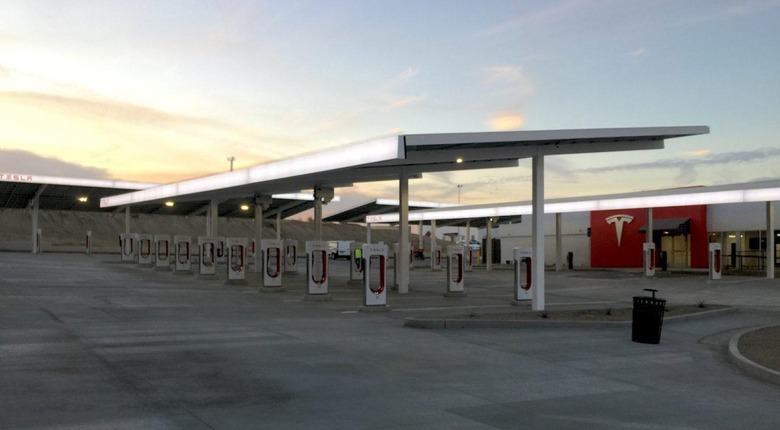 Tesla might be building up to its big electric truck reveal tonight, but at the same time it's also readying its largest ever Supercharger stations in the US. Two of the new, supersized charging stations have reportedly come online, both in California, and offering Tesla drivers more capacity and a nicer place to wait.
Images of one of the new Supercharger locations, in Kettleman City between Los Angeles and San Francisco, were shared with Elektrek this week. Most notable is the sheer number of charging points. Rather than the handful that most locations offer, there are forty Superchargers available to help cut down on peak waiting times.
It's not just the Kettleman City location that's ready to open, however. A second, similarly large site at Baker, between Los Angeles and Las Vegas, is also going online.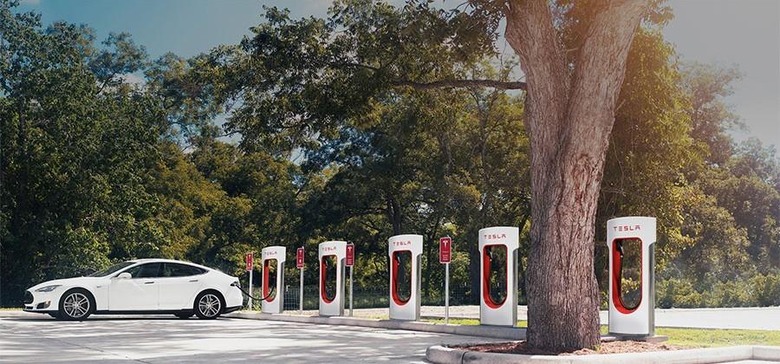 Both depart from the current style of Supercharger facilities. Rather than counting on other companies to provide distractions while the car is recharging, whether that be retail, restaurants, or entertainment, these new locations have their own amenities. For instance, there's a Supercharger lounge with a cafe and both indoor and outdoor seating.
Tesla also looks set to use the locations to pitch its other products. For instance, it will have displays for things like the Solar Roof and Powerwall domestic energy storage, on the understanding that a Tesla-loving captive audience might be more likely to invest in more hardware if they see it up close.
The locations themselves look to source at least some of their energy from solar panels, spread across canopies above the charging bays. It's unclear what percentage of the overall electricity demand these panels might satisfy. At full capacity, it seems likely that there'll be too many cars for solar alone to cater for.
Back in September, Tesla's chief technical officer described the automaker's ambitions to bolster what was on offer at its Supercharging locations. Speaking at a services trade show, JB Straubel suggested a companion convenience store might be relevant, though Tesla wouldn't itself be operating such facilities, the CTO explained. "People are coming and spending 20 to 30 minutes at these stops," Straubel said. "They want to eat, they want to have a cup of coffee, they want to use the bathroom."
It's all part of Tesla's attempt to improve its charging infrastructure, ahead of what's expected to be an exponential increase in demand as the more affordable Model 3 reaches more buyers. On the one hand, Tesla is working on installing smaller Superchargers in urban areas, catering to city drivers. Meanwhile, there are long-standing expectations that the automaker will launch a third-generation Supercharger which will be even more powerful.