Tesla urban Superchargers bring high-speed charging to cities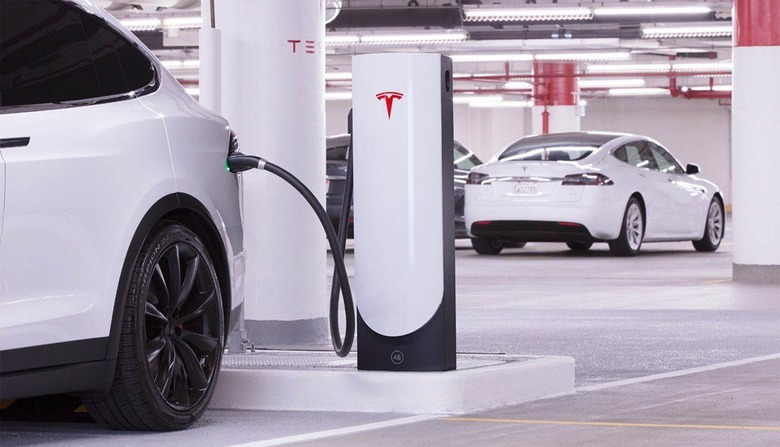 Tesla is planning a big push in urban Supercharger locations, attempting to bolster its network as Model 3 owners start to join the crowds. The company has traditionally used Supercharger Stations to enable long-distance driving for its electric cars, positioning them along highways and on popular driving routes. In contrast, city recharging has focused on other, less powerful means.
The lesser-known urban counterpart to Superchargers is Destination Charging. That's Tesla's term for power sources located at hotels, stores, restaurants, and other places. Tesla bills them as the public equivalent of the Level 2 charger most owners of its vehicles have installed at home, where they'd typically recharge overnight.
Now, Superchargers are going to push into city locations. Starting with downtown Chicago and Boston, Tesla intends to locate the high-speed charging stations at places like supermarkets, shopping centers, and downtown districts. Superchargers will be faster than Destination Chargers, too, allowing for more rapid cycling of cars at each location.
It's using a new Supercharger design that Tesla has come up with for urban settings. Notably, it has a new post which both takes up less space and will be easier to install, the automaker claims. Inside, there's a new 72 kilowatt architecture that delivers that full power to each car connected.
In contrast, the power you get from existing Superchargers – and thus the speed at which your Tesla recharges – depends on what other cars are plugged in at adjacent units. Tesla says that it should make for consistent charging times of around 45 to 50 minutes "for most drivers" at the new design Superchargers.
"They also have the same pricing as our existing Superchargers," Tesla points out, "which is far cheaper than the cost of gasoline."
It's a welcome improvement to the Tesla charging network. That remains one of the key distinguishing features of electric car ownership among the various automakers offering EVs and plug-in hybrids, but there had been concerns that, as the number of Tesla drivers increases rapidly with the more affordable Model 3 beginning production, the existing infrastructure might not keep up. There have already been reports of localized congestion from Model S and Model X owners at certain high-traffic Supercharger points, something which would only be exacerbated as Model 3 drivers joined the queues.
There's another big charging issue it'll help address, however. Urban motorists often find EV ownership incompatible with their living arrangements, since many rely on street parking rather than having a garage or even a dedicated parking space where they can reliably charge their car. With closer access to an urban Supercharger, however, they could top up regularly and then not have to worry about charging overnight.