Acura is taking the NSX racing, and we've got our first glimpse of the supercar as it tackles the track in development form. Though it's not expected to officially compete in North American competitions until 2017, the NSX GT3 car is getting its practice in early, and looking mighty appealing in the process.
On the outside, there's minimalistic exposed carbon fiber bodywork; that'll undoubtedly be covered up with logos and such when it comes to actually hit the track in earnest, sadly. Plenty of custom aero is in sight, too, including a huge deck wing spoiler and bigger hood vents than the road car.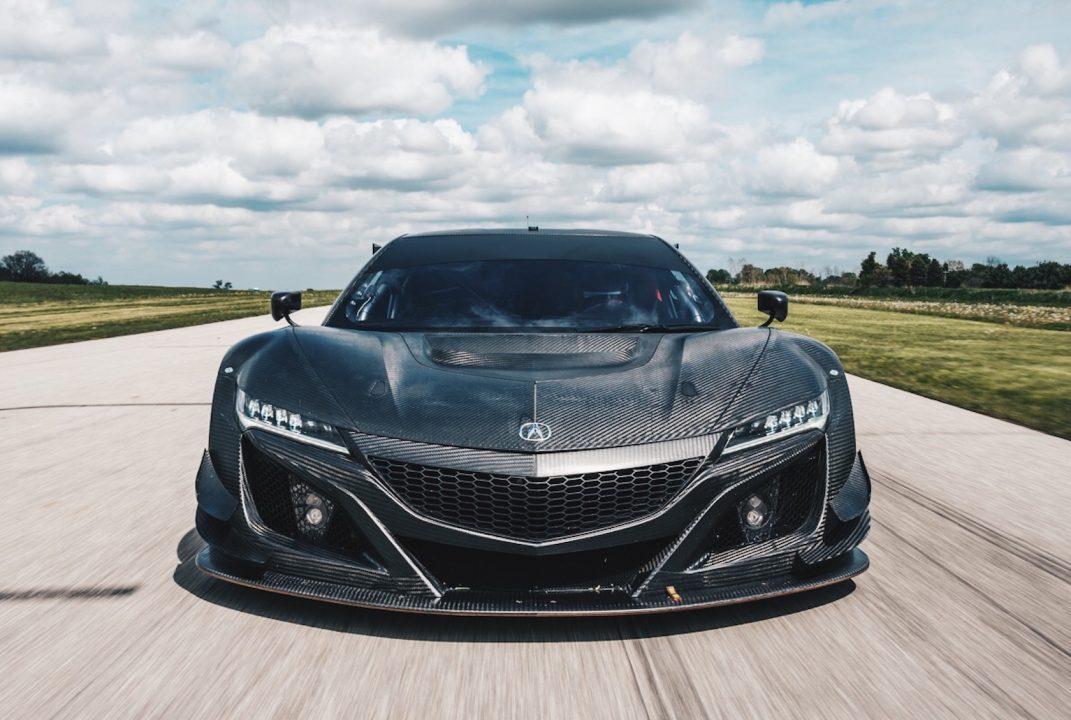 The aerodynamic work continues underneath, where there's an underbody diffuser. However, the biggest differences are to the powertrain: gone is the hybrid system used by the production NSX but not permitted according to GT3 rules.
In its place comes a 3.5-liter, 75-degree, twin turbocharged DOHC V6, based on the same specifications as the road car though without its trio of electric motors for extra power.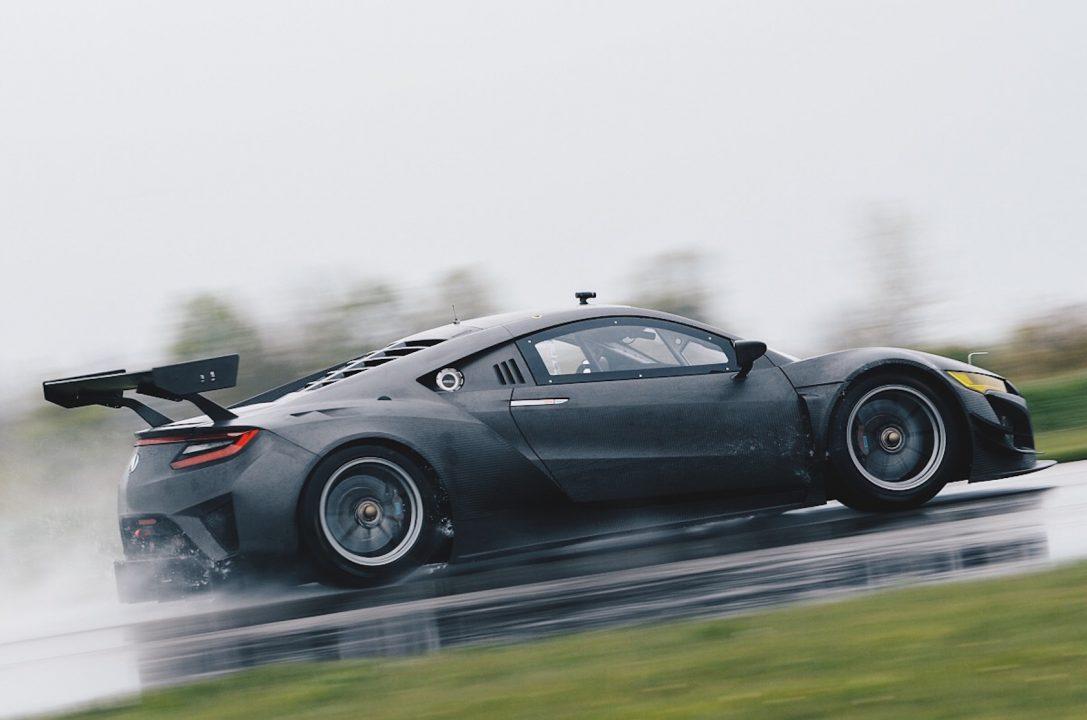 Acura has carried across a fair few elements, however, with the 2017 NSX donating the specs for its block, heads, valvetrain, crankshaft, pistons, and dry sump lubrication system.
The V6 is hooked up to a 6-speed, sequential-shift racing gearbox, and unlike the all-wheel-drive road car is rear-wheel-drive.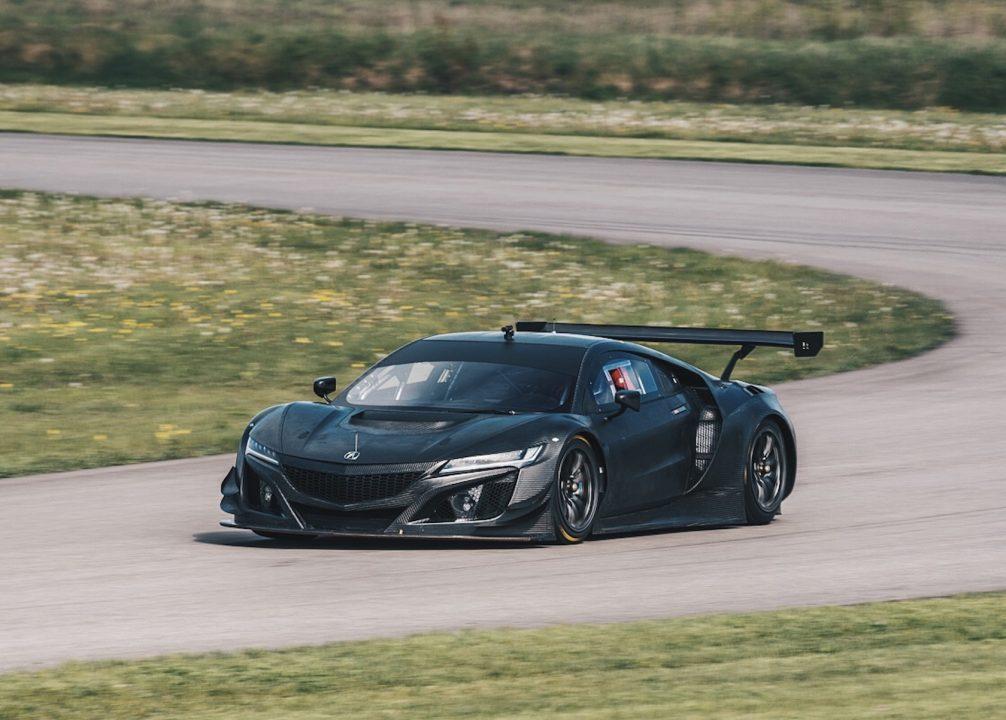 This particular wet track outing was at the GingerMan Raceway in South Haven, MI, but Acura has been taking its racecar around the US as it prepares for homologation – in the FIA GT3 class – this fall. Manufacturing of the car takes place alongside its production sibling at Acura's dedicated Performance Manufacturing Center in Ohio.
The automaker confirmed back in March that it planned to go racing with the NSX, showing off a prototype of the racecar at the New York International Auto Show. At the same time it added fuel to persistent rumors of an "NSX Type-R" which, like the race-bound car, would trade the hybrid drivetrain for a lighter, pared-back V6-only setup.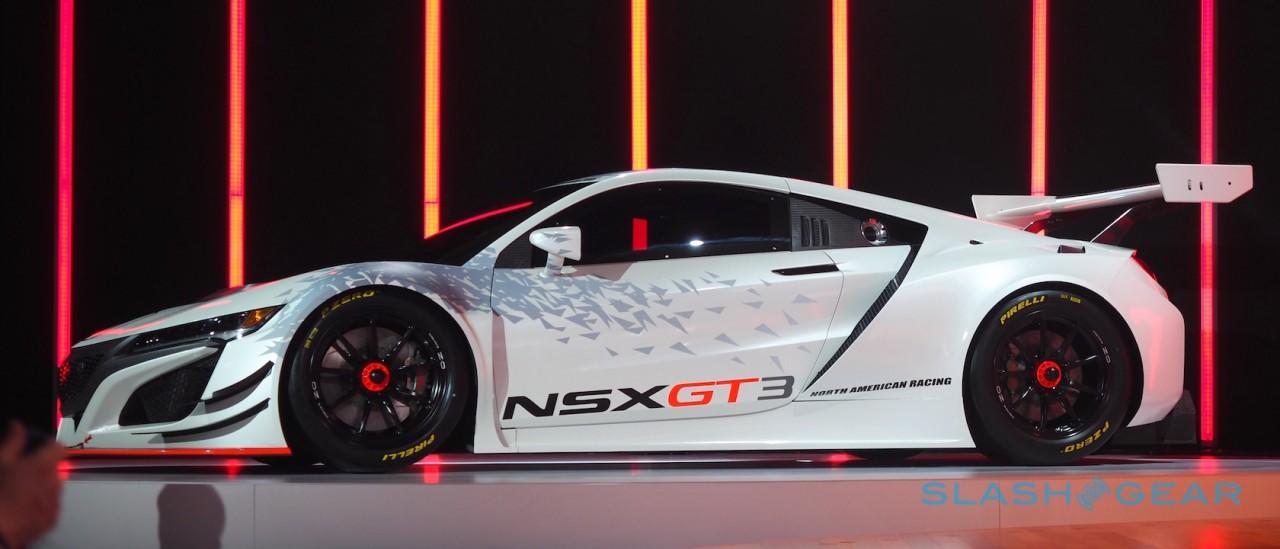 NOW READ: We drive the 2017 Acura NSX
Acura refuses to comment on such a variant, saying only that it's focusing on getting the first production NSX cars into the garages of early customers.
Those buyers are getting something seriously special, too. Courtesy of the NSX's electric motors – one for each front wheel, and a third paired with the mid-mounted engine – the car can do true torque vectoring, independently controlling the front wheels for more aggressive steering.