Acura is taking this NSX GT3 racing
When you go to the effort of crafting a whole new supercar, it seems frankly wasteful not to take it racing, and it seems Acura feels the same way. The company has taken the wraps off of its new NSX GT3 racecar today, bringing the custom variant to the New York International Auto Show ahead of its planned debut on the track sometime in 2017.
From the outside, the shared DNA with the production NSX road car is clear. In fact, the two will be built in the same facility, the specially-developed Performance Manufacturing Center in Marysville, Ohio which Acura has set aside specifically for the NSX.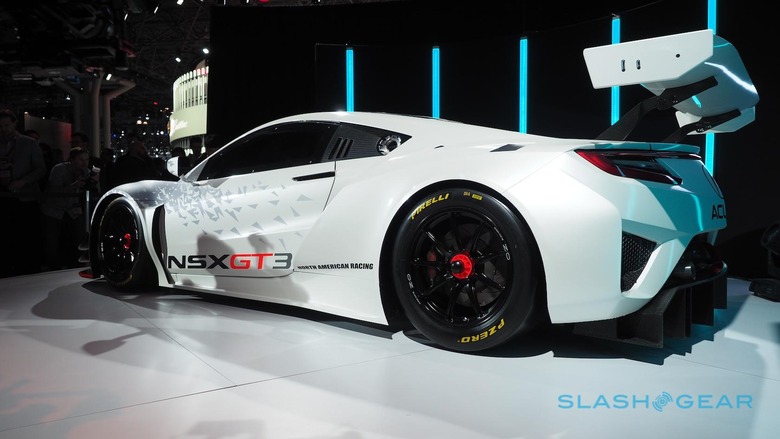 The needs of the track are somewhat different for a dedicated racer, however, and so there's plenty of customization. A huge deck wing spoiler is one of the most obvious, though the vast hood scoop is another striking element, as is what's visible of the underbody diffuser.
Underneath it all is the production NSX multi-material body and its primarily aluminum space frame.
The primary difference, though, is in the powertrain. The road-going NSX has a full quartet of motors, with the V6 gasoline engine joined by a trio of electric motors.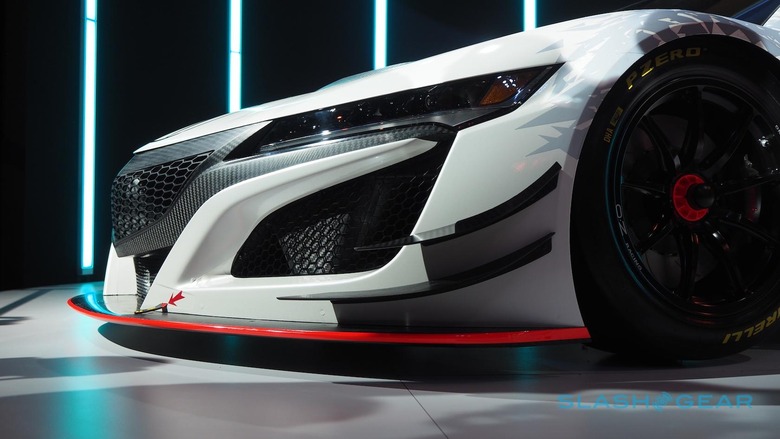 That allows Acura to do very interesting things with torque vectoring, individually driving the front wheels with an electric motor apiece, and optionally applying negative torque to improve cornering performance.
In contrast, the NSX GT3 car has a single engine, a 3.5-liter, 75-degree, twin-turbocharged DOHC V6. It's based on the same design specifications as that in the production car – including the block, heads, valvetrain, crankshaft, pistons, and dry sump lubrication system – but gets a brand new gearbox.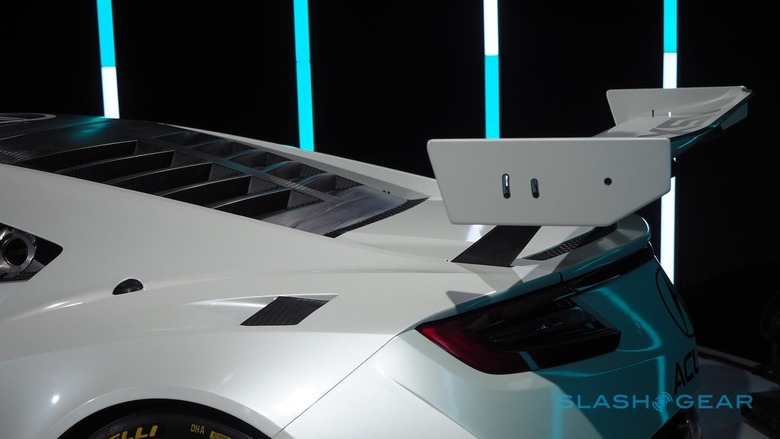 That makes do with just six gears, but is sequential-shift and designed for performance on the track, with power routed to the car's rear wheels.
Could Acura use a similar setup for a future NSX variant? That's one rumor currently circulating, with chatter of a potential NSX Type-R being considered that would dump the hybridization in favor of a more straightforward powertrain.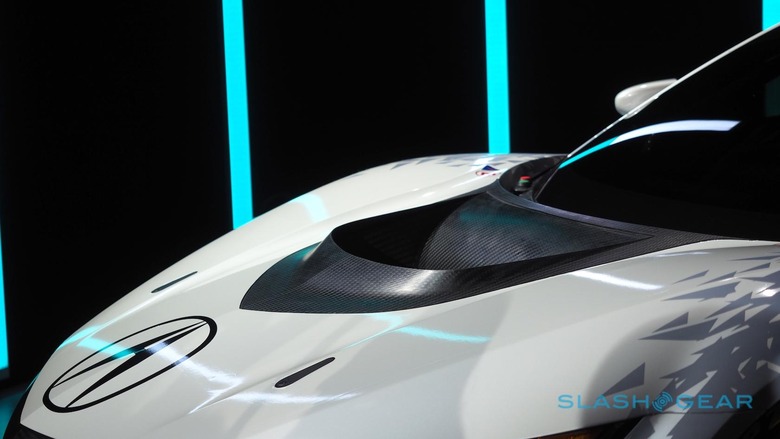 NOW READ: 2017 Acura NSX First-Drive
Nobody at Acura will confirm that such a car is on the roadmap, and the focus right now is getting the first production NSX examples off the line and into customers' garages.
As for the racing ambitions, the NSX GT3 is currently being put through its paces by the Honda Performance Development group in California.
If all goes to plan, Acura expects the car to undergo homologation this fall as an FIA GT3 class racecar.