Acura's US NSX plant treats supercar like a chicken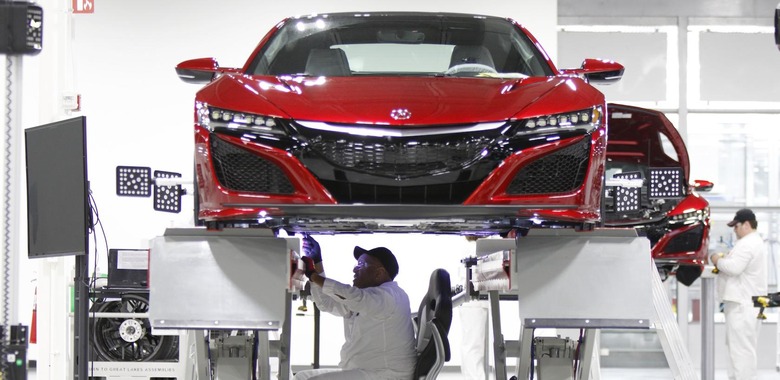 How many American-made supercars are actually made in America? The number might be smaller than you think, with Acura claiming the 2017 NSX is the only such vehicle to be designed, developed, and produced on US soil. Deliveries of the car itself won't begin until later in the year, but trial production of what's practically a hand-built, boutique exercise is already underway.
That's all taking place in Ohio, at the Performance Manufacturing Center. Specially outfitted to handle the production demands of the NSX, the facility employs around 100 staff who will build each car to-order.
It's a panopticon of sorts, with the whole line orbiting around a glass observation room in which quality confirmation technicians can keep an eye on the process. Each car takes around fourteen hours to piece together, including using high-tech tools like wirelessly-connected torque wrenches that keep a remote log of the tightness of each and every bolt used.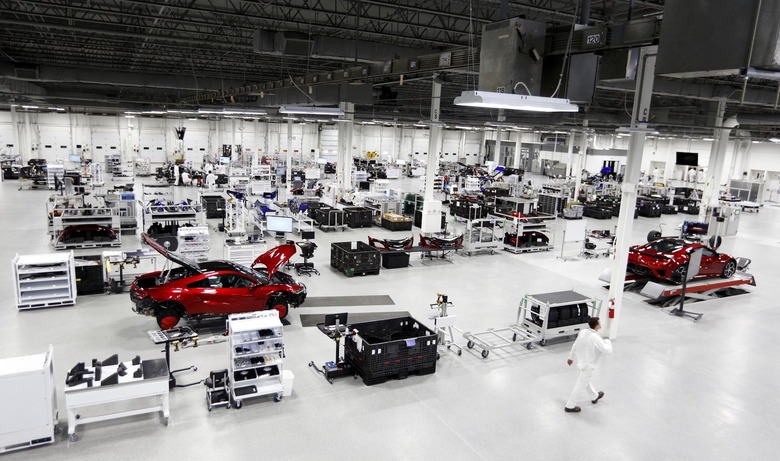 The human team isn't doing all of the work, however. Acura also has eight robots responsible for applying the 860 MIG welds to the car's frame, a first for the process in automotive.
During that time, the car is mounted on a 360-degree rotisserie-style bracket, which can rotate and lift to allow arms – human and robotic – easier access. The same system is used to elevate the NSX during the 45 minute long wheel alignment process, during which time the weight and ride height at each corner are also checked, and the brake performance analyzed.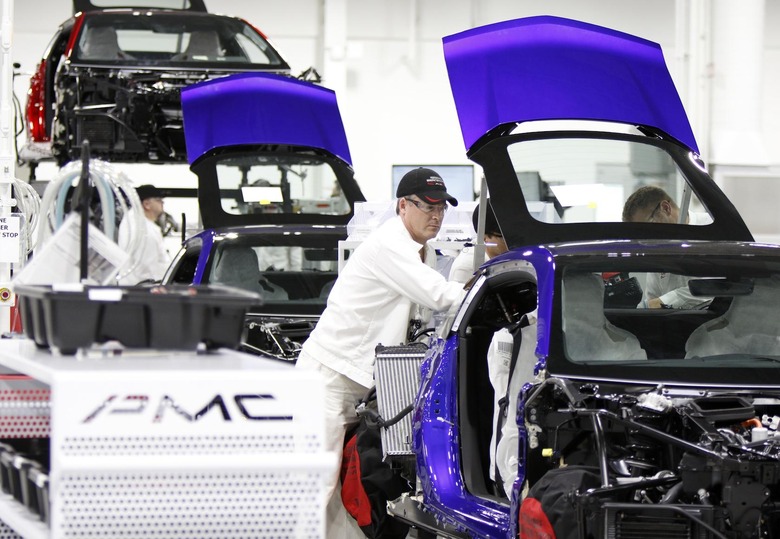 As for the powertrain – a complex combination of a gasoline engine and three electric motors – the biggest aspect of that, the NSX's 3.5-liter V6, is produced at a separate facility nearby. In fact, it's hand-built at the Anna Engine Plant, each example taking six hours to piece together.
NOW READ: 2017 Acura NSX first drive
In all, it's not just been bragging rights for Acura – it's also been a chance to keep the patent lawyers earning their keep. Twelve have been filed to cover technologies used in the car's manufacture, half of which involve the complex performance calibration checks.
Serial production of the NSX starts in April, Acura says, with the car priced from $156k – that is, before you get going on the plentiful options list, that includes carbon fiber for both inside and out, carbon ceramic sports brakes, and more. Numbers are expected to be relatively low, with Acura telling SlashGear that it only envisages 800 NSX sales in the US in the first year.