SteamOS revealed: Valve head to living room machines with Linux base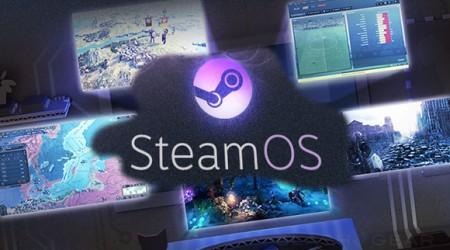 It would appear that Valve is opening the doors to the living room experience for Steam with a new operating system they're simply calling SteamOS. This operating system is based in Linux and will be "downloadable soon" and "free forever", just as the Steam client for Windows, Mac, and Linux machines is now. This operating system will be "designed for the TV and the living room" and will take full advantage of the Steam ecosystem already in place.
To make things clear, if they weren't already, SteamOS is a stand-along operating system for living room machines. You'll be hearing that term "living room machines" several times in the near future as Valve is prone to use it – they appear to not be limiting themselves by suggesting that this OS will be built for "gaming consoles", as it the common understanding of what a gaming system for the living room is today.
Instead, the "living room machine" can be a bit more versatile. Or so Valve seems to hope.
According to Valve, this system will work as a "many-to-many entertainment platform", working with what the company suggests is a dousing of the "one-way content broadcast channel." Instead you've got a situation in which each participant in this platform is "a multiplier of the experience for everyone else." Valve suggests that this is a continuation of the model tried-and-true for the Steam client at large.
[aquote]At the core of SteamOS is everything you already love about Steam. – Valve[/aquote]
This system will be working with software performance in audio and reduction in input latency "at the operating system level." This is an operating system built for games – and game developers are already working with Valve to release games with SteamOS optimization as we speak – though they're not saying which developers as such, yet.
This system will work with Family Options – choosing which content can be seen where. It'll work with Family Sharing – taking turns on games with different accounts-within-accounts to make sure you get your own scores and achievements as your mother plays the game on her own terms. This system works with in-home streaming – similar to what we've seen with NVIDIA SHIELD, Valve suggests that you'll be able to turn your Windows or Mac computer on in one room on your normal computer, then stream that content to "your SteamOS machine" over your home network.
This system works with Music, TV, and movies too. Imagine that! Though Valve hasn't said anything about specific deals they've got in motion, they do suggest that they are "working with many of the media services you know and love" right now, continuing "soon we will be bringing them online, allowing you to access your favorite music and video with Steam and SteamOS."
We'll be continuing to dig deep into this release over the next few weeks and well past release. At the moment it would appear that the next big announcement in this space (that's 2 of 3 announcements) will be appearing in just under 47 hours – two days from now – stay tuned in our Valve tag portal or our brand new SteamOS tag portal for more!
UPDATE: The software itself, SteamOS, has been announced to be "available soon as a free download", though again, no solid release date has been pushed. Valve also states that SteamOS will be a "freely licensable operating system for manufacturers."