Steam Family Sharing Beta Rollout Begins Next Week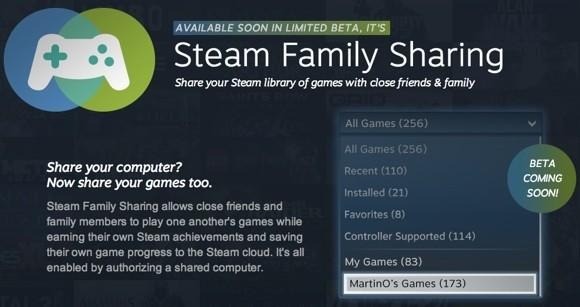 Steam already had a good setup in terms of being able to get and play games, however one bit that had been lacking was the ability to share those games with friends and family members. While that option is not yet available, it has been announced. This will be arriving as Steam Family Sharing and it will allow users to share their game libraries with others. The Family Sharing option is expected to arrive next week, however the initial rollout will be a beta with limited availability.
Basically, this means Steam users will be able to share games just like they would with a physical copy of the game. Family Sharing seems to be simple enough and will not only allow users to share games, but allow each of those users to earn their own Steam achievements. This setup also means each user will be able to store their own game saves and application data in the Steam cloud.
Steam users will be able to authorize a game for sharing to a computer/device. Once that computer has been authorized for sharing, the person using that computer will see the list of available Steam games. That said, there does seem to be at least one limitation in place. Two users will not be able to play the same game at the same time. This was addressed in the announcement and it looks like it will always side with the lender.
It was said that the "lender may always access and play his games at any time." Or in other words, this means the person borrowing the game will be kicked off should the lender decide he wants to play at the same time. Further details here show how the person borrowing the game will be given a "few minutes" to either save and quit playing or purchase the game and continue.
At this time there has yet to be a date announced in terms of when this will rollout for all users, but those looking to take place in the beta can head to the Steam website and request access.
SOURCE: Steam