Star Wars Battlefront's "Fighter Squadron" gameplay trailer shows potential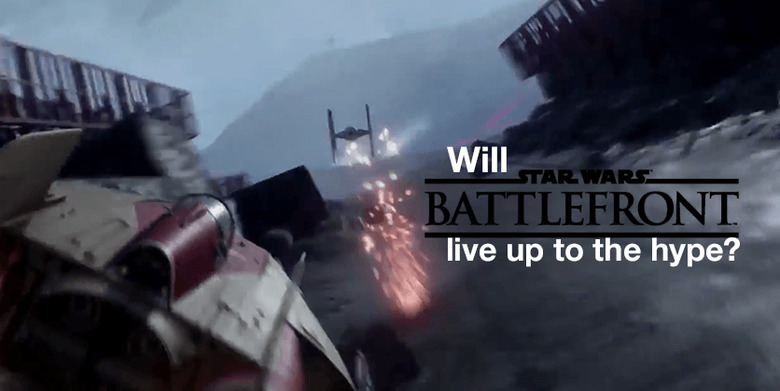 Today EA Games, DICE, and Frostbite reveal "Fighter Squadron" gameplay for Star Wars Battlefront. In this reveal, you'll see a whole lot of potential. We're obviously not going to be able to judge this game without actually playing it first, but it does seem – from this footage alone – that there might be a chance that this game has a good rebirth session in store for fans of the original Star Wars fighter pilot franchises: X-Wing and TIE Fighter. The pixels look a little better here than they did back in 1997.
Today we're going to get to see a new gameplay mode for Star Wars Battlefront – one where we'll be jumping behind the controls of an X-Wing, A-Wing, or TIE fighter to battle the top guns of our enemies. We'll be seeking out the Y-Wing too – old reliable, the tank. What we're seeing here first looks pretty decent.
UPDATE: Larger, longer video added. Full-powered multiplayer in effect.
We've got some reservations about this game living up to its hype. It's the first game EA has helmed since the big shutdown of LucasArts. It's the first place we're going to see anything close to Star Wars: The Force Awakens plotlines lining up. It's got a lot riding on its back.
Star Wars Battlefront has a lot to live up to. It's coming with multiple ways to play and massive battles with multiple players – those two elements would be a big enough task to fail at. We've seen it happen before.
In fact we've seen several big-name gaming companies release sub-par products in the past couple of years. Games that were in franchises that were so big, it seemed unbelievable that their producers and developers would release games that weren't 100% ready to roll.
Now it's EA's turn to make good on their promise.
[polldaddy poll=9009232]