Spotify Car Player leaks: Voice-controlled 4G music streamer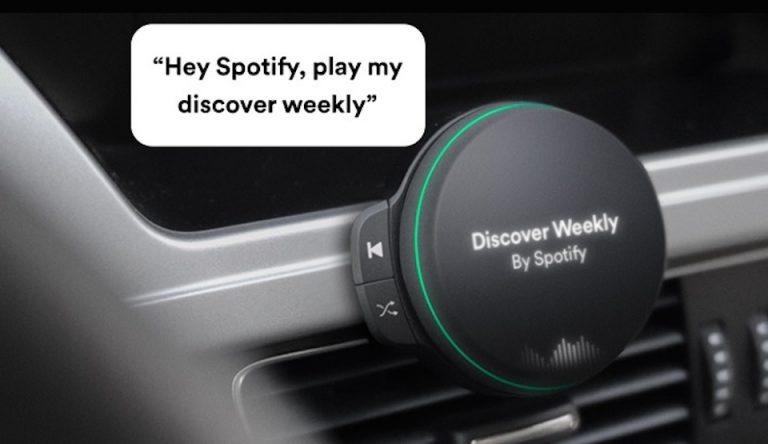 Spotify may be preparing to launch an in-car music system, with dedicated hardware that could allow for standalone streaming direct to the dashboard. The company announced earlier today that it was planning an event in New York City on April 24, though has been tight-lipped as to what its announcement might be.
Still, there has been long-standing chatter that Spotify plans to get into the hardware business, though the form-factor of that has been in question. Multiple job listings have been spotted, including for new hardware engineering roles, over the past few months. Some of the most recent suggested Spotify was indeed preparing to launch its first hardware device.
The initial assumption had been that such a device would be a smart speaker, in the manner of Apple's HomePod, Amazon's Echo, or the Sonos One. Beta testing of a voice control feature spotted in the Spotify iPhone app only added credence to that idea. Rather than just allowing for voice search of artist, album, or track, the system could be used to load specific playlists or radio stations.
Now, though, there's another possibility: an in-car controller. Spotify inked a deal with Cadillac last month for a custom native app for the automaker's infotainment system, which could tap into the car's 4G LTE connection and stream directly from the cloud without a smartphone being required. According to promotions shown, apparently, prematurely to Spotify users, there might also be a standalone device in the works that does something similar.
Multiple users say they were presented with adverts back in February for a new, in-car device, The Verge reports. The accompanying image showed a circular control which would double as a display, flanked by buttons for track navigation and shuffle. The specific details varied: some were told that there would be integrated 4G connectivity, while others saw Alexa integration.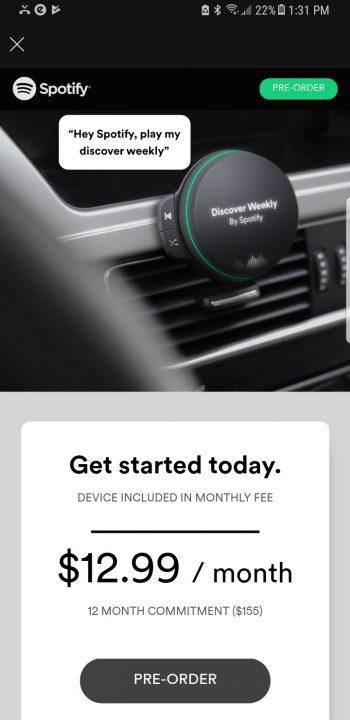 Pricing, too, changed according to the person receiving the advert. One, for instance, saw $12.99 per month, a price that would cover both the device and Spotify's music service too. Another person, however, was shown $14.99. Though the adverts had a preorder button, clicking it apparently only resulted in an error message.
Spotify, for its part, has declined to comment on the adverts. When the Spotify Car Player was mentioned in the company's official forum, a moderator – not a Spotify employee – suggested that it was merely a test. Since then, there have been no other reported sightings of the adverts.
It's worth remembering that Spotify did have intentions along the line of a standalone media player at one point. Back in 2016, the streaming music service was working with Pebble on the Pebble Core, a tiny Android-based wearable that had its own 3G connection. Back then, Spotify had apparently developed a custom Javascript app that would play nicely with the Core's absence of a display and minimal buttons.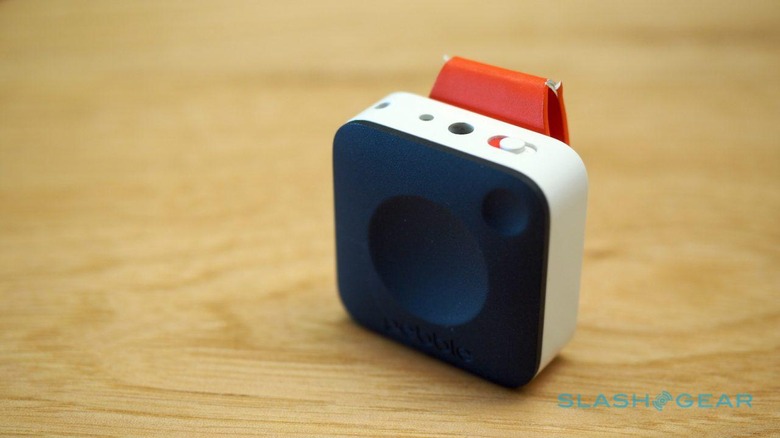 Pebble Core, of course, failed to launch when the smartwatch manufacturer collapsed and its assets were acquired by Fitbit. However, the idea of a physical embodiment for Spotify doesn't seemed to have died with it, with the streaming music company itself seemingly picking up the reins. The car isn't a bad place to target, either: whereas in-home smart speakers have proliferated, the upgrade cycle for vehicles is much slower.
That means there are plenty of people out there who don't have access to Android Auto or Apple CarPlay, and who might jump at the chance of a simple way to add Spotify streaming. Considering a Spotify Premium account is currently $9.99/mo, if the $12.99/mo Spotify Car Player subscription is accurate, that's not a huge increase for dedicated hardware. We'll presumably find out more come April 24.
IMAGE "FlexinFiesta"