Pebble Core puts Spotify in a hackable $69 3G Android wearable: Hands-on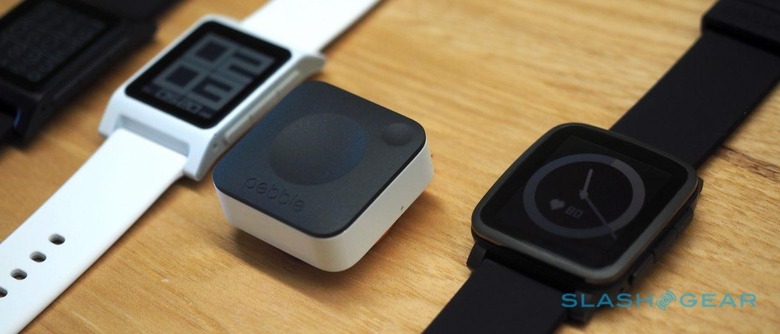 Meet Pebble Core, the wearable company's first product that isn't a smartwatch, and possibly its most intriguing and exciting device since the original Pebble that launched three years ago. Pebble Core is "a tiny little Android phone without a screen" Pebble co-founder and CEO Eric Migicovsky explained to me, but while runners gave the company an excuse to make it, it's hackers he's most excited about.
At first glance, you'd probably think Pebble Core was a music player or maybe the dongle for a Bluetooth headset, not a smartphone. Doing away with the display meant Pebble could take advantage of a couple of things: no power-hungry, GPU-intensive screen allows the gizmo to offer decent battery life off a comparatively small battery, while the processor can be fairly humble too.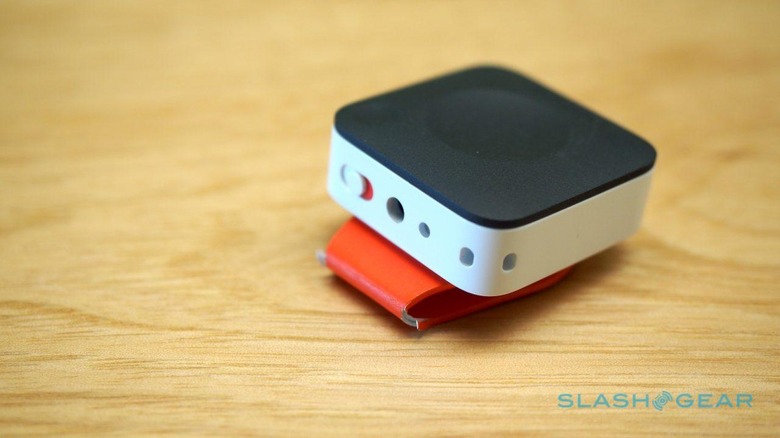 Inside the IPX67 waterproof casing, in fact, is a low-power SoC running Android 5.0, with a 3G connection, GPS, WiFi, and Bluetooth, along with an accelerometer. Qi wireless charging support is included too, though you'll need to supply your own charging pad; in the box there's a USB-to-headphone-jack dongle for wired recharging. Cheap hardware means a cheap sticker price, though: just $69 with an unlocked cellular radio, in fact.
On the outside, there's a power switch and a headphone jack up top, along with a keychain loop, while a removable magnetic clip is on the back; Migicovsky expects various different mounts to be developed, and hopes the system will be embraced by third-parties in the same way that several companies now offer Pebble smartwatch straps. The front has two buttons: one large, taking up the majority of the grey fascia, and one smaller in the upper right corner.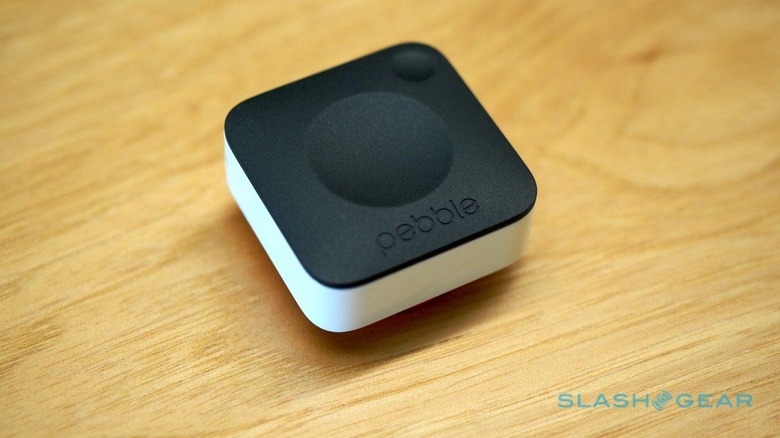 Migicovsky calls that the "Anything button", though out of the box it's designed to satisfy runners. One of the common complaints from existing Pebble owners, he explained to me, is that while they like wearing the watch to track steps and heart rate while exercising, they still feel obliged to carry their phone with them for music, route tracking, and emergency use.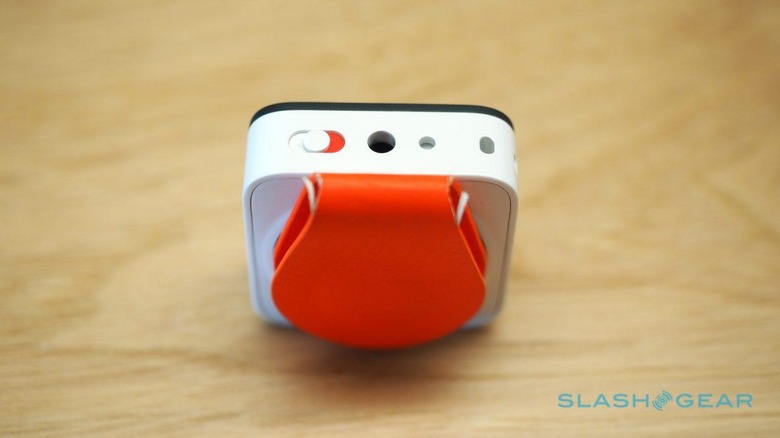 So, Pebble Core lasts for up to nine hours on a full charge, playing back music and tracking GPS. That music can be stored locally, on 4GB of internal – non-expandable – storage, or streamed through Spotify. Pebble cut a deal with the streaming music service, Migicovsky explained to me, to rebuild its app in Javascript: clicking the main button once automatically starts both GPS tracking and your favorite playlist.
It'll sync that data with Runkeeper, Strava, MapMyRun, Google Fit, and Under Armour Record.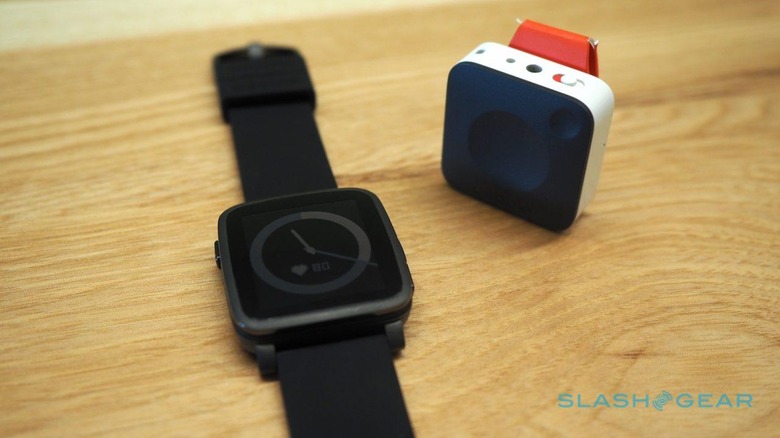 If you can do without music, meanwhile, it'll hold out up to five days in "GPS tracking mode", allowing you to fire an SMS message off to it, for instance, and get a report back on its location. Think of it as "Super Tile," Migicovsky says.
A set of headphones with an in-line volume control and play/pause button can be used to manage the music, you can capture voice-notes while you're running, and there's support for a spoken summary of your current performance. [Update: Pebble clarifies that spoken summaries are dependent on your fitness app of choice] If you're wearing a Pebble watch, however, you can see pace, distance, and speed information beamed over from Pebble Core on your wrist instead; the dongle automatically shuts down any duplicate features to save power when there's a smartwatch nearby.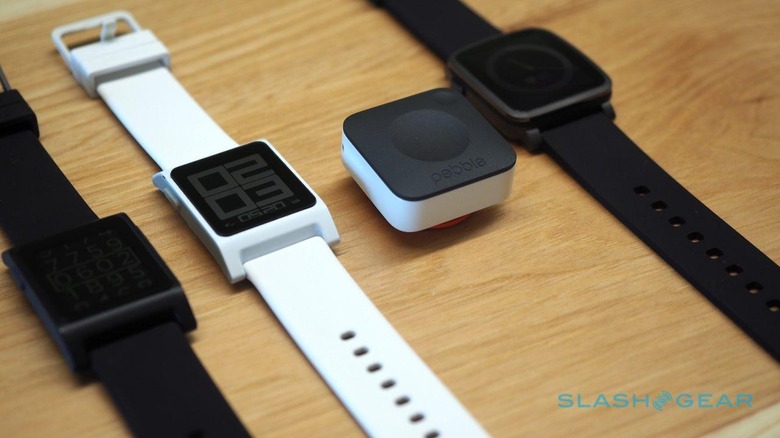 The second, smaller button on Pebble Core is designed for emergency use. You could preset it to call an Uber to your current location, for instance, or to send a message with that location to a certain contact. Since it's based on the new "Actions" interface Pebble is introducing with its Pebble 2 and Pebble Time 2 smartwatches, though, the possibilities are much broader.
In fact, the whole point of Pebble Core is to be as flexible as possible, fitting what Migicovsky describes as the company's "runners or hackers" target audience.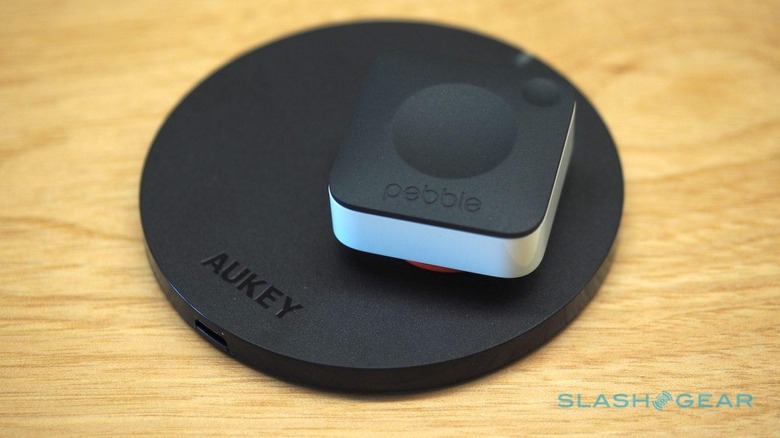 So, not only is the 3G radio unlocked, but you can easily customize Android 5.0 if you wish. You can call up a VNC terminal and see a virtual screen to interact with Pebble Core, and though there's no Google Play services support – so no Play store – you can sideload apps across.
Migicovsky is looking forward to seeing what they come up with, too. Pebble Core could be a permanent car computer, for instance, or a Bluetooth beacon indicating presence in a smart home or other IoT system. With its cellular and WiFi support, it could share its connection with other devices: you might not want to use it as a traditional wireless hotspot, given that it's 3G not LTE, but it opens the doors to a wide variety of usually-disconnected gadgets suddenly getting online.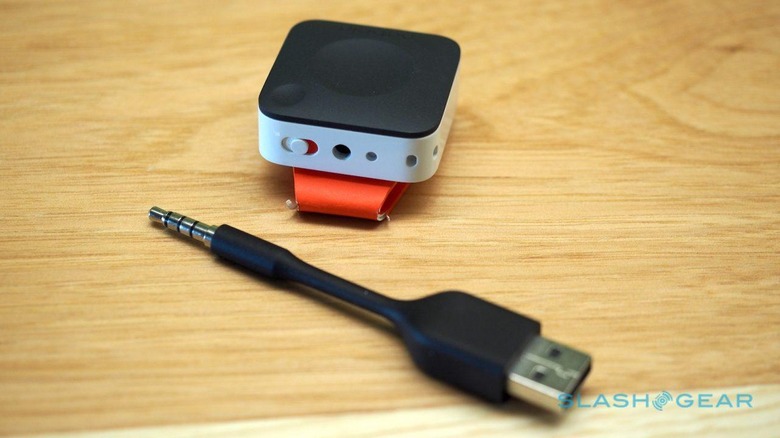 It's an intriguing device, certainly, though Pebble isn't pairing it with a similarly ambitious cellular program. In fact, you're expected to supply your own SIM card – Migicovsky tells me that, with Pebble Core shipping to 150 countries, it would simply be too complex to set up deals in every location, never mind trying to establish a Pebble MVNO – with the suggestion being that users get a second SIM on their existing wireless account instead.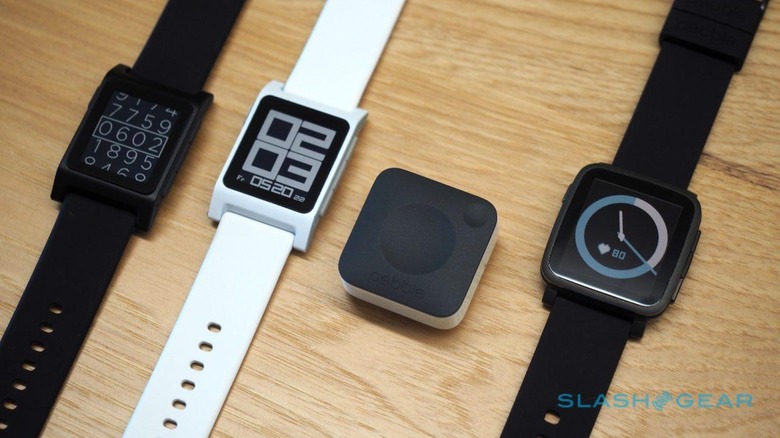 That blip aside, there's plenty to like about Pebble Core. For runners – 40-percent of which listen to music while they exercise, Pebble's research suggests – it's a simple way to stream without toting a phablet around; for those who like to tinker, it's an intriguing gateway for the Internet of Things.
Pebble Core is up for preorder on the company's Kickstarter today, priced at $69, and is expected to ship in January 2017. Retail pricing will be $99.
MORE Pebble