SOUL by Ludacris Audio Equipment Shipping Inside May 2011

That's this month! They'd better get them out the door if they expect them to make good on their word, and by they I of course mean SOUL by Ludacris. This is a series of headphones and earbuds right along the same lines as Beats by Dre and the now-defunct Sleek by 50. What we're looking at hear is three different models of headphone, two different models of earbud, all of them in conservative, muted tones like white, black, gray, and a few rogues like bright red, blue, and the most excellent gold-plated SL300s.

Lets talk about these gold-plated phones first, shall we? They're the Signeo USA: SOUL by Ludacris SL300, and their called "high-definition, noise canceling headphones that combine sleek style with professional sound." The reason you should be interested in this particular pair is that they cost $299 USD and feature gold-plated connectors. Fresh and wild! They've also got an over-the-ear design, advanced, breathable pad and ear cups, and have standard and iPhone detachable cords with in-line remote included. Also they come with a protective case door travel.

Next are the red and blues, the Signeo USA: SOUL by Ludacris SL100, "high -definition on-ear headphones deliver big sound with stylish urban aesthetics." These also have a breathable headband pad, standard and iPhone detachable cords with in-line remote, and come with a case. And what's this? They come with gold-plated connectors as well! These SL100 phones ring in at $149 USD.

The white over-ears are the Signeo USA: SOUL by Ludacris SL150 set, "High-definition on-ear headphones boast professional sound, distinct personal style" like the last set, the same specs are present. It seems that the difference between each of these sets is the aesthetic really, the industrial design shaping its way around your head. SL150s cost $199. Also yes, gold plated connectors!

Finally there's a couple sets of earbuds, one named SL99 with a price of $99, the other called SL49 with a price of $69. Each of these has tangle-resistant cables, hard protective shell case for travel, and gold-plated connectors for seamless signal transfer.
Check out the full family over at http://www.soulbyludacris.com/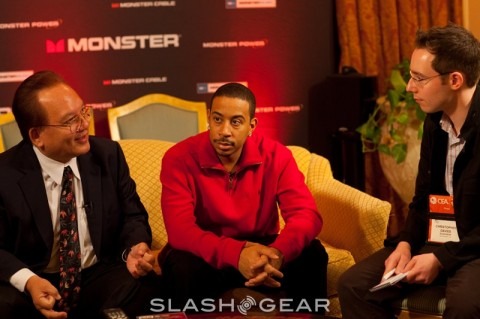 BONUS: did you know that our man in England mister Chris Davies had an interview with Ludacris for the album before the one he's got coming out currently? For real! Take a look at that post back here.