HP TouchPad, Pre3 in Dr Dre Music Video "I Need a Doctor"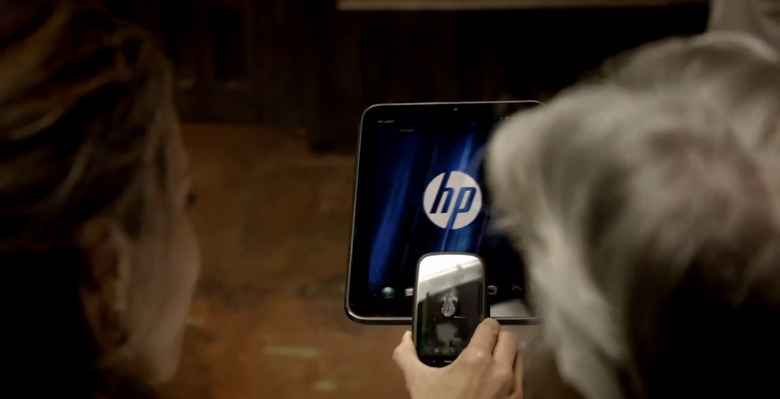 For those of you much more interested in the webOS aspect of this article, you must forgive me, as I've got not only a healthy addiction to the mise on scene of music videos, but also the awesome implications of cross-branding. What we're looking at here is a video for rapper / producer Dr Dre's newest single "I Need a Doctor." In this video you'll see not only an HP TouchPad, not only an HP Pre3, but a very visible demonstration of webOS' new "Touch to Share" functionality. What you'll see the two sharing is medical information about the artist who in the video is receiving futuristic care for a terrible car crash he's suffered. This is not the first time Dr Dre has supported an HP product (think Beats by Dre,) but it is the first time one of these products has carried webOS.
The touch that happens in this video is very short and seemingly insignificant to the plot. However, when you do see the Touch to Share function working so very smoothly, you might expect that it's some sort of science fiction technology, that it's so radical, especially because of the rest of the oddities in the video, that it couldn't possibly exist in the real world. Why Dr Dre is hanging from chains, why candelabras of LEDs, and why this man would be in a hospital that looks more like Dracula's home is beyond us, but besides that, lots of things in this video come from pop culture sources, and in many cases, real life technologies.
The videos that appear to be lower quality throughout this short film are from Dre's earlier days in rap as well as his personal life with his close family. The idea here is that Dre's had a hard life, and an amazingly full life, but he's had his fair share of tribulation as well. Essentially the whole video adds up to the fact that though he's had it hard, with the help of a Bacta Tank, a dancing oracle ala 300, and HP / webOS technology, he'll be ok. Then outside the video, once people realize that this HP technology is real, they'll just HAVE to buy into it.
If you'd like to know more about webOS, just head over to our giant [webOS Portal]. Recent events surrounding the products shown in this video took place several weeks ago, those events including a big HP/webOS event where we grabbed a hands on with the HP Pre3, the HP Touchpad, and again, Touch to Share technology.