Sony VAIO Tap 11 and VAIO Flip hybrid notebook get priced for October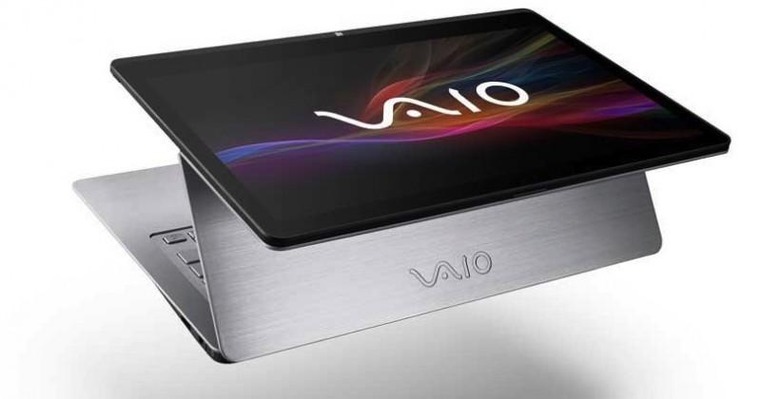 Sony took a two-pronged approach with Windows 8 tablets back at IFA 2013 last month, opting to hit both the slate form-factor with the VAIO Tap 11 and the convertible hybrid with the VAIO Flip, and now the company has confirmed price and availability for both. The Sony VAIO Flip 13A, 14A, and 15A are all landing in late October, priced from $749, complete with a clever folding-rotating touchscreen running at at least Full HD resolution. Meanwhile, the Sony VAIO Tap 11 is the thinnest Windows 8 tablet around.
The VAIO Flip will come in three sizes – 13.3-inch (from $1,099), 14-inch (from $749), and 15.5-inch (from $799) – all kicking off with 1920 x 1080 10-point touchscreens and Active Pen digital stylus support. Select 15A variants step up to 2880 x 1620 touchscreens.
Three processors – the Core i3-4005U, Core i5-4200U, and Core i7-4500U – will be offered across the line, while the 14A will also come with a Pentium 3556U option on select models. Intel HD 4400 graphics are standard, while some 15A variants will get NVIDIA GeForce GT 735M graphics with either 1GB or 2GB of memory.
Sony VAIO Flip hands-on:
The 13A will have 128GB, 256GB, or 512GB of SSD storage, while the 14A/15A will have a hybrid HDD/SSD as standard and options for a TB HDD or 512GB SSD. As for memory, there's up to 8GB on the 13A/14A and double that on the 15A. The 13A also throws in an 8-megapixel rear camera; all get front-facing webcams, HDMI output, an SD card slot, and at least two USB 3.0 ports.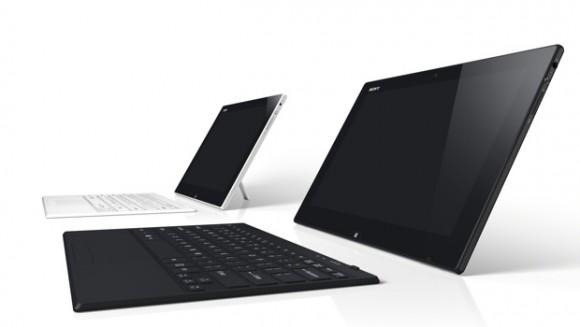 As for the VAIO Tap 11, Sony's 9.9mm-thick tablet has an 11.6-inch Full HD 10-point multitouch touchscreen and comes with a digital stylus as standard. It packs a choice of Pentium 3560Y, Core i3-4020Y, Core i5-4120Y, or Core i7-4610Y processors, paired with 4GB of RAM and either 128GB, 256GB, or 512GB of SSD storage. Graphics are courtesy of Intel HD or Intel HD 4200 chipsets, and there's both an 8-megapixel rear camera and a front webcam.
Sony VAIO Tap 11 hands-on:
Sony will be asking from $799 for the VAIO Tap 11, and that also includes a magnetically-attached QWERTY keyboard that doubles as a clip-on protective cover. It recharges while attached to the front of the slate. Like the notebooks, the VAIO Tap 11 will go on sale from late October.
Check out our full review of the Sony VAIO Tap 11.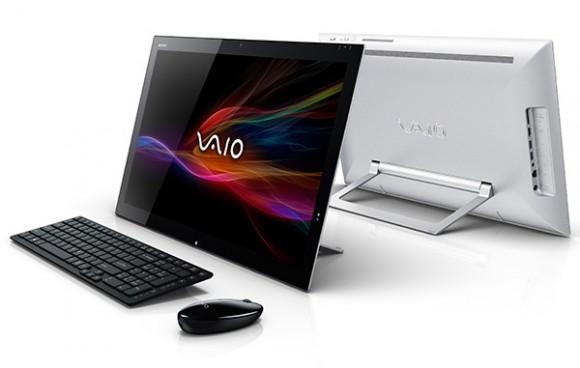 Finally, there's the VAIO Tap 21, Sony's 21.5-inch Full HD all-in-one. That will land later this month priced from $999, with either a Core i5-4200U, Core i7-4500U, or Core i7-4558U processor and up to 16GB of memory. It'll be offered with Intel HD 4400 or Iris 5100 graphics and a choice of 1TB hybrid HDD or 512GB SSD.