Sony VAIO Fit Multi-Flip ultrabooks hands-on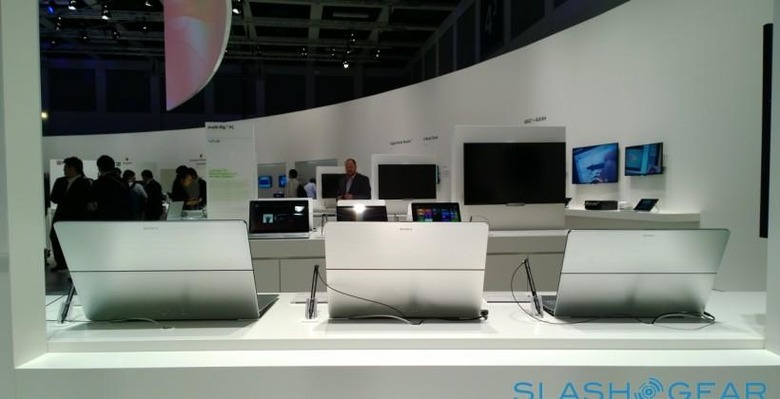 Sony teased a new form-factor laptop for IFA 2013, and the VAIO Fit is just that machine, a Windows 8 ultrabook that converts into a tablet in a way that actually manages to be unique despite all the convertibles we've seen before. In fact, it's a whole family of devices: offered in 13-, 14-, and 15-inch sizes, each VAIO Fit uses Sony's new Multi-Flip system, where the laptop screen tilts up, the rear panel folds, and the whole thing collapses down on itself into a tablet. We grabbed some playtime at the show; read on for our first impressions.
In general, the VAIO Fit notebooks are pretty standard Windows 8 machines. Each has a touchscreen and uses Intel Haswell processors (NVIDIA Optimus graphics an option on the VAIO Fit 15A), and the keyboard – although suffering from a relatively shallow tray, like all ultrabooks – is fairly responsive and comes with LED backlighting. Sony hasn't stinted on the metal, either, and it's paired with tough matte-finish plastic which feels sturdy and reassuring.
It's the Multi-Flip system which sets them apart from rivals, though. The lid of the VAIO Fit is actually two parts, only the top of which is fixed to the LCD TRILUMINOS Full HD touchscreen (select models can be upgraded to a 2880 x 1620 panel). The bottom half magnetically pulls away, and then you can pull the laptop lid closed but with the touchscreen facing up, instead.
Sony VAIO Fit hands-on:
There's some benefit for the extra hinges. Last year, Sony revealed the VAIO Duo range, Windows tablets that had sliding screens which could be pushed up to expose a QWERTY keyboard. Problem was, the display could only be opened to a single angle, and left the top row of the keyboard uncomfortably close to the bottom edge of the display.
Multi-Flip addresses that, since you can use the ultrabooks as normal when the screen is in laptop mode – adjusting angle at will – but still get the tablet functionality without too great an increase in bulk. Sony has left the bottom of the notebook free of unnecessary hatches and such, so it doesn't look too ridiculous to hold it up and use the 8-megapixel camera that's also included there on the VAIO Fit 13A. There's an optional digital stylus, too, for handwriting and sketching.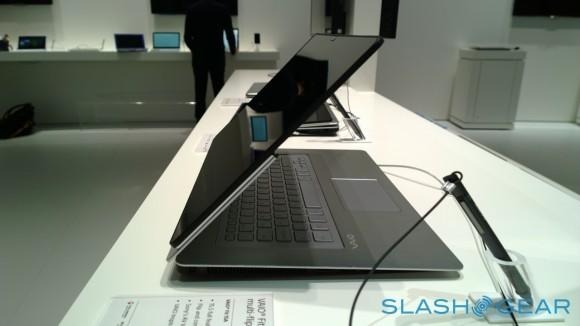 Up to 8GB of RAM is offered (16GB on the 15A), and up to 512GB of SSD storage. There's WiFi b/g/n, 2-3 USB 3.0 ports depending on model, HDMI out, Bluetooth, ClearAudio+ speakers, and an HD webcam.
The VAIO Fit will go on sale this fall, with pricing to be confirmed.