Sony VAIO Tap 11 Review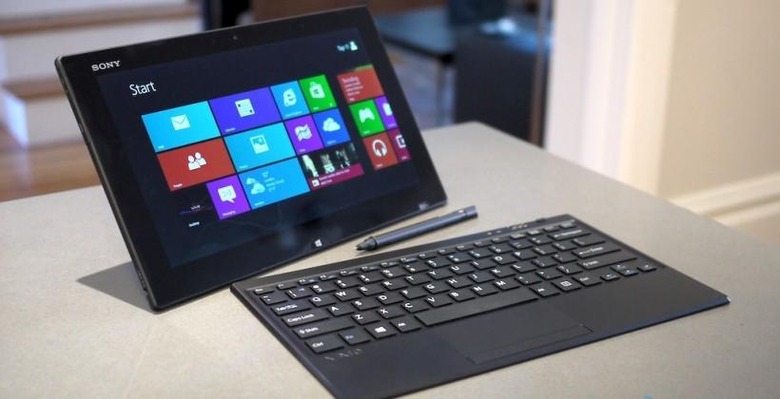 Sony knows how to make a good looking tablet. Flush from the success of the XPERIA Tablet Z, the company has borrowed the same slimline aesthetic for a Windows 8 version, the Sony VAIO Tap 11. It's the thinnest full-Windows tablet around with a proper processor, and still offers a range of input options from a Full HD touchscreen, to a wireless keyboard-cover, and even a digital pen. Is this the tablet to upstage Microsoft's own Surface Pro 2? Read on for our full review.
Hardware and Design
At first glance, it's hard to believe that Sony fits a full Windows 8 PC into the waifish VAIO Tap 11 chassis. At 12.0 x 7.4 x 0.39 inches (without the keyboard) and 1.7lbs it's slightly longer and wider than Microsoft's Surface Pro 2, but thinner and lighter. Sony's machine is still bigger than the iPad 4, particularly in length, but we're still impressed by the extent of the company's engineering.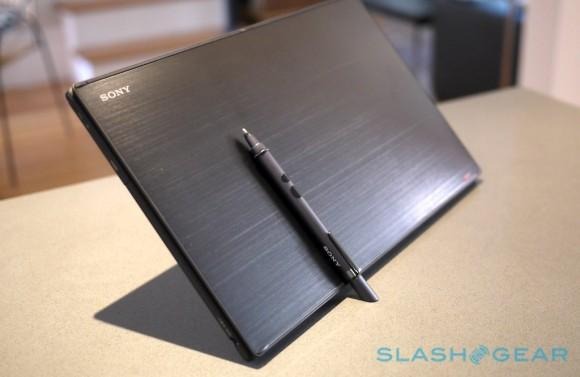 Up front is an 11.6-inch Full HD 1920 x 1080 IPS LCD touchscreen, using Sony's TRILUMINOS Display for mobile technology and offering 10-point multitouch. It's a great panel, with rich blacks and bright colors; viewing angles are good, though the gloss finish means that you may need to angle it carefully in order to avoid reflections.
It also supports an active digital stylus – using technology from N-Trig rather than the more common Wacom, as was in 2012's VAIO Duo 11 – which in this case is a pleasingly high-quality metal pen that feels much akin to an architect's propelling pencil. Two barrel buttons control secondary features, and it's capable of very precise digital inking. Unfortunately, the pen is too thick to dock into an internal silo, and so Sony provides an underwhelming plastic clip which slots onto the side.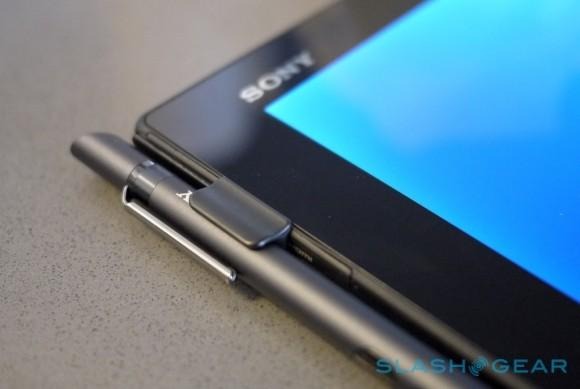 In doing so it blocks the micro HDMI and USB 3.0 port on the upper left hand side, which are already covered up with an annoying little plastic flap. The power socket is also on the left – Sony's AC adapter is pleasingly compact, and has a USB charging port in addition to the cable for the tablet itself – while the volume rocker, power button, and headphone jack are on the right.
On the top, again under a flap, there's a microSD card slot and what would presumably be a SIM slot if you had a WWAN-enabled model. There's also a vent; since the VAIO Tap 11 uses a full x86 processor, rather than an ARM chipset, it requires active cooling. On the back is an 8-megapixel Exmor RS camera, while an HD-resolution camera is on the front, above the display. The only other physical controls are the Windows button on the lower front bezel, and a shortcut to VAIO Assist on the upper rear, which loads up the troubleshooting tools.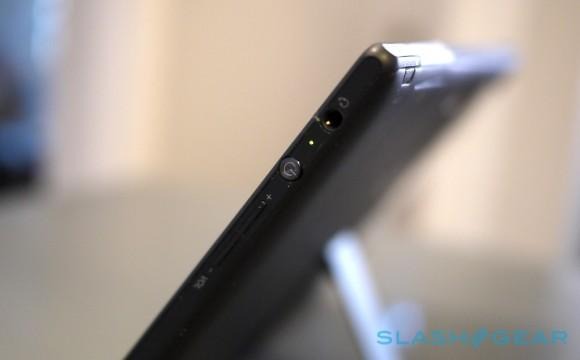 Also on the back is a kickstand, which is always welcome on tablets. Unlike Microsoft's Surface, it's a skinny little thing, about an inch wide with a rubber foot on the end. The narrow width does mean you can't use it to prop the VAIO Tap 11 up on your lap very easily, though in its favor it can be adjusted to a broad range of angles unlike the two-position Surface Pro 2 stand.
Sony's other included accessory beyond the pen is the wireless keyboard, which is supplied as standard with the tablet. It has a full-sized layout with all the shortcuts familiar from Sony's VAIO laptop range, as well as a multitouch trackpad. The latter can be switched off independently of the keyboard using a fiddly low-profile switch on the upper right edge.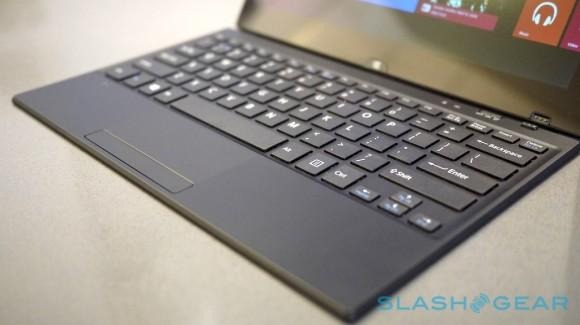 As keyboards go, the need for it to be lightweight and portable means the buttons have minimal travel, though if you've used a recent ultrabook it shouldn't be too significant a difference. Best of all, it clings magnetically to the front of the tablet, both recharging and protecting the touchscreen while it's in your bag. Our only complaint is that the magnets aren't the strongest, and it's relatively easy to knock the 'board off.
Inside, there's a choice of Pentium 3560Y, Core i3-4020Y, Core i5-4120Y, or Core i7-4610Y processors, paired with 4GB of RAM and either 128GB, 256GB, or 512GB of SSD storage. Intel HD and HD 4200 graphics are used, meaning the VAIO Tap 11 is – unsurprisingly – not going to be much of a gaming machine. Connectivity includes WiFi a/b/g/n and Bluetooth 4.0, along with NFC, and there's GPS, an accelerometer, gyroscope, and digital compass. You even get an IR blaster which, with the right app, turns the VAIO Tap 11 into a universal remote for your TV; Sony's VAIO Remote Control software is capable of controlling hardware from a broad variety of brands, not just its own BRAVIA range.
Performance and Battery
Low-voltage processors aren't going to set the world alight in terms of performance, at least not if you also want any sort of battery life, though the 1.5GHz dualcore Core i5 version of the VAIO Tap 11 on our test bench is certainly capable enough to run the sort of apps most people will ask of it.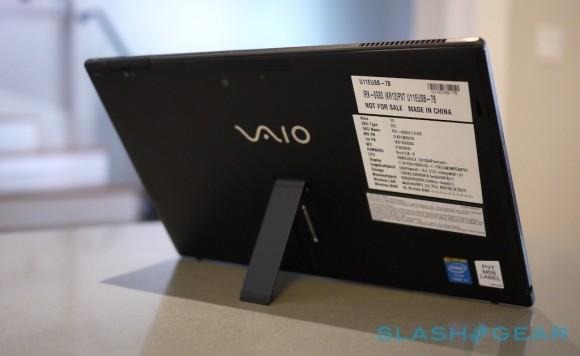 We started off by looking at Geekbench, an artificial test of processor and memory performance. The VAIO scored 3573 in multicore mode; in SunSpider, the JavaScript test of browser performance, Internet Explorer on the VAIO completed in 177.4m/s (faster is better). In contrast, an iPad 4 took around 880ms to complete the same SunSpider test.
It's in CineBench when the limits of the Core i5 and Intel Graphics 4200 begin to really show themselves. In the CPU test, the VAIO Tap scored just 135 CB points, while in the GPU test it managed 9.61fps. The fan spooled up considerably and was noticeably audible, too, which is something to bear in mind if you're used to silent ARM-based slates.
All the same, for everyday tasks the Sony's silicon is certainly sufficient. Digital ink flows smoothly in the various preloaded apps – our unit had Sony's own Note Anytime app loaded, along with ArtRage Studio, the latter recognizing not only the pressure applied with the stylus but the angle at which the nib was being used – and titles you'd generally expect to be system-intensive, like VAIO Movie Creator, ran without issue.
The combination of a high resolution panel and the 11.6-inch form-factor means text is smooth and clean, though Sony's capacitive touchscreen proved precise enough to let us tap on even smaller graphics without having to necessarily reach for the stylus.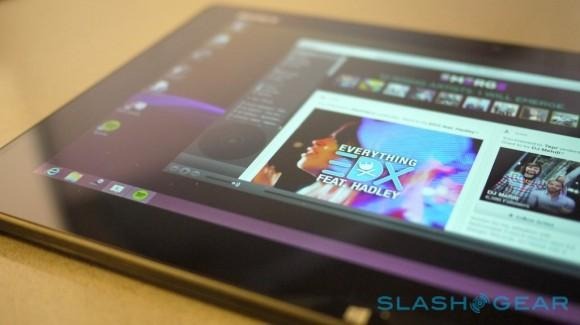 Sony suggests the VAIO Tap 11's non-removable battery is good for between 5-6 hours of runtime. That's obviously very much task-dependent; we ran a looped 1080p video at 50-percent brightness with WiFi turned on, and the Windows tablet lasted 4hrs 45 before it shut down. With more mixed use, including some browsing, note-taking, and music playback, along with some time in standby mode, we saw runtimes at the lower end of Sony's estimate.
Value
The VAIO Tap 11 range kicks off at $799, though that gets you the Pentium version of the tablet. Sony's obvious competitor is Microsoft's own Surface Pro 2, which will go on sale in around a week's time, priced from $899. It's worth noting that you'll have to spend at least $999 to get the Pro 2 with the same 128GB of SSD storage the Sony kicks things off with, and Microsoft charges extra for its keyboards, too, whereas Sony includes its keyboard cover in the box.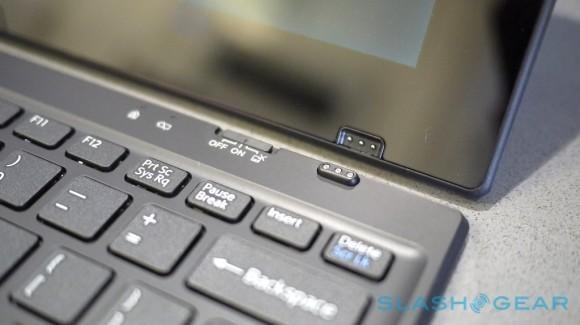 Nonetheless, opting for full Windows 8 on a tablet makes for a more expensive proposition than, say, iOS or Android. If your primary goal is browsing, media consumption, and maybe the odd email, then an iPad or Android slate is probably more cost-effective. Still, neither have the same flexibility as a full PC.
Wrap-Up
Sony expects the VAIO Tap 11 to hit store shelves in late-October, by which point Microsoft's Surface Pro 2 will have just had time to begin filtering out to tableteers. Only time will tell how the two compare, but that's something we'll be looking at closely once we get to spend more time with the refreshed Surface.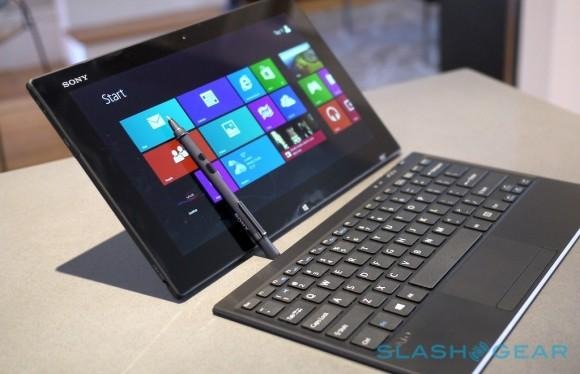 For the moment, though, the VAIO Tap 11 has plenty to recommend it. The form-factor is impressively slim and well-constructed, the display is excellent, and the digital pen functionality works well. Sony's runtimes may not be the very best we've seen from a Windows 8 slate, but that's a compromise between longevity, size, and weight. As an alternative to a traditional touchscreen ultrabook it's a compelling one, though make sure you really need full Windows 8 since ARM-based tablets offer many of the features but with twice the battery life.