Sony PRS-600 eBook Reader gets video review, e-ink comparison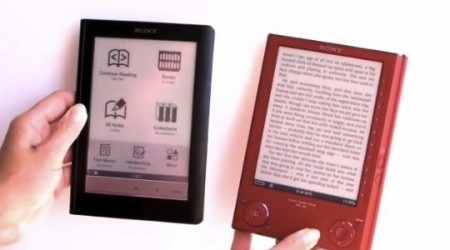 We're still waiting to see a real, working model of Sony's new Reader Daily Edition, announced earlier this week, but until then we'll make do with a video review of another of the company's recent ebook devices.  MobileTechReview have been running through the functionality of the touchscreen PRS-600, and as we've already heard hint of it's a blend of decent new functionality but middling text quality compared to its predecessor.
Video review after the cut
The touchscreen works well, and Sony's newly added functionality – such as the integrated dictionary – works well.  It's also slim and seems well put together, and handily uses the same case-fittings as the previous models (handy because Sony no longer provide a book-style case, only a neoprene slip-case).  Unfortunately the touchscreen layer seems to have blurred the text quality, with the PRS-600 lapsing behind the PRS-505 which shows more contrast and crisper edges.
Still, it's better than the PRS-700 for text quality, and there are plenty of other elements which improve over the non-touchscreen 505.  The overall opinion is that it's a decent model, but we'll still keep our wallets in our pockets until we have a chance to play with the upcoming Daily Edition.
[Thanks Barry!]