Sony Reader Touch and Pocket ebook devices launch with $9.99 bestsellers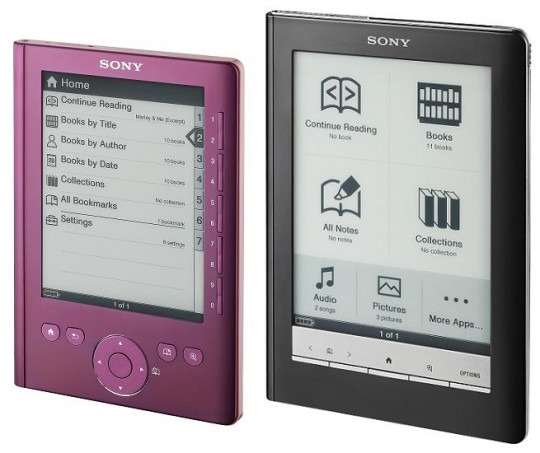 After a couple of leaks and pre-announcement sightings, it comes as no surprise that Sony have today officially unveiled their latest ebook readers, the 5-inch PRS-300 Reader Pocket Edition and the 6-inch touchscreen PRS-600 Reader Touch Edition.  Available by the end of August, the two models will retail for $199 and $299 respectively; however, Sony are also dropping their ebook new releases and bestseller titles from $11.99 to $9.99 each.
That way, the company is hoping to take on Amazon's Kindle, though neither of these models include WiFi connectivity.  What they do have are Memory Stick PRO Duo and SD card slots (in the case of the Touch Edition), USB connectivity and a copy of Sony's eBook Library software which will work on PCs and Macs.
The Reader Pocket Edition comes in navy blue, rose and silver, stores around 350 ebooks in its 512MB internal memory, and offers up to two weeks of normal use from one battery charge.  Meanwhile the Reader Touch Edition has the same connectivity and storage (plus the memory stick ports) together with a stylus, resistive touchscreen for handwritten or QWERTY-tapped notes, and a copy of the Oxford American English Dictionary that allows readers to tap a work in another text and get an instant definition.
Press Release:
SONY ANNOUNCES TWO NEW ADDITIONS TO THE READER FAMILY; DROPS eBOOK PRICING

Affordable Pricing for Devices and eBooks to Open Digital Reading to Mass Audience

SAN DIEGO, August 5, 2009 ¾ Sony is today delivering on its promise of making digital readers and eBooks accessible and affordable for consumers with the introduction of two new Readers. Part of a new Reader line, the Reader Pocket Edition™ puts a library in your hands for as little as $199. Both the Reader Pocket Edition and the Reader Touch Edition™ will be available at the end of August, at SonyStyle.com, SonyStyle stores and select retail partners. Also, new releases and New York Times bestseller titles in the eBook Store from Sony will now be available for $9.99.

"We firmly believe consumers should have choice in every aspect of their digital reading experience," said Steve Haber, president of Sony's Digital Reading Business Division. "Our goal is to expand the market and provide greater access to what consumers want to read when they want to read it — whether they buy, borrow or get it for free."

The Reader Pocket Edition sports a five-inch electronic paper display packaged in a stylish chassis and is available in a variety of colors, including navy blue, rose and silver. The Reader Pocket Edition is easy to navigate with one hand, and fits into a purse or jacket pocket. The diminutive device can store about 350 standard eBooks and provides up to two weeks of reading enjoyment on a single battery charge. It will be available for the ground-breaking price of $199, making it the most affordable dedicated reading device on the market.

The Reader Touch Edition features a responsive, menu-driven six-inch touch screen panel that enables quick, intuitive navigation, page turning, highlighting and note taking with the swipe of a finger or by using the included stylus pen. Users can take handwritten notes with the stylus pen or type with the virtual keyboard. All notes can be exported and printed out for easy reference. The Reader Touch Edition includes an onboard Oxford American English Dictionary that allows you to look up a word by simply tapping on it. The Touch Edition also offers five adjustable font sizes, as well as expansion slots for both Memory Stick® PRO Duo™ and SD card, making your portable library virtually limitless. It comes in red, black or silver and will retail for about $299.

Both models feature Sony's award-winning industrial design and an E Ink® Vizplex™ electronic paper display that mimics the look of ink on paper. They will ship with an attractive protective sleeve and USB cable. Sony's eBook Library software 3.0, which now includes support for many Apple® Macintosh® computers as well as PCs, makes it easy to transfer and read any Adobe® PDF (with reflow capability), Microsoft® Word®, BBeB® files, or other text file formats on the Reader.

Through The eBook Store from Sony (ebookstore.sony.com), users can also access more than one million free public domain books from Google. These titles, which Google has digitized as part of its Google Books project, are available in EPUB format and are optimized for current models of the Sony Reader. From Sony's eBook Store, Reader owners with a U.S. location can download and transfer any of these titles to their Reader, while new, U.S. located eBook Store users can access available titles after setting up an account and downloading Sony's free eBook Library software.

Sony is also committed to working with local libraries throughout the country as they make the move to digital books. Sony Readers are compatible with the industry-standard formats that libraries use for their digital collections, so consumers can easily download perennial favorites and new releases from their local libraries and enjoy them for free.

The Reader Pocket Edition and Reader Touch Edition, as well as available accessories such as AC adaptors, cases and covers with reading lights, will be available at the end of August at SonyStyle.com and SonyStyle stores. Book lovers interested in trying out a Reader in person will also be able to find them for sale at Best Buy, Borders, Costco, Staples, Target, Wal-Mart and other authorized retailers nationwide.