Sony my Xperia goes global: "Find my iPhone" for Sony Androids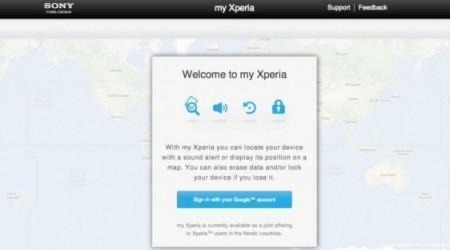 Sony has begun its global roll-out of "my Xperia", the company's mobile security service that offers "Find my iPhone" style remote tracking, locking, and wiping for Xperia Android phones. Trialled as a limited beta back in February, "my Xperia" should begin hitting phones more broadly across the globe "over the next few weeks" Sony says, providing greater peace-of-mind for Xperia owners.
Like Apple's service, "my Xperia" has various levels of security and protection. If you've lost your phone around the house somewhere, or left it lying on a cafe table perhaps, it's possible to log into the web interface (at myxperia.sonymobile.com) and remotely trigger the phone to sound an alert. That'll happen even if your Xperia is in silent mode, with the default being maximum volume.
The web UI also shows mapping data of where the phone last checked in; Sony says that, if it can't instantly get a fix, it will keep trying and then send users an email when a location has been pinpointed. There's also the option to override the current PIN or whatever other security is on the Xperia, and reset it to a new 4-digit PIN code remotely.
A message – such as the offer of a reward for safe return, and a contact number – can optionall be flashed up on the display.
Finally, as a last resort, it's possible to wipe the Xperia altogether, either just the internal memory, or the memory card (if loaded), or both. Sony claims that, once that's done, the only way to recover any of the files would be a restore from backup.
It's a potentially valuable service, given the amount of personal data and account access our phones commonly hold, though Sony's system is not the first time we've seen it for Android from a major OEM. HTC Sense Online, the company's web-based component for Android phones running the Sense skin, went live back in 2010 and also offered remote location, locking, wiping, and other services, including accessing messages and contacts saved on the phone through the desktop browser.
However, HTC axed the online side of Sense in early 2012, after effectively leaving it to languish with little investment and minimal marketing. Also yet to show its hand is Google itself, though the company is undoubtedly looking at remote security for Android.
In the meantime, third-party options are on offer for those not using a Sony Xperia phone. Lookout, for instance, offers an Android app with the same functionality.
VIA AndroidBeat