HTCSense.com Closes Shop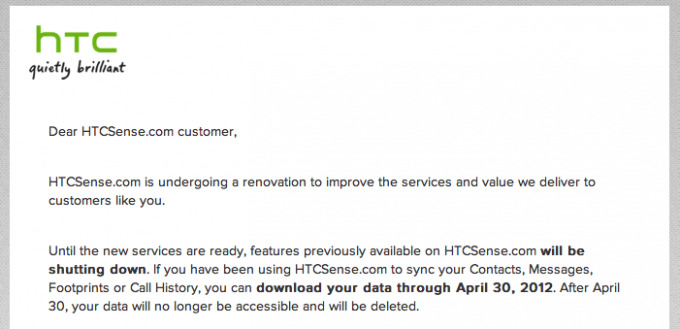 This week the folks at HTC are letting their customers know that their own information retention service for mobile data, HTCSense.com, will be shutting down on the 30th of April. This service has been active with and for HTC customers for some time now and the actions which HTC customers must take to save their data are included below. HTC has given customers a bit over a month to download the data they've had on file with HTC at HTCSense.com, at which point the information will be deleted entirely.
For those of you on HTC devices that have been using HTCSense.com, you'll want to follow the instructions below to retain the data you've saved with the site any time in the past several months. HTCSense.com has until now been both a backup service for HTC devices and a phone location service for devices with HTC branding, and the site will be revamped in one way or another to re-up these services in the future. For now though, you'll want to do the following:
• Visit http://htcsense.com

• Log in with your HTCSense.com username and password

• Click the 'Download' button in the Account Overview section

• A .zip file containing your data will download to your computer for easy viewing
HTC recommends that you visit Google Play (formerly Google Android Market) to pick up any new apps you might need to work with data backup and phone location services. This is a bit of an odd play by HTC and we'll be following up on this post with a bit of analysis to see if we can dissect what it all means. Stay tuned!
[via HTC]