Sony feathers PS Vita store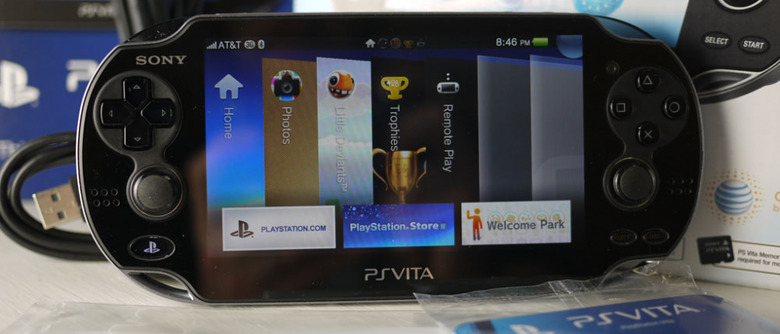 After lackluster game options were blamed for slumping Japanese PS Vita sales, Sony is doing its level best to avoid the same fate in the US and Europe with a range of games and other apps freshly released this morning. Hitting alongside first full in-store sales of the PS Vita, the fresh content includes Live Tweet, Flickr and Netflix, together with Touch My Katamari and Plants Vs Zombies. However there's already controversy over pricing, with Plants Vs Zombies coming in at $14.99.
The Vita's augmented reality support gets a workout – overlaying game content on top of a real-time view from the handheld's rear camera – with three free games: Cliff Driving, Table Soccer and Fireworks. In paid gaming, there's Hustle Kings ($9.99), Ben 10 Galactic Racing ($29.99), Shinobido 2: Revenge Of Zen ($34.99), Army Corps Of Hell ($39.99), Dynasty Warriors Next ($34.99) and Tales From Space: Mutant Blobs Attack ($7.99).
Meanwhile a range of new PS Vita add-ons have also been released. BlazBlue: CSE – System Voice Arrange Noel Type-A, Type-B ($5.99), Hustle Kings Snooker Pack ($2.99) and Time Saves Pack ($1.49), Ultimate Marvel vs Capcom 3 Add-Ons x9 ($3.99 Each), ModNation Racers: Road Trip – Unlock All Code ($5.99), UNCHARTED: Golden Abyss Treasure Map Pack ($0.99), Hot Shots Golf: World Invitational Online Pass ($9.99) and Wipeout 2048 Online Pass ($9.99) are all fresh to the store.
[vms 904f24cde464161c3e76]
For more on the Vita, check out our hands-on unboxing and full guide to the events of this launch week. We've also got a review of Sony's innovative Vita OS. All that's left is for you to tell us whether any of these new titles make you more likely to pick up a PS Vita yourself – let us know in the comments.