Sony Ericsson developing Smartbook claims insider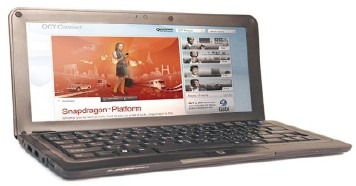 Sony Ericsson are tipped to be working on a smartbook, a non-Intel ultraportable device that would bundle high-speed wireless connectivity, lengthy battery life and a compact keyboard and display.  The news comes via NetbookNews, who have been talking to a "reliable Taiwanese source" connected to both existing smartbook developers and to upcoming manufacturers.
Details of the Sony Ericsson smartbook are unknown at present, including whether it will be built on Qualcomm's Snapdragon platform as with ASUS' Eee PC prototypes or an alternative chipset such as NVIDIA's Tegra as used in the Mobinnova elan.  Both use an ARM core with frugal graphics and connectivity, with smartbooks based on the chips promising battery life in excess of ten hours and always-on 3G WWAN.
Ironically, Sony's VAIO P netbook seems already to have been an inspiration to smartbook designers, with Wistron creating a model strongly reminscent of the Atom-based ultraportable.