Sonos tightens Spotify playlist support with new controller apps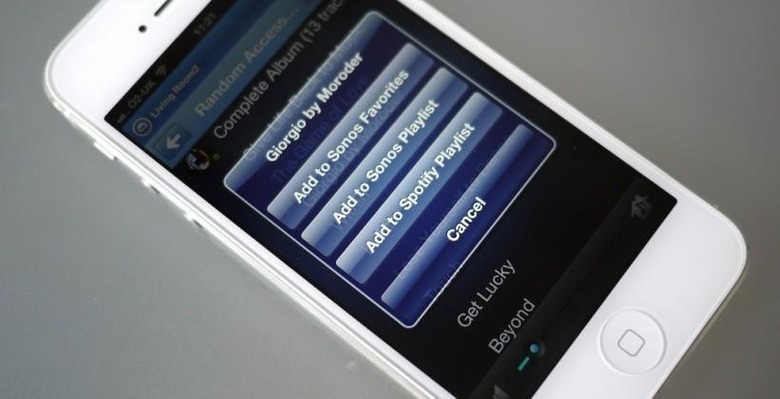 Sonos has updated its controller app for iOS and Android, boosting Spotify integration with new playlist editing tools. The updated v4.1 apps, which turn your iPhone, iPad, or Android device into a remote for the multiroom streaming system, can now add a Spotify account simply by punching in your Facebook credentials, with support for creating and editing Spotify playlists directly within the Sonos software.
Spotify integration has been a part of Sonos since late 2010, but the two services have never worked properly together in terms of playlists. Although the Sonos controller apps will pull playlists created in Spotify, you can't edit them or create new lists, only add tracks to a Sonos-specific playlist.
Version 4.1 of the controller app, however, addresses all that, in addition to finessing how Sonos playlists are handled. Now, it's possible to add tracks from any music source without first having to add them to the music queue, for instance; it's also possible to access Spotify folders.
It's not clear whether Sonos will continue the Spotify integration and add features like the new Discover tab, which the cloud music service launched earlier today. That attempts to cut through catalog intimidation by suggesting music it believes the listener will enjoy, based on the tracks they've played previously, artists they follow, and the music their friends are listening to.
The new Sonos controller apps are available for download in the App Store and Google Play store now. You'll obviously need a Sonos system and a Spotify Premium account in order to actually take advantage of the new features; those with free Spotify accounts will have to upgrade. There's also a companion firmware update for the Sonos PLAY speakers themselves, which will need to be installed before you can use the new apps.