Sonos PLAY:1, PLAY:5 comes to Apple.com, Apple Stores on Oct. 5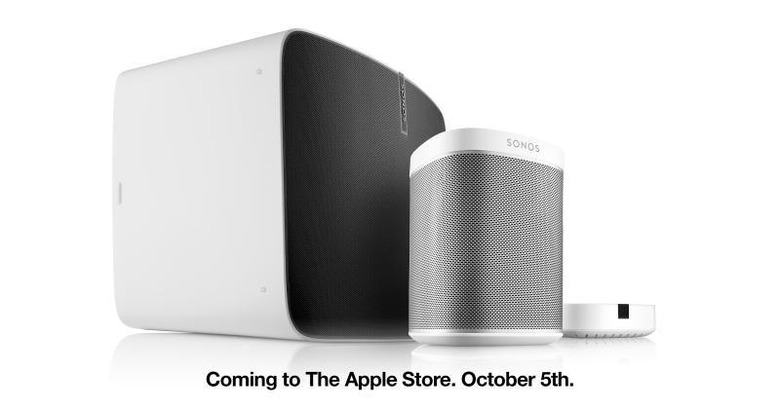 By doing away with the 3.5 mm headphone jack, Apple has placed its iPhone eggs in wireless audio equipment basket. And not just wireless, Bluetooth headphones, but wireless speakers as well. When it comes to the latter, there is perhaps no brand that rings louder than Sonos. It was only natural that the two would eventually forge closer ties, which happens today as two of Sonos' most popular connected speakers, the PLAY:1 and the PLAY:5, head to Apple's online stores and, by next week, physical retail stores as well.
Here are the deets about buying the Sonos PLAY:1 and PLAY:5 wireless speakers directly from Apple. Today, the two are already available for purchase from Apple.com for US customers. Those who prefer to walk into stores to buy one will have to wait until October 5, when 468 Apple Stores around the world start carrying the speakers. Those outside the US who prefer the online shopping experience, however, will have to wait a bit longer.
Although not exactly the latest in terms of gear, these two Sonos wireless speakers remain the favorite among the brand's fans. From the entry-level PLAY:1 to the more powerful, but also more expensive, PLAY:5, the two wireless speakers offer not just streaming from iPhone to speaker but from speaker to speaker as well, creating a network of connected speakers to fill your entire house with the same music or a different mix at every corner.
Check out our review of the PLAY:1 and PLAY:5 (2015) to see how these speakers performed in our tests.
Prices for the two haven't changed a bit and the PLAY:1 still costs $199.95 and the PLAY:5 (2015) $499.95. A select 140 Apple Stores will offer hands-on demos of the speakers working with Apple Music on the iPad Pro. As a bonus, those buying a Sonos speaker, be it from an Apple Store or Apple.com, between September 26 and December 31 will receive a free 3-month Apple Music Gift Card.
SOURCE: Sonos