Sonos PLAY:1 leaks in full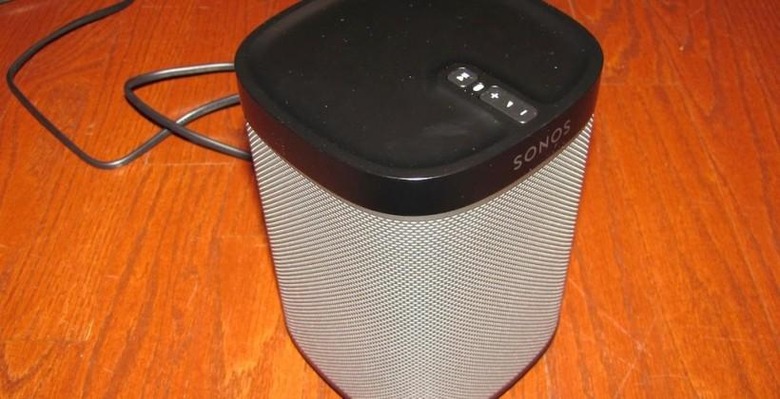 Sonos's entry-level Play:1 speaker surprise was spoiled by Target, and now we can see what's going on inside the box, too. Target isn't processing any sales until October 13th, but SlashGear reader Steve managed to pick up a Play:1 ahead of time through eBay, and has shared some photos of the $199.99 streaming speaker with us. Check out more pictures – including comparisons with the Play:3 – after the cut.
As expected, the Play:1 is considerably smaller than Sonos' other models so far, more like the form-factor of a wireless smartphone speaker from JBL or Nokia in fact. On the top is the usual Sonos rocker key for volume up/down, but where the Play:3 and Play:5 have mute buttons, the Play:1 switches that out for a play/pause button instead.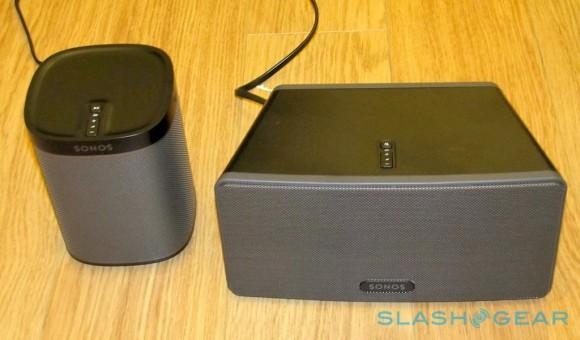 That allows for more local control over playback at the speaker itself, compared to the current situation where everything needs to be handled from the remote or the remote apps. According to the user guide, it should also work to skip tracks, but that's not apparently working yet; a firmware update, which is notified but won't download yet, might fix that by the official launch. Connectivity consists of an ethernet port on the back panel, below a mounting screw for floor-stands or wall-mounts, and the power socket underneath.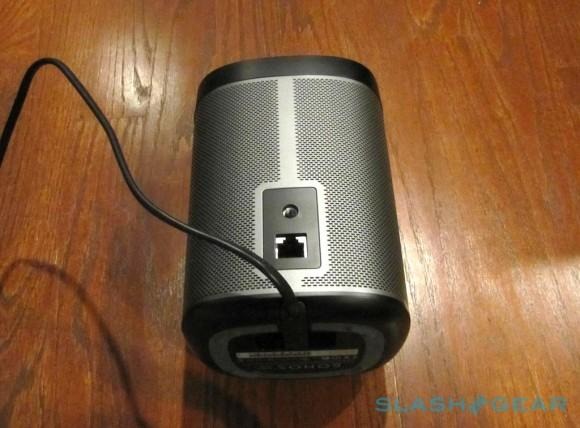 While extending a Sonos streaming system into smaller rooms is one possibility with the Play:1, the obvious use is as a rear surround speaker pair for the Playbar. That, which we reviewed back in March, can have two Sonos speakers assigned as the rear left and right channel, an expensive proposition when you consider the Play:3 start from $299 apiece.
In contrast, $199.99 – the price Target listed – for the Play:1 seems a lot more acceptable. Unfortunately there's no battery inside as some had rumored; pull out the power cable and the speaker goes dead and then requires resyncing with the mesh network when you next plug it in.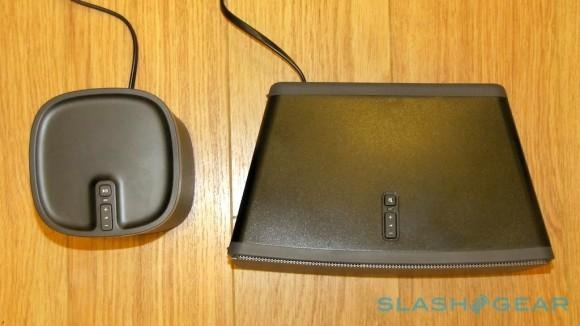 On the upside, Steve tells us the Play:1 punches above its weight in terms of performance. "Surprisingly great sound, very full and rich" he says. "No separation to speak of but room filling sound."
We'll have to wait to test that out ourselves until the Play:1 officially launches later in the month.
Update: It's official, and we've reviewed it!