Sonos Play:1 accidentally put on sale ahead of unveil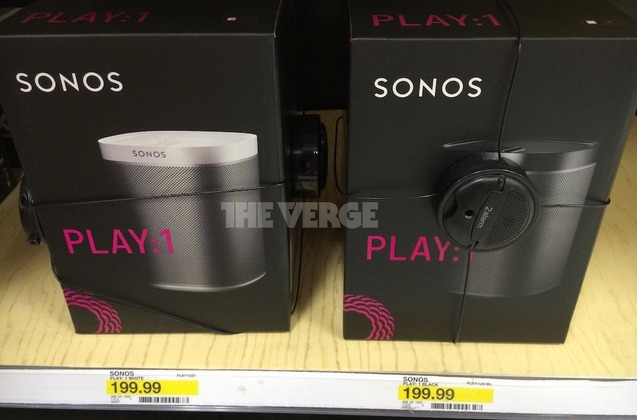 Sonos' upcoming – and currently unannounced – Play:1 speaker, the $199.99 entry-level model to the streaming media range, has been caught on sale early. A Target shopper flagged up the prematurely stocked speaker to The Verge, having spotted it in their local store already on the shelves in black and white.
Full details of the speaker aren't known at present, and according to shopper reports there's little in the way of specifications printed on the box. One commenter reports that the Play:1 is listed as a "no-sell" item until October 13, and won't sell the speaker until then.
That leaves some unanswered questions about exactly what the $200 speakers offer. Obviously, as Sonos products, they'll hook up wirelessly via the company's proprietary connection in a mesh network, allowing streaming to each unit individually or, if grouped together, to more than one location in sync.
The name would suggest that, inside, there's a single speaker; Sonos' existing Play:3 has three, and the Play:5 has five, for example. However, it's not known whether that speaker shares cabinet space with a battery for wireless use, or if the Play:1 will need to be plugged into the mains.
What's likely to be the focus is turning the Play:1 into an affordable stereo pair. Sonos' existing speakers can be paired up in that way, rather than each speaker delivering both channels, but that can get expensive given the Play:3 are $299 apiece. Sonos also supports using its speakers as the rear wireless surround pair with the PLAYBAR we reviewed back in March.
Given stock is already in stores, we'll presumably know more around the weekend.