Snapchat Spectacles now export clips in a much more useful way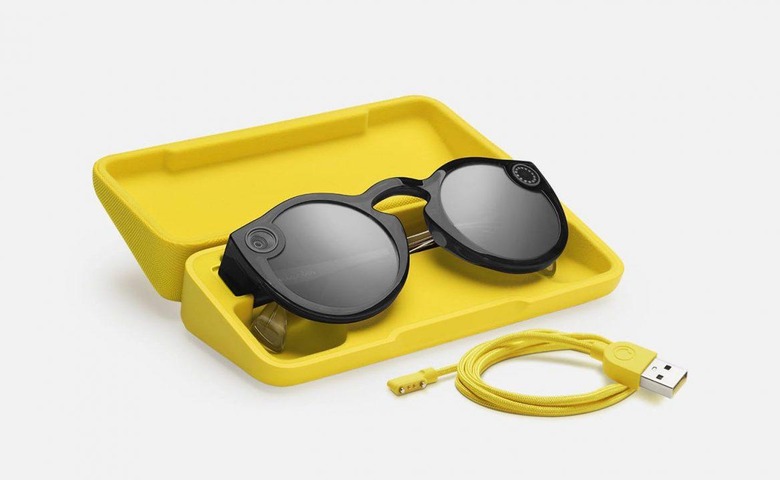 Snapchat's Spectacles can now export video in a much more usable format, ditching the circular shape and making footage captured with the camera-toting sunglasses play nicer with other social networks. Until now, exporting a video captured by Spectacles with Snapchat's app would do so in a circular format, with a white border around the footage.
That's because, although exports were officially supported, Snap would much rather you used Snapchat to share the clips. When viewed in that app, rotating the phone between portrait and landscape doesn't stop playback. Instead, you can choose between watching the clip in either orientation – or, indeed, some angle in-between.
Signs that Snap was relenting on that export attitude were spotted back in May, however. Then, a new option in the Snapchat app beta for traditional aspect video exports was discovered. Selecting that saved the clips in a more typical landscape format. That, in turn, made them far more easy to share on Instagram, YouTube, Twitter, Facebook, and other social networks.
At the time it was unclear just how long it might take for the beta feature to graduate to the general release app. Turns out, the answer was "about a month." An update to the Snapchat software now brings the new export to everybody who has Spectacles.
It's not just landscape orientation clips, though they're likely to be the most popular of the additions. Footage can also be saved to your phone as a square – making it particularly Instagram-friendly – or in the same old circular style only with a black border rather than white. Better still, both those with the newer, second-generation Spectacles V2, and those with the original first-generation Spectacles, will be able to use the new export feature.
Of course, in the time between seeing the beta feature show up a month ago, and today, another video aspect has suddenly stolen the spotlight. Instagram launched its new IGTV app earlier this week, eschewing square or landscape video in favor of portrait-aspect footage. The length limits have also been lifted, with up to an hour of video able to be shared.