SlimPort HDMI Adapter Review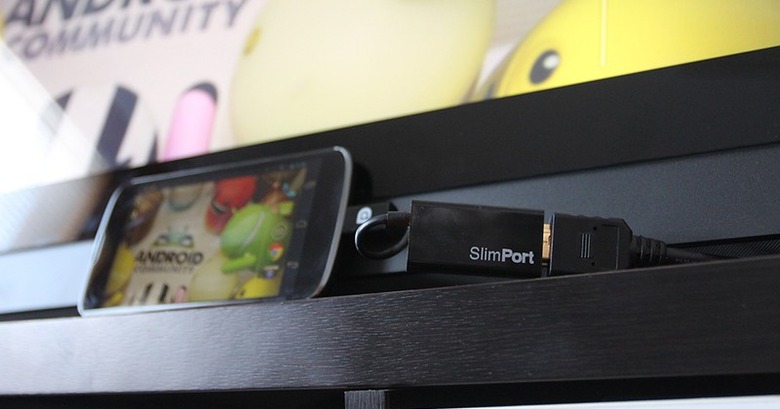 With the Google Nexus 4 the Mobility DisplayPort (MyDP) standard was born in the real world – it being the first device to have the ability to transmit information from its microUSB port out to HDMI. The second device to work with this growing standard is the LG Optimus G Pro, a device we've had our hands on more than once recently as well. With the SlimPort HDMI Adapter, the folks at Analogix have taken hold of this soon-to-explode standard technology and have made it a real working model – with the device we're reviewing today, you'll be outputting video from your Nexus 4 or Optimus G Pro to an HDMI cable to your HDTV at full 1080p – sound included!
It may seem strange to see a review of a peripheral as small as this lovely little Analogix SlimPort HDMI adapter out here in the wild simply due to the large amount of relatively similar solutions on the market. Whenever 20 companies make an smartphone accessory, it always ends up being difficult to tell them apart. When it comes to the SlimPort solution here, on the other hand, there's really only one way to go – especially when you're using the LG Optims G Pro or the Google Nexus 4 (also made by LG.)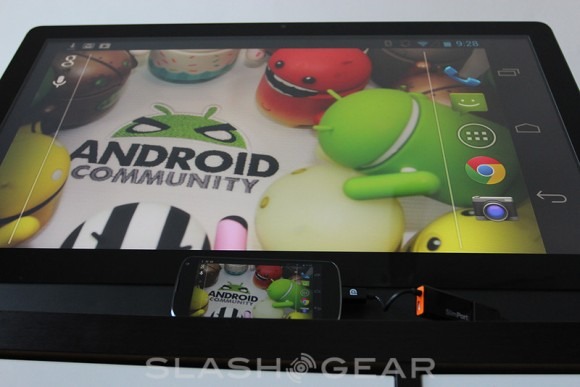 Last week we were told that the brand new LG Optimus G Pro would be carrying official MyDP standard connectivity in its microUSB port. With that, we heard from SlimPort that they'd be more than happy to let us have a peek at their technology in a rather simple-looking HDMI connector. As it turns out, LG was rather pumped up about this connectivity as well:
"With SlimPort, LG is able to deliver unprecedented functionality at a lower cost, because of its streamlined design and standard USB connector. SlimPort unleashes content from the Optimus G Pro smartphone, making it a snap to share and enjoy videos, games, photos and more on any screen." – Dr. Ramchan Woo, division leader/smart phone platform division of LG Mobile Communications Company
You're able to pick up any of several different SlimPort accessories to work with your Nexus 4, LG Optimus G Pro, or future MyDP-enabled devices. The one we've got here connects on one end to the microUSB port on your smartphone, the other to an HDMI cord (which you must already own), the HDMI cable then connecting to your secondary display of choice. The reason you'd pick this adapter up instead of the company's HDTV Cable (microUSB straight out to HDMI), is the microUSB port it works with.
With the microUSB port on the adapter, you're also able to connect a microUSB cord in that's also connected to a wall socket – this way your smartphone (or perhaps tablet in the future) is being charged at the same time you're outputting massive amounts of graphics. That said, this solution also allows you to work without plugging in to the wall – a definite bonus that places this technology over solutions like MHL which, on devices like the Samsung Galaxy S II and III, demand external power to work.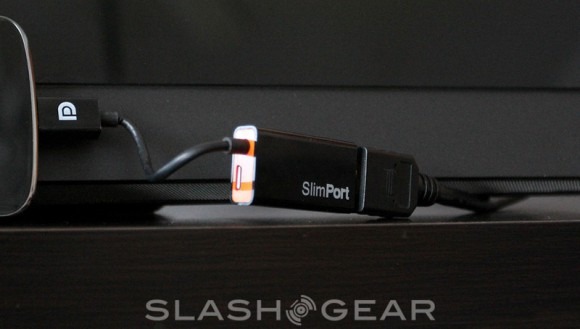 SlimPort's solution here also requires very little power to utilize. We've watched entire movies on the Nexus 4 with this HDMI adapter without external power, in fact, and the LG Optimus G Pro works even longer than the Nexus 4 – what with the larger battery, and all. SlimPort also offers (or will offer in the near future) VGA and DVI out as well.
So have a peek at this HDMI adapter or check out the rest of the collection at SlimPort – you'll be paying right around $30 USD if you need an adapter today, and the rest of the collection will be appearing online soon. Also have a peek at our Nexus 4 tag portal for more information on this radically popular Google-fresh LG-made smartphone, chock-full of Qualcomm Snapdragon S4 Pro quad-core processor goodness.