Sleek Audio's Kleer wireless system for SA6 officially announced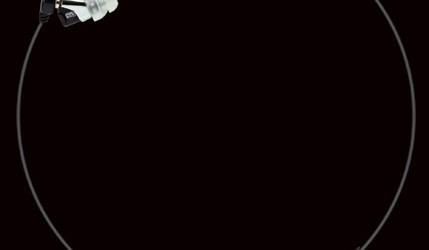 If you didn't read our interview with the Sleek Audio founders last week, or our review of the Sleek Audio SA6 in-ear monitor earphones on Monday, you might not know that the company's wireless music adapter went up for pre-order last week.  Sleek Audio have officially announced the adapter, which uses Kleer's lossless wireless technology to transmit CD-quality audio.
The wireless adapter plugs into the SA6 earphones instead of the standard cable; that means, if the battery runs down, you can switch back to wired and keep listening.  It also ensures that people who have already bought the SA6 earphones will be able to update to wireless without having to buy a whole new set.
Battery life is rated at up to ten hours, and since the transmitter plugs into a standard 3.5mm headphone socket it can be used with just about any PMP or source, with no impact on that device's own battery life.  Range is up to 60 feet, and up to four wireless receivers can connect to one transmitter at any one time.
Mark Krywko, one of the Sleek Audio founders, also confirmed to SlashGear that the company is in talks with other high-end earphone manufacturers about using the wireless adapters.  The Sleek Audio Kleer wireless adapter is priced at $120, while a bundle with it and the SA6 earphones is priced at $299.99; we'll be reviewing the system as soon as the first samples start shipping.
Press Release:
A New Standard is Set for Wireless Earphones; Sleek Audio Launches their KLEER Wireless Application for the SA6 and Sleek Customs

Music lovers are freed from the limitations of cords with Sleek Audio's award winning earphones that offer CD quality digital audio for the ultimate wireless listening experience

Bradenton, Fl. October 08 – Sleek Audio, developer of the award winning SA6 earphones, has teamed with KLEER™, the leading wireless audio application developer, to create a wireless audio experience that sets a new standard for audio quality, comfort and flexibility.

Sleek Audio wireless earphones using KLEER technology are a breakthrough in sound quality from a wireless platform. They are the first to offer true, CD quality sound wirelessly through a customizable, ultra-wide balanced armature driver. No detail, range or power is lost as the audio signal travels from the music player to the earphones, allowing listeners to "escape" into their music like never before. They are also the first wireless earphones to resolve battery issues that other wireless systems struggle with. Previous wireless earbuds were rendered useless if the wireless application ran out of power and the listener was out of luck until they could recharge the battery. Thanks to the SA6's detachable wire, if the wireless application runs out of battery, the original cable can simply be plugged in, and the listener is back in business.

"It's amazing how far wireless technology has come along over the years. Until KLEER, wireless technology really did not do justice to our SA6's, but now wireless technology has caught up with the audio side and we can offer wireless earphones that don't sacrifice sound quality," said Mark Krywko, CEO of Sleek Audio. "Our earphones are designed to evolve, and allow music lovers to escape into their music by offering unparalleled sound quality, comfort and ESC (Environmental Sound Control). Wireless is the next step in that evolution allowing for more freedom than ever. We've tested our wireless SA6's with the most particular audiophiles we could find, and they couldn't believe the quality of sound coming from our earphones using a wireless platform, we've really set the bar high and are excited to bring this application to music lovers around the world," added Krywko.

The KLEER wireless system attaches seamlessly to all current and future Sleek Audio products thanks to the proprietary detachable cable that comes standard. It provides up to ten hours of battery life independent of the media player and allows up to four people to listen from a single audio stream with 60 feet of freedom thanks to KLEER's multi-point Listen in™ technology.

"Sleek Audio really is a leading innovator in personal audio and after seeing (and listening to) what they had developed with their SA6 earphones we knew we were going to do some incredible work together as two leaders in our respective fields," said Levent Gun, President & CEO for Kleer . "Sleek Audio really thought of everything when they created their SA6 earphones, and it made it relatively easy for a wireless application to be developed," added Gun.

The wireless application is available for pre-purchase at www.sleek-audio.com and is currently adaptable to both the SA6 and Sleek Customs.

About Sleek Audio

Sleek Audio is a personal audio company dedicated to creating "Music in Tune with You." Creators of the first ever acoustically customizable earphones, Sleek Audio are driven from decades of experience in the custom hearing aid and audio industry. Sleek Audio products are designed for high-performance use with all MP3players including iPod® and Zune®. For more information, visit the company website at www.sleek-audio.com.

About Kleer

Kleer is a fabless semiconductor company that has developed the first wireless audio technology to combine high quality audio and robust ISM band coexistence with low power consumption to address portable, home and automotive audio markets. Unlike Bluetooth, Kleer's patented subsampling radio architecture was designed from the ground up to communicate lossless CD-quality digital stereo audio over a robust 2.4GHz radio link, while achieving 10 times the battery life of a comparable Bluetooth solution. Kleer's Audio LP technology is ideally suited for OEMs of portable audio players, iPod® and other player accessories, home audio/theater systems, earphones, headphones, and speakers. Kleer distributes its products via direct sales in North America, and a distribution channel in Korea and Japan. The Company is headquartered in Cupertino, California with product development facilities in Ottawa, Ontario. For more information, contact the company at 19925 Stevens Creek Blvd. Suite 111, Cupertino, CA, 95014, Tel: 408-973-7255, Fax: 408-973-7256, Email: info@kleer.com, or visit the company web site at www.kleer.com