We're big Sleek Audio fans here at SlashGear, and we've known the company has been cooking up something special for the past six months or so.  That project – the new flagship Sleek Audio SA7 in-ear monitors – has come of age just in time for IFA 2010, along with their upcoming refresh of the original SA6's, in the shape of the SA6-R (where the "R" stands for "Reference").  We jammed the carbon-fiber and machined aluminum SA7's into our ears for a preview.
Unlike the plastic-bodied SA6 earphones, both the SA7 and SA6-R use the same solid aluminum core.  Around that core are bolted the shells: aluminum on the SA6-R's (either brushed or a soft-touch blasted finish; what you can see in our photos are still non-final) while the SA7's get custom carbon-fiber.  The latter is worth examining; it has the tightest weave of any carbon-fiber we've seen, and is in fact manufactured for Sleek by a military composite specialist responsible for producing drones for the US government.  Tricky to photograph, but it looks brilliant in real life.  The SA7's get a dual armature driver to differentiate them from the single armature driver of the SA6-R's.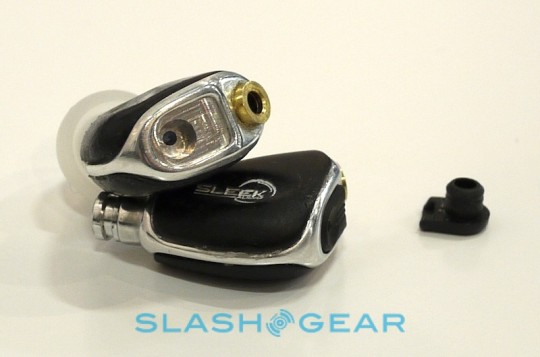 As with the SA6's, you can adjust the treble and bass response of the SA7's and SA6-R's using various tube and plug inserts as part of the company's VQ System.  There are also various silicone tips (and you'll still be able to get the CT6 Customs which are specifically molded to a cast of your ear canal) and you can detach the audio cables for easy replacement or to use the Kleer wireless system.
It's too soon to say conclusively about audio quality, but our first impressions of the SA7's are certainly positive.  We're used to Sleek offering airy, twinkling high end frequencies paired with distinctive, clear bass (and you can tweak those, of course) but the new set seems even more precise.  We tried a broad range of musical styles – from classical through to pounding dance – and the real takeaway was the delineation of the different components of the audio.  Bass was powerful but wasn't an overwhelming thump, coexisting well with other elements rather than drowning them out; mids and trebles, meanwhile, were piping clear and crisp.  The end result was more enjoyable music at quieter volumes (though that's not to say the SA7's can't handle high power).
We'll save anything more in-depth until review samples are available, which should be sooner rather than later: Sleek say the new sets are almost ready for release.  The SA6-R's will be priced at roughly the same as the SA6's they replace, around $200, while the SA7's will be $350-400, still cheaper than rivals from Shure and others (and which are often made of plastic not metal).