SlashGear's Best of CTIA 2009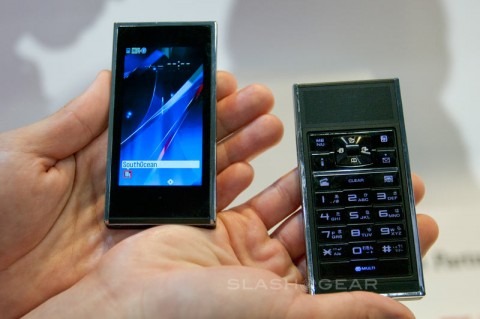 CTIA Wireless has come and gone for another year, and while many people are complaining about the general lack of new products, there were still interesting devices and services that we got to see demoed and get our hands on. We're going to list off our favorites from the week, and hope the delay in getting this list up doesn't bother you too much; we had to really think hard before we decided.Best Concept Phone- docomo Separable Phone
Even though we'll never see it on U.S. soil, the docomo Seperable Phone was freaking sweet. The device was two pieces, a number pad/remote and a screen, held together by magnets and could be pulled apart. The screen could be placed on the wall to watch television, and the number pad acted as the remote. You could also take the screen and use that as a touchscreen phone separately from the keypad.  Even cooler were the add-ons, like the wrist band for running that displayed all sorts of information relayed to the large display by the keypad that would be in the runner's pocket.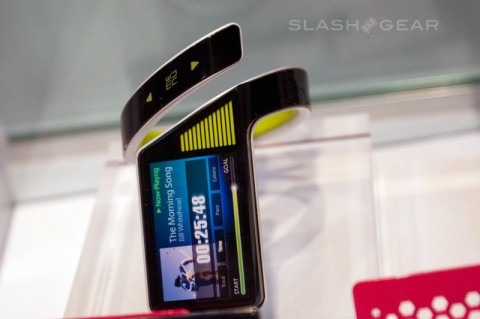 Best Real Phone-Palm Pre
You saw that one coming, didn't you? Of course the Pre was going to win that one. Even though we were only allowed to hold it while a Palm rep kept their fingers touching it, and we weren't really allowed to explore the functionality of the phone past the demos, the Pre was still impressive. The interface was smooth, the features were amazing, the display was stunning, and the applications promising. I can't wait for this phone to be released, and I know I'm not alone. We had all of our real Palm Pre coverage over at MyPre.com, which you should check out if you haven't already.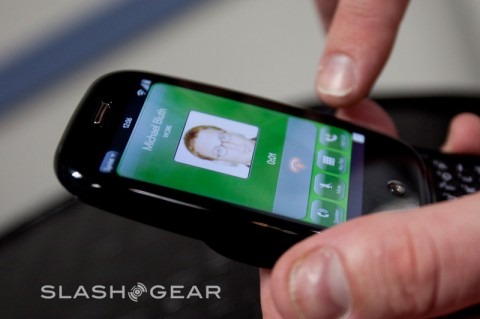 Best New Online Service-RocketVox
We saw RocketVox at ShowStoppers and I was immediately impressed by it. The service creates an aggregate inbox for all of your communication (chat, email, voicemail, IM, fax, etc.) and also provides a phone number for calls to be directed to multiple cell phones if you have them, much like Google Voice. Where RocketVox differs is the ability to control your contacts and create security layers called "orbits" that allow you to assign a specific amount of information that the contact can see or get from you.  It also does voicemail to texting if you miss a call, which is sweet. I'm really looking forward to getting in on the Beta for RocketVox, and this service looks like it'll be fantastic to use.
Best Peripheral-Hantech's Siso Tablo
Yes, you saw this one already, but we were so impressed by the abilities of the Tablo that we threw it up here again. The Tablo turns any laptop PC into a tablet PC through a small sensor that is placed on top of the display, and a pen that allows you to write on your screen.  The Tablo works with all MS Office applications, as well as Adobe Photoshop, Illustrator, and Corel Paint. There's even an attachment to turn the pen into a normal ballpoint, and whatever you write on a piece of paper shows up on the screen. We're getting a unit to review, so we'll let you know how well the Tablo works in the coming days.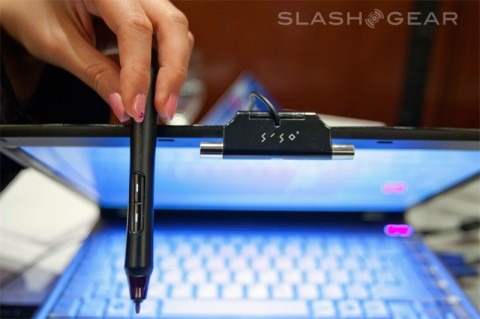 Best New Product Line-Kyocera
We got a chance to sit down with some people from Kyocera and be briefed on their upcoming product line, as well as their recent shift in business strategy since their takeover of Sanyo. Kyocera has some excellent phones that are debuting on Sprint very soon. The low-cost, high-volume full qwerty keyboard phone, is a promising device that targets the teenage texting generation. It was a durable phone, easy to use, and very sturdy with some nice features such as dedicated "Text" and Emoticon buttons. Their new slider phones feature full qwerty keyboards as well, and were a pleasure to use. Kyocera has some big plans for it's future devices, and I wouldn't be surprised if we saw jumps in their marketshare in the coming years.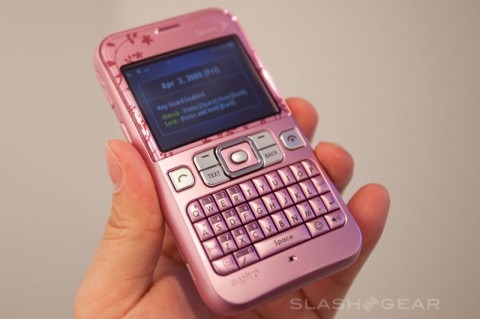 Best Booth-LG
We were told that it was less extravagant than years prior, but we couldn't tell. The LG booth was one of the largest and was the first booth you saw walking onto the main floor in the central conference hall. It featured light effects, a live DJ for pounding music, and ridiculously plush carpeting and couches for comfort.  We seriously felt like we were in a new dance club that only invited old dudes in business suits.  They even had a piece of the "All-Spark" from the Transformer's movie (I found out later that Michael Bay was there and embarrassed himself in front of his LG handlers by pulling out a $39 Samsung phone).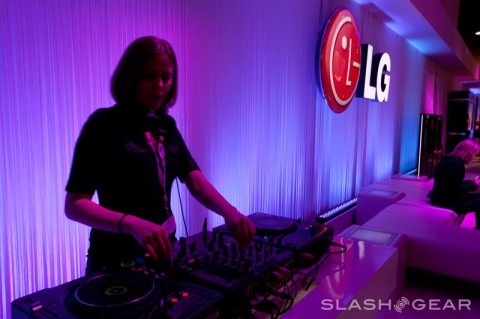 Best Food-Sprint VIP Lounge
We camped out in the Sprint lounge to work, mainly because the Palm Pre was there, and because the people were awesome (and Vincent was hoping he'd get to meet Dan Hesse again). We have to say though, the food rocked. caprese sandwiches, sushi, fruit cocktails, desserts, yogurt parfaits, roast beef, and the list goes on.
Best Cell Phone Accessory-BlueAnt Q1
It was a tough decision between Sound ID's 200 model and the BlueAnt Q1, but the BlueAnt won out by a hair, only because the integrated speech commands took it beyond the expected capabilities of any other bluetooth device out there.  The Sound ID had the comfort and the style, but the BlueAnt Q1 had the functionality that made us "wow" and realize that all other Bluetooth headsets should incorporate hands-free commands.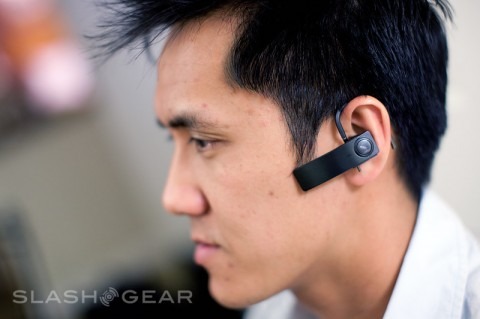 Best Use of Capacitive Touch Surfaces-LG GD900
The GD 900 features a transparent keypad that acts as a second capacitive touch surface for controlling the phone.  The main display and the keypad are both capable of multi-touch, so resizing and swiping through photos is easy on either surface.  The phone uses the S-Class user interface, and attempts to mimic the iPhone in photo resizing and simplified menus.  This phone basically dominates the fashion-accessory category too. It's a gorgeous looking handset, but unfortunately, this GSM device isn't going to be hitting our shores any time soon. North and South American launch dates are yet to be determined, and Europe is in the coming months.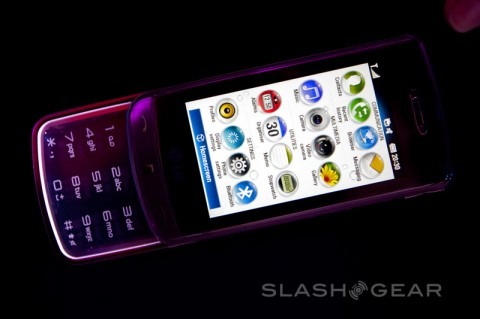 Best Use of OLED Displays
Samsung had a nice booth, but the best feature was a giant exclamation mark made out of the displays from the Samsung Impression. Hundreds of AMOLED displays flashing different images in bright colors showed off the beauty of AMOLED screens. It looked beautiful, and the best part was that the images were visible from most angles, which really showed the capabilities of the AMOLED displays.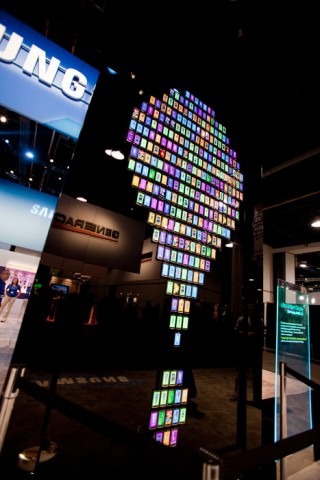 Well, that's the best stuff that we thought of. Every company there had interesting products and services. If you happen to think we missed something, let us know and why you thought it was so great. We enjoyed bringing the CTIA coverage to you, and we hope you enjoyed reading it! Thanks for following our posts from CTIA!
[vms d1345dd8fe4e481144d8]
[vms 240ad5b9b413aa7346a1]
[vms d7a23de0ef88d2f7129e]
[vms e5646ef5a30154e9f6de]
[vms e77f13a6d184dbf1232f]
[vms 8595a7dbda4cbcbee168]
[vms d3c3b8269faf0ba7491d]
[vms ebd93369ce542e8f2322]