BlueAnt's Q1 Bluetooth Headset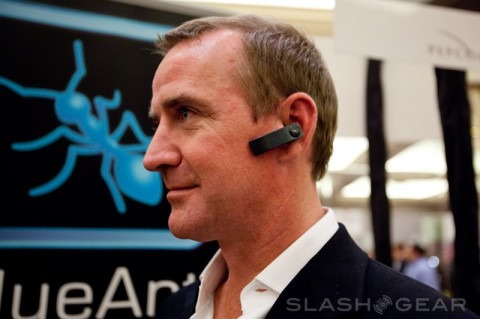 BlueAnt's forthcoming product is the Q1 Bluetooth headset. This sleek headset features some amazing noise reduction technology and voice isolation. The most innovative feature of the BlueAnt Q1 is the voice control feature. The user can talk to the headset and tell it what needs to be done. For instance, if the user would like a tutorial of using the Q1, the user says "show me" and the Q1 will walk the user through the features. To pair the device, the user simply says "pair me." The Q1 will even tell you your phone and headset battery life with the command "check battery" There are numerous other commands as well.
The BlueAnt Q1 also allows multipoint for connecting two phones to the headset, and being able to answer either one when they ring. It can be paired with up to 8 devices. The battery life will give you 4 hours of talk time and 100 hours of standby.
The slick, aluminum headset fits comfortably in the ear, and has a very slim profile. For the time being, the Q1 is available only in the brushed aluminum. Thanks to Taisen Maddern, the Executive Chairmen of BlueAnt, we got a great video of the unboxing, and we'll have a hands on review of the Q1 for you tomorrow.
[vms e77f13a6d184dbf1232f]