SlashGear Morning Wrap-Up: November 17 2010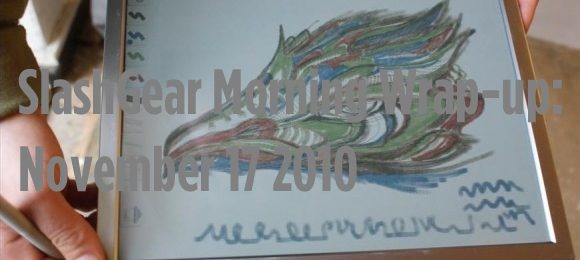 Today we talk about, believe it or not, methane powered computers! Better hope you don't get too close to a heat source. Uh oh. Then there's a Berlin showing of some fantastic looking color e-paper, sponsored by Bridgestone, Epson, and Samsung, but made by an unknown producer. Then PALM throws down the gauntlet saying they'll reclaim their smartphone "birthright" soon, and BYD Alice Tegra 2 Froyo tablet wants a chomp of the tablet market too. All this and MORE on todays SlashGear Morning Wrap-up!
R3 Media Network
SlashPhone
Sam's Club Now Offering iPad With Minor Discount
Android Community
Hamilton CapTel offers Android app for hearing impaired
Nexus S concave touchscreen originally intended for Sprint?
Sony Ericsson ANZU/XPERIA X12 previewed
Samsung Galaxy Tab: Five Carriers, Three Cases – Which Feels Best?
HTC Knight is actually HTC EVO Shift 4G?
SlashGear
Low-temp ceramic micro fuel-cells promise affordable methane power
Fluid Dress is incredible labor of fluid-filled love [Video] [MPLS YAY]
Color e-paper drawing tablet gets Berlin outing
White iPhone 4 conversion kit seller gets legal threat after $130k sales
Motorola MOTOPAD Honeycomb tablet due Feb/Mar 2011 with Tegra 2 tip insiders
PeeWee Pivot 2.0 tablet laptop launches
Fujitsu multitouch resistive touchscreens bring cheap pinch-zooming to Windows 7 notebooks
Hulu Plus officially launches at $7.99 per month; hits Roku today
BYD Alice Tegra 2 Froyo tablet wants a chance at the market
Palm to reclaim smartphone "birthright" with phones & "a great tablet" tips Rubinstein
Sharp 3D smartphone launches for US, India & China tipped for 2011
VUDU 2.0 UI teased; HD PS3 streaming due later this month
To see more wrap-up posts, follow the following tags: [The Daily Slash] or [SlashGear Morning Wrap-up]