PeeWee Pivot 2.0 Tablet Laptop Launches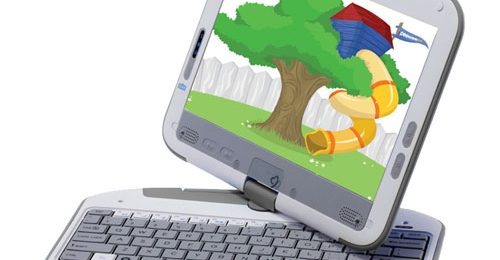 PeeWee computer has been offering some netbooks and other products specifically aimed at kids for a while now. The netbooks are ruggedized to an extent to help them survive the spill and bumps that go along with being used by kids. PeeWee has announced a new convertible notebook called the Pivot 2.0 has launched.
The notebook is a convertible tablet =that can be used as a netbook or a tablet depending on the needs of the kid. The Pivot 2.0 has a screen that rotates and folds flat for tablet mode. The screen is 10.1-inches and the resolution for the standard screen is 1024 x 600 with an optional 1366 x 768 resolution screen. Graphics are integrated UMS Intel and the device has a webcam as well.
The Pivot 2.0 includes 802.11b/g/n WiFi, Ethernet input, Bluetooth, and lots more features. The operating system is Windows XP Home and the machine supports Linux. The processor for the machine is an Atom N450 and the Pivot 2.0 comes with security software to keep kids safe online and to set limits on the use of the computer. Storage is to a 160GB HDD and the keyboard is water resistant as is the touch pad. The screen accepts handwriting for input. The machine starts at $599.