SlashGear 101: What's new in OS X Mountain Lion?

Those of you considering upgrading your Mac to OS X Mountain Lion from an earlier version of the system like OS X Lion should be asking: what's new? That's why SlashGear has the simple guide you're about to look over, complete with a collection of the most important set of changes and updates that play a big part in Mountain Lion's "200 new features" touted by Apple. This system is the next big step towards perfect integration between your Mac, your iPhone, and your iPad – that's the first thing to keep in mind.
Before you go too far, be sure to check out our [Mac OS X Mountain Lion full review] to make sure you know what you're getting into. After you do, continue below if you still need a quick run-down of what you'll be getting that's above and beyond the previous version of OS X, Lion – without the Mountain.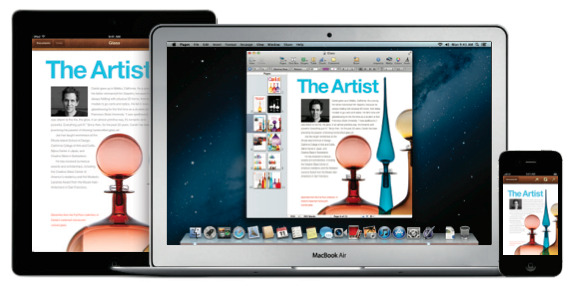 iCloud
This feature was introduced several months ago to make connections between your desktop computer and your iDevices much simpler. Now with Mountain Lion you don't just have to rely on your web browser to deliver your various bits of media between devices. Documents in the Cloud allows instant updating of documents between devices with this new update, these documents sitting kindly on your Mac, updating with ease.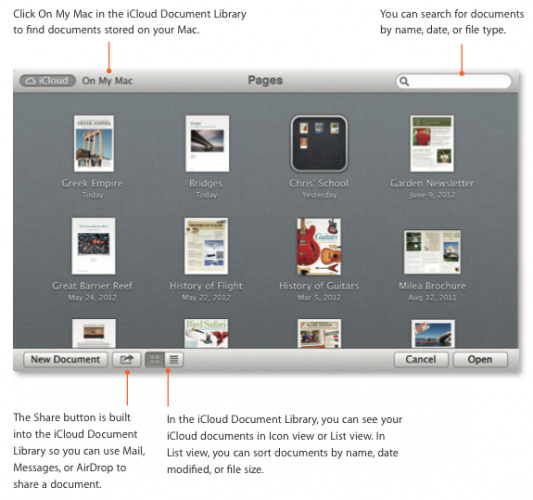 Messages
You'll no longer be using iChat, instead you'll be working with the same message environment that the iPad and the iPhone use. Messages are now seamless between the iPad, the iPhone, and your Mac.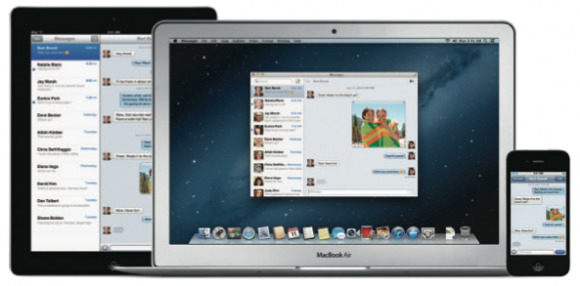 Reminders
You'll now have the same convenient ability to leave yourself reminders that pop up whenever you want them to – these reminders also work between devices, so you can create one on one device and each of your devices will know to notify you when the time comes for your reminder to remind you.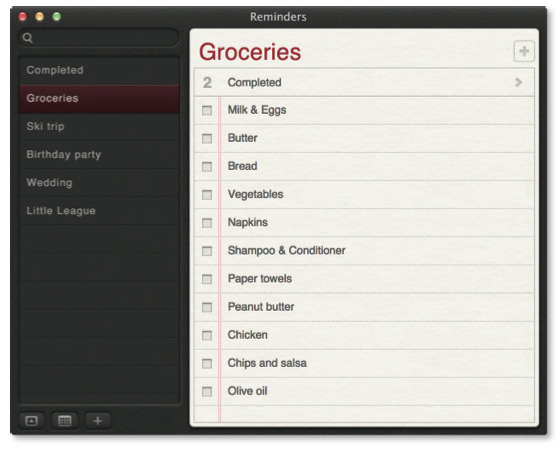 Notes
Similar to the functionality of Reminders and Documents in iCloud, you've got Notes which also work in iCloud – it's basically a very simplified version of the situation. You've got a stack of notes and they're all synced no matter which device you're on.
Notification Center
Just like your iPad and iPhone, you've now got a list of notifications from your apps and system. Calendar invitations will pop up independent of your email system, you'll be able to get alerts from apps when they need or want an update, and you'll have a quick overview of it all in the upper-right of your display whenever you want it.

Safari
Mac's built-in standard web browser now includes a Smart Search Field with instant reaction to your typing of URLs or search terms. You've also got Tab View that shows off open tabs – and iCloud Tabs allow you to pick up wherever you left off in your web browser no matter which device you're on.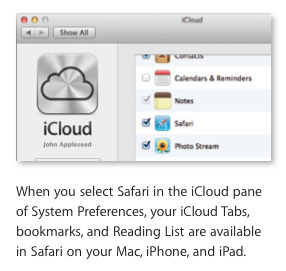 Sharing
Safari is only one of several apps throughout OS X Mountain Lion that benefit from the system's ability to instantly share a variety of elements. Built-in sharing allows you to use Mail, Messages, AirDrop, Twitter, Facebook, Flickr, and Vimeo to share.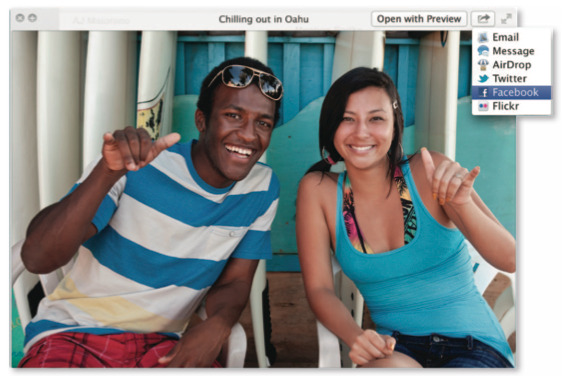 Facebook
Just as it is in iOS 6 – coming to an iPad and iPhone near you soon – you'll be able to easily work with Facebook throughout your Mac. Sign in once and you'll have easy posting of links and photos forever more. Your Facebook friend will appear in your Contacts automatically and you'll receive updates in your Notification Center as well.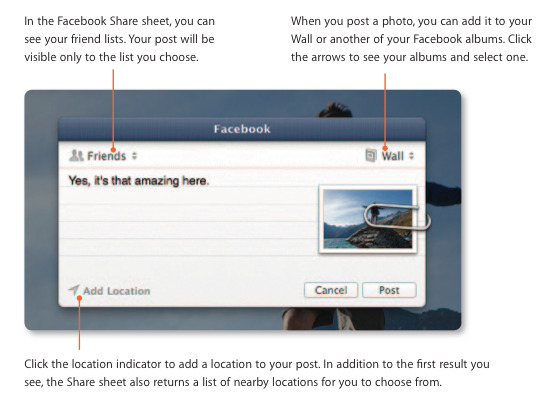 Twitter
Like Facebook, you'll be able to quickly access Twitter from locations throughout this updated operating system. Tweet from your apps, sign in once to be able to share with Twitter from many places throughout your Mac, and get instant integration between the people you follow on Twitter and your Contacts list.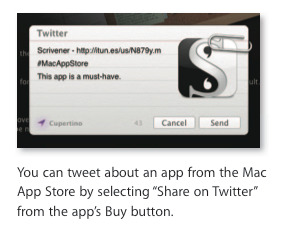 Game Center
Just as it is on your iPhone and iPad, you've now got full integration with Apple's Game Center for social networking in a purely gaming level. You'll be able to track your achievements, connect with friends to play collaborative games, and interact with your friends using their iPhone, iPad, and iPod touch.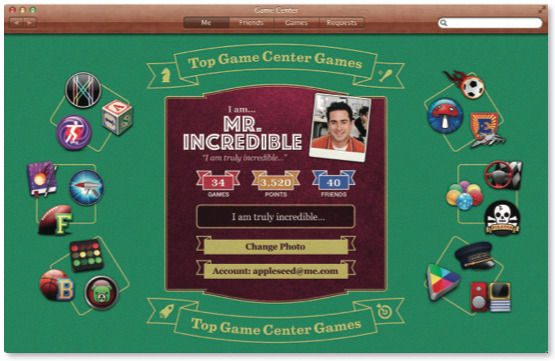 AirPlay Mirroring
This is the first version of Apple's OS X desktop operating system that allows instant mirroring of your Mac's display to your HDTV with your Apple TV. This wireless system allows high-definition mirroring of both your computer's visuals and audio at once, seamlessly.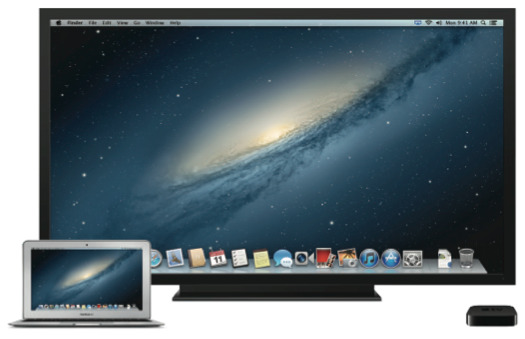 Note that AirPlay Mirroring requires that your Mac be one of the following: iMac mid-2011 or newer, Mac mini mid-2011 or newer, MacBook Air mid-2011 or newer, or MacBook Pro early 2011 or newer. Your Apple TV needs to be 2nd generation or newer as well for AirPlay Mirroring to function with OS X Mountain Lion.
Dictation
With Mountain Lion you can now speak out loud and have what you're saying instantly typed up by the system. "Talk anywhere you can type" is their new motto, and no training or setup of any new system is required to make it all so.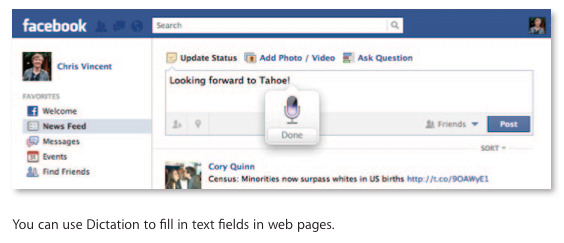 Power Nap
While your Mac is sleeping, you're now able to receive emails, software updates, calendar invites, and more. Where before if you wanted your computer to continue to keep up to date and synced with all things web-based, you'd have had to keep it awake – now you don't. Simple as that. Note that Power Nap only works MacBook Air models mid-2011 and newer as well as MacBook Pro with Retina display.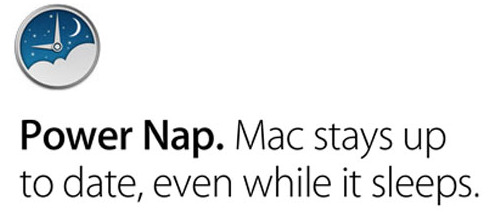 Gatekeeper
You'll have a new selection of controls for the entirety of your Mac, Gatekeeper giving you control over which apps are allowed to be downloaded and which apps are allowed to be installed as well. This feature has been implemented primarily to continue Apple's battle against malware, and should very much be keeping the torch lit through the foreseeable future.
Download
You can download OS X Mountain Lion for your Mac right this minute through your Mac's App Store for the cool price of $19.99. If you're in need of instructions on how to do so or need guidance on what's necessary to make the install happen, head to our post entitled Prepping for Mountain Lion: three steps you must take.
Also head to the timeline below to catch up on all things Mountain Lion while you stay tuned to our OS X Mountain Lion portal as well!