Apple TV 1080p Review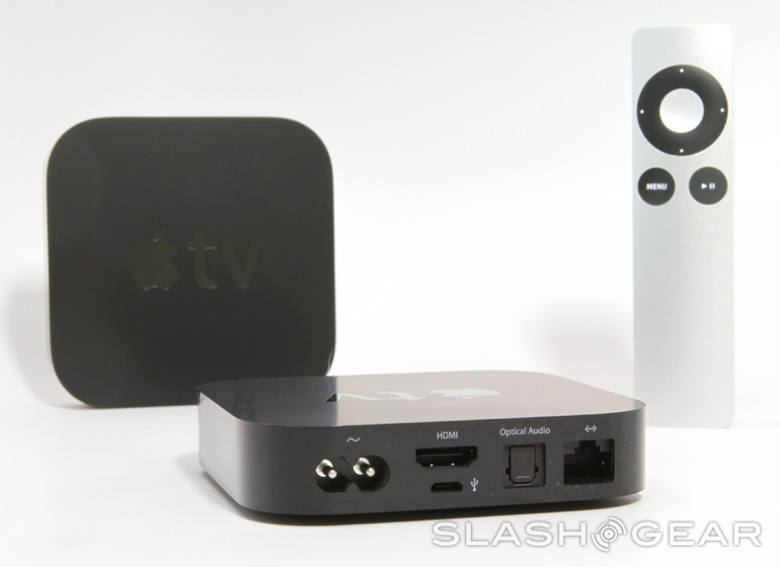 Apple TV was Apple's "one more thing" at the new iPad launch event last week, but that's not to say the smart TV adapter isn't maturing into a comprehensive product in its own right. Now bringing Full HD to the table, as well as a streamlined interface, the third-generation Apple TV is arguably the best companion to the new iPad so far. Does it stand tall on its own, though? Read on for the full SlashGear review.
Hardware
Outwardly, the new Apple TV is identical to its predecessor: a compact black box that fits in the palm of your hand. Ports consist of HDMI, optical audio output, a 10/100 ethernet port and microUSB (the latter for service and support purposes, not customer use), while inside there's WiFi a/b/g/n and a power supply that avoids an ugly wall-wart. Apple also includes an Apple Remote, a tactile little thing with basic navigation controls.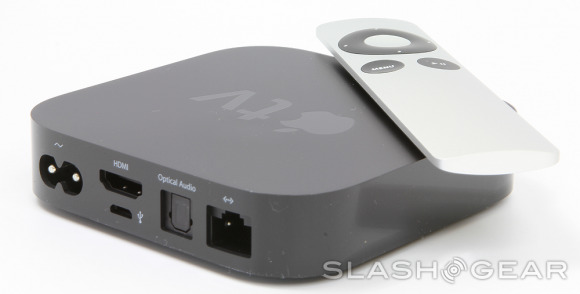 Inside, though, there have been some changes. Apple has replaced the A4 processor of the previous-gen model with a custom, single-core version of its A5, a change which is enough to add 1080p Full HD support to the Apple TV's list of abilities.
1080p
Until now, Apple has offered 720p HD content as the highest resolution to purchase or rent. Coinciding with the new Apple TV is 1080p content, however, along with the option to choose it or 720p versions when you start watching. Existing purchases in your iTunes in the Cloud account – also upgraded to support movies – can be switched to 1080p versions once they're available in that resolution.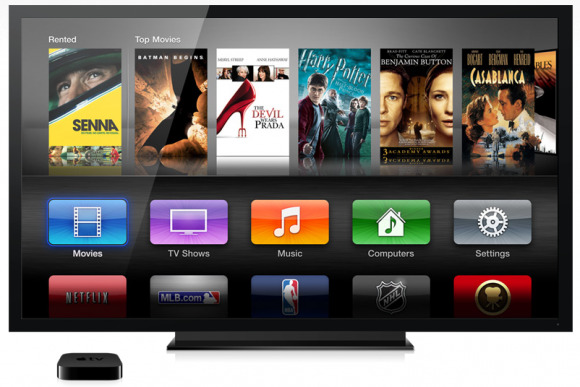 Home-grown content and that from third-party services also gets 1080p support. Netflix and Vimeo lead the charge for external providers, with Full HD content in the catalog of each now supported on the Apple TV, while your own 1080p videos – whether filmed on an iPhone 4S, new iPad or something else – can also be streamed, either from the mobile device or from a PC or Mac on your network.
User Interface
Apple has flattened the Apple TV interface out, stripping away the old UI's sub-menus and replacing them with an almost iPad-style grid of oversized icons accompanied by thumbnail movie previews. There's less digging and less navigating to get between sections – a press or two on the Menu button has you back to the homescreen.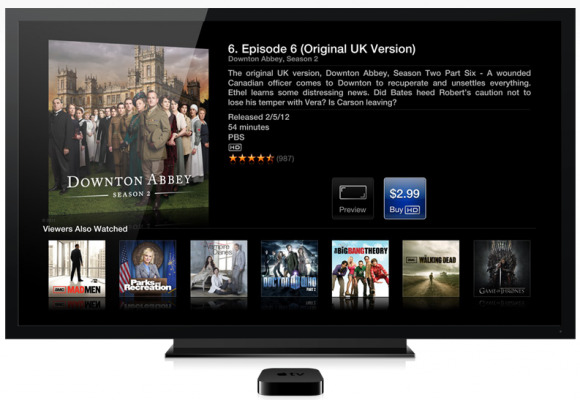 The core iTunes options – Movies, TV Shows and Music – live alongside third-party services like Netflix, Vimeo, YouTube and Flickr. Apple has also introduced the ability to sign up to services directly from the Apple TV, including billing the monthly subscription to your iTunes account. Netflix will be the first to support that functionality, but other services are likely to follow.
Thing is, you don't need a new Apple TV in order to get the new UI. Owners of the previous model can upgrade their box and have the same streamlined interface. Still missing is App Store support, however, with Apple continuing to hold off from adding access to the ecosystem of third-party apps.
AirPlay
Apple's screen-sharing system has ease-of-use in its favor, and casting what's displayed on your iPhone or iPad to the new Apple TV is a matter of hitting the output button. Streaming picks up almost immediately, and over our WiFi 802.11n network we noticed no hiccups or stuttering at Full HD resolution.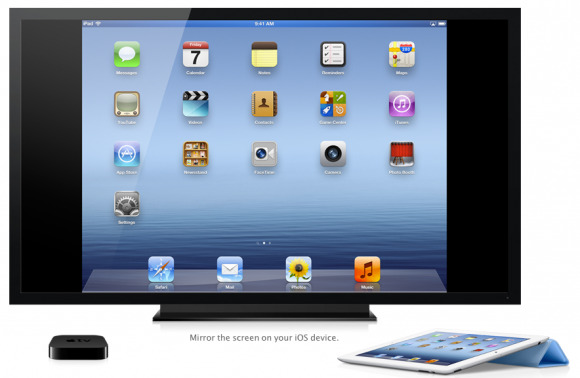 It's not just video, though; you can also use AirPlay for photos and apps, along with more sensible applications like Pages, Keynote and Numbers. If you've got a new iPad, GarageBand and iMovie both look incredible on an HDTV.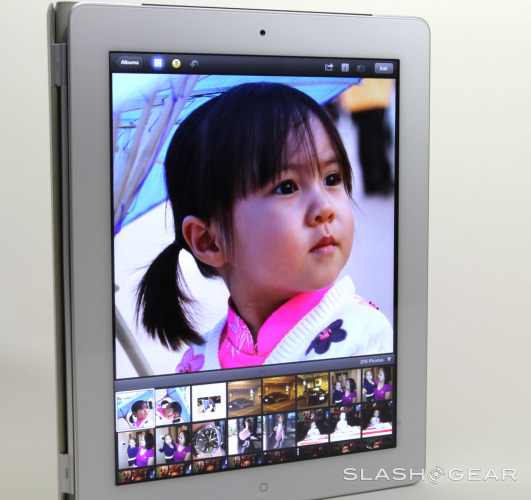 AirPlay Mirroring is supported at up to 720p resolution, though AirPlay video streaming is supported at up to 1080p from the new iPad. Second-gen Apple TV boxes running the new software can only handle 720p from the new iPad, though.
Wrap-up
We have to be blunt when it comes to the third-gen Apple TV: if you already have the second-generation model, you probably don't need this new one. Apple releasing the new UI and other software tweaks as a free upgrade means the only real difference is the support for 1080p HD content.
If, though, you don't already have an Apple TV, then there's a bigger motivation to buy this new model. The combination of an easier interface and Full HD support means it's easier than ever to access your content on the network, on your mobile iOS devices, and streaming from iTunes in the Cloud, and if you have a new iPad then the 1080p support makes them ideal companions. Apple TV may still be the company's hobby, but at $99 it's a great accessory to the third-gen tablet and a solid home entertainment platform in its own right.
[timeline]