Apple OS X Mountain Lion Review
Apple's OS X Mountain Lion is here, but can it maul Windows 8? The much-anticipated update promises more iOS-style streamlined simplicity for your MacBook or iMac, further strengthening the ties between mobile and desktop with a healthy serving of iCloud and a fair few features borrowed from the iPad and iPhone. We've been using the final version of OS X Mountain Lion 10.8 to see whether it's really the cat's meow. Read on for the full SlashGear review.
iCloud, Notifications and Productivity
Apple's iCloud may already be a fixture on the iPhone and iPad, but Mountain Lion is in fact the first new version of OS X since the cloud storage and sync system went live. With over 150m iCloud users, and considerable overlap between those depending on both iOS and OS X, it's no surprise that Apple has used iCloud to streamline the Mountain Lion setup process.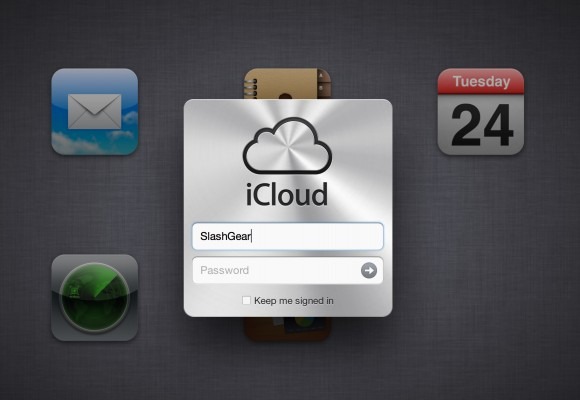 If you're fresh to Apple's ecosystem then it's the usual few steps of setting up an Apple ID account, but if you're already registered through iCloud then a single login sets up not only your user account but apps and services across the system. Mail, Contacts, Calendar, Messages and FaceTime are all automatically set up with your accounts, friends' details and appointments, while Notes and Reminders sync and Game Center logs in for cross-platform play. Documents & Data are also synchronized with what you may have been editing on your iPad or iPhone, and Safari bookmarks are pulled down too; obviously your Mac App Store and iTunes credentials are automatically plugged in, and your previous media downloads re-acquired.

The new Open Panel – accessed whenever you launch a document-based app – now allows you to flick between content stored locally and in Documents in the Cloud. Each app supporting the cloud-sync service gets its own iCloud Document Library, sorted by most recent update by default. Just as you can drag icons onto icons and instantly create folders in iOS, so you can stack documents to create folders in the Open Panel; the icon and open-animation is even the same as from the iPad. Apple will update its own productivity apps to support Documents in the Cloud to coincide with Mountain Lion's release, as well as offer developers an API to add support to their own apps.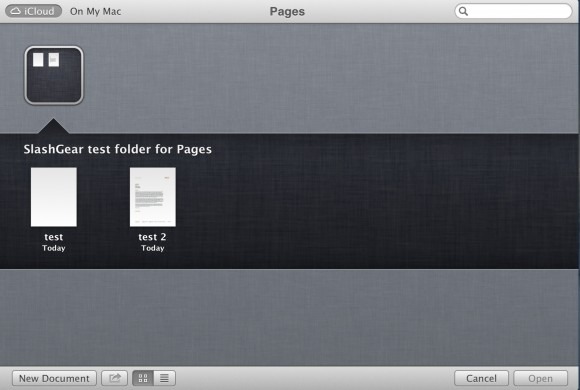 It's all evidence of how slickly integrated OS X is with the overall Apple product range, and how Mountain Lion borrows elements from mobile to its benefit. The streamlined notifications system is a relatively new addition to iOS but it jumps the line to desktop in Mountain Lion in the shape of the new Notification Center. As with Growl pop-ups before, Apple Notifications appear in the top right corner – complete with action buttons if applicable, such as "close" or "show" – but Mountain Lion also corrals them together into the Notifications Center.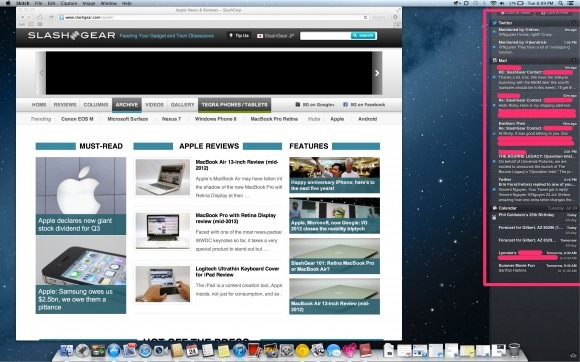 Pulling out from the right edge of the screen – triggered with a two-finger swipe from the right edge of the trackpad, or with the dedicated button in the status bar – Notifications Center shows all of the recent alerts organized by app and sorted by time or according to a manual order if you prefer.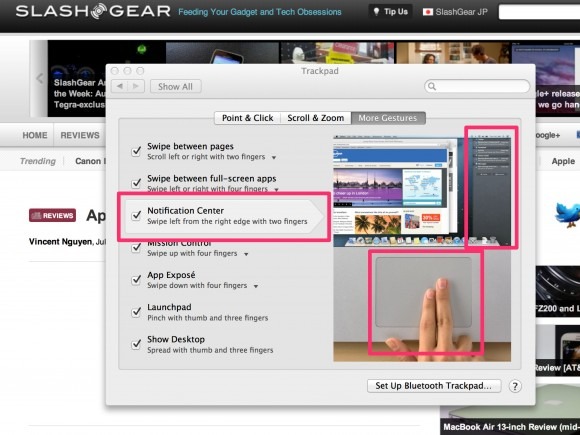 Out of the box, Calendar, Mail, Messages, Reminders, FaceTime, Game Center, the Mac App Store, Facebook and Twitter all support Mountain Lion's Notifications, while a third-party API allows developers to add support to their apps, notifications arriving even if the software itself isn't running. It's all intuitive and slick, and the temporary override to shut down all notifications for that day is very useful if you're trying to focus on a specific task without distraction (they'll automatically be muted if you're presenting in Keynote, too).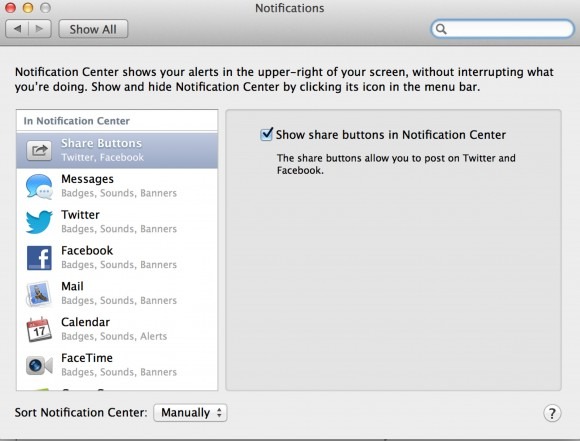 Notifications aren't the only elements borrowed from mobile. Reminders and Notes are each OS X counterparts to the iOS apps, as straightforward as their names suggest. The contents of both are automatically synchronized across devices using iCloud – so your up-to-date shopping list is to hand on your iPhone, even if you've been editing it on your Mac – and you can add extra highlights by setting alarms or location-based reminders, or by pinning a note to the desktop so that it stays open even if the Notes app itself is closed.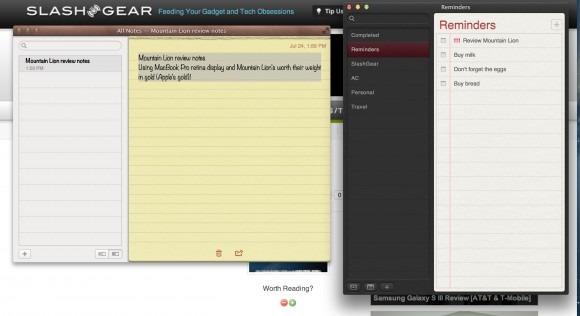 The idea of having your data anywhere and everywhere, without compromise, is carried over to Power Nap. Currently supported on the MacBook Air (mid-2011 or newer) and the MacBook Pro with Retina Display, Power Nap promises to automatically keep your Mac up to date even when it's sleeping. Basically a sufficiently low-power mode that means the Mac notebooks can work silently and unobtrusively – no fans, no flashing lights – it means your computer is up to speed with the latest sync and messages when you open it up in the morning.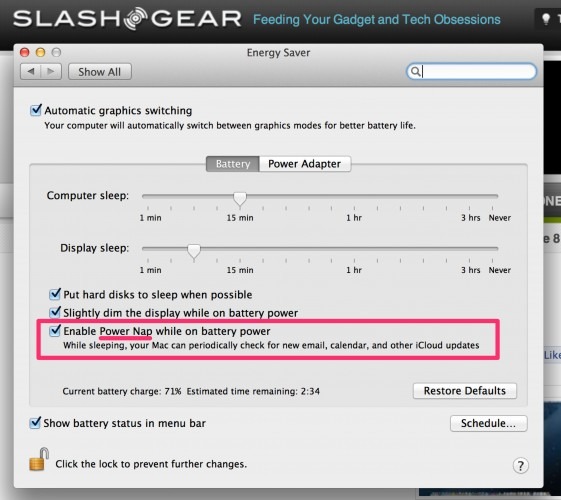 Mail pulls in new messages, Contacts and Calendar sync with any new updates or invitations, and Reminders and Notes pull in the latest versions from iCloud. Documents in the Cloud synchronizes changes to documents made on other devices, and Photo Stream grabs the latest shots from your iOS mobile devices. Arguably more useful in terms of reducing frustration while you're actually using your Mac is support for Time Machine backups while it's sleeping, Mac App Store updates automatically taking place, and Find My Mac working should you lose your laptop.
We're used to turning on our phones and having the very latest data in front of us – and, conversely, turning on a computer and waiting for everything to synchronize, update and generally get ready for use while we distract ourselves with the first coffee of the day – so having that on the desktop really does feel, to use Apple's phrase, "magical."
Finally, there's Dictation, reappearing after being first seen on the iPhone 4S and new iPad. Based on Nuance's Dragon technology, only running on Apple's servers rather than locally – meaning you'll need a data connection in order to use it – the speech recognition supports any app that recognizes text entry, meaning you can dictate emails, documents and even Facebook messages.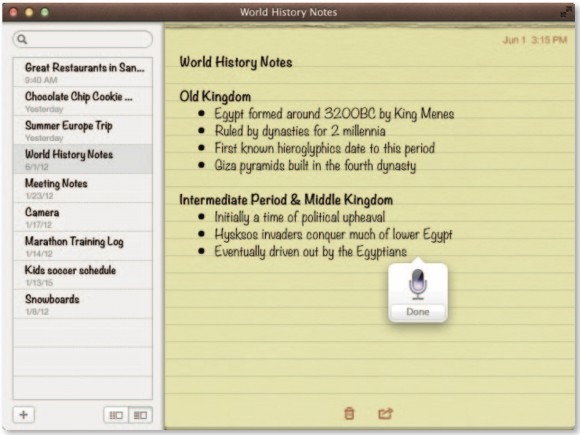 Dictation is triggered by tapping the Fn button twice (or, alternatively, tapping and then tap-and-hold the button, releasing it when you're finished) at which point a Siri-style microphone icon pops up indicating where the text will be entered. In theory you could dictate an entire document, complete with basic formatting: Dictation differentiates between regular text and instructions such as "all caps," "new line," "new paragraph," "period," "comma," "exclamation point," and "question mark."

As with Nuance's own DragonDictate, Apple's Dictation learns from repeated use and promises increased accuracy over time, including handling more difficult accents. It also gets a head-start by looking through your contacts so as to aid in identifying names. Out of the box there's English (US, UK and Australian), French, German and Japanese support, Dictation automatically selecting the correct option depending on your Mac's system settings, with Apple promising Cantonese, Mandarin, Canadian English, Canadian French, Italian, Korean and Spanish in a subsequent update.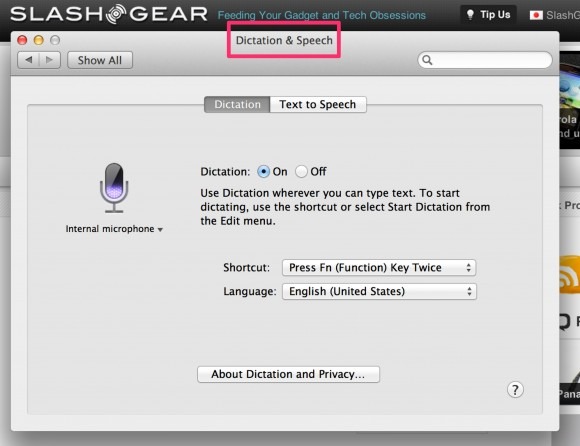 Our experience with Dictation proved mixed. For quickly jotting down brief messages and emails it could be very useful, though we had to ensure the pace of our speech was suitably measured in order for the system to keep up. Longer periods of text entry saw more typos creep in, and remembering to say "comma" and "period" to manually insert them was often a distraction from our train of thought. Admittedly, going back through blocks of text and cleaning up errors was a relatively simple matter, and the experience should get better over time.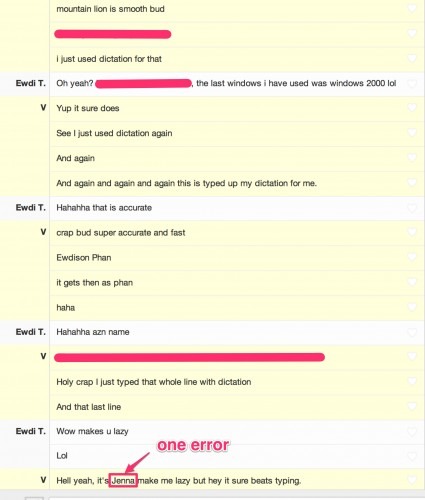 What Dictation isn't is Siri as we know if on the iPhone 4S. Ask what the weather is in San Francisco or when your next appointment is, and you'll see your question transcribed not answered. Apple hasn't said when – or indeed if – Siri will be brought to OS X, but we'd like to see even basic functionality such as opening apps by voice introduced.
Social Networking and Messaging
Sharing and social are baked into Mountain Lion from the ground up, with both Facebook and Twitter woven through the new OS X while a one-click sharing system makes pushing content between services straightforward. (Facebook integration won't actually arrive until a software update in the fall, though it was present in our test build.) Apple uses so-called "Share sheets" to handle content sharing, pop-up boxes that gather together all the privacy, media and location elements you might want to control.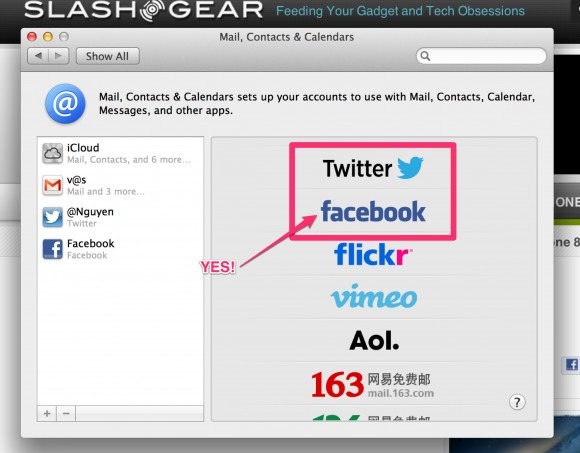 So, once you've logged into your Facebook and Twitter accounts – you can only have one of each – clicking the "Share" button in apps like Safari, Preview, Photo Booth and Quick Look brings up the option of sending out the current content via one of those services. For Facebook, you can choose which friends can see the update, whether a photo should be left on your wall or slotted into an existing album, and whether your current location should be appended.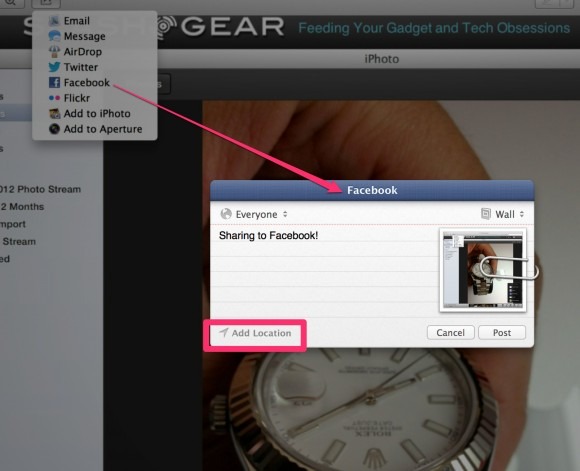 For Twitter, you have the same location and media options, though no gallery option. Unfortunately, there's no way to send to multiple services simultaneously with the same Share sheet; you can't update both your Facebook and Twitter accounts with the same content.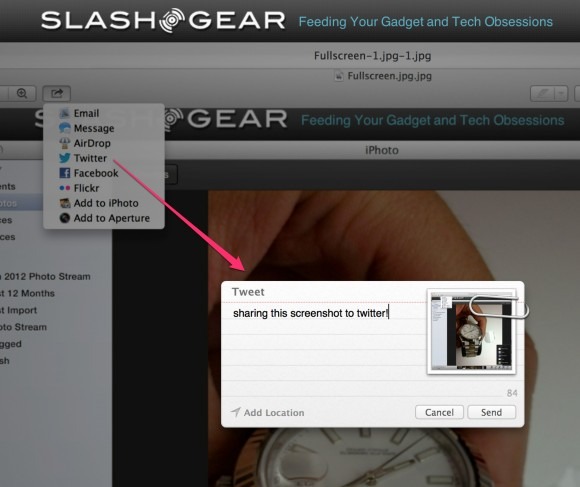 It's not just about sharing, though. Details of Facebook friends are automatically pulled into Contacts, dynamically updating existing records as your friends keep their contact numbers and other details up to date. Twitter photos are also integrated into Contacts, while Facebook adds friends' birthdays to your Calendar. Meanwhile the ShareKit API allows third-party apps and services to offer the same social network posting.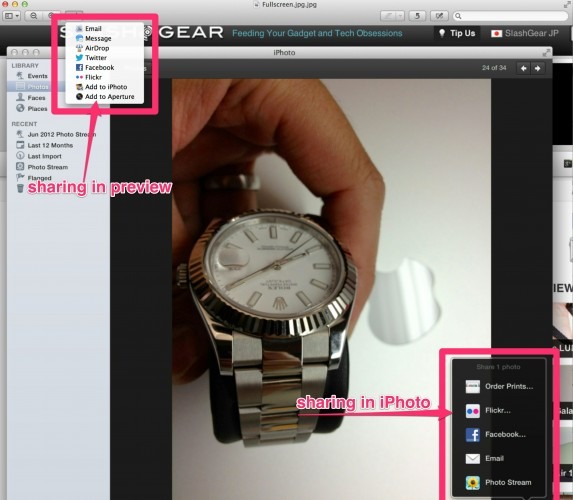 Sharing doesn't end at Facebook and Twitter; Mountain Lion also improves how content is shared with other services. Click the Share button and you might find the ability to email or send by Message the webpage you're viewing, the photo or video you're watching, or the document you're working on. It also hooks into AirDrop, meaning you can share directly with nearby Macs (as long as they're running Mountain Lion or Lion) in just a few clicks. There's also support for uploading to Flickr and Vimeo, and while there's no YouTube sharing by default, developers could add it by using the ShareKit API.
The other big social element of Mountain Lion is Messages, the OS X version of iMessage on iOS devices. Replacing iChat, Messages replicates the functionality of SMS and MMS between Mac, iPhone, iPad and iPod touch, with support for photo and video attachments up to 100MB in size, and synchronized across all of your devices. So, you can now pick up a conversation started on your iPhone on your MacBook, including one-button FaceTime call access and support for group conversations.

Messages will get even more useful come the release of iOS 6, when Apple unifies iPhone phone numbers and Apple IDs. Then, you'll be able to receive and respond to iMessage messages – or FaceTime calls – directed at your iPhone number from your Mac (or iPad) instead. As a data service, the speed of messages can sometimes be delayed somewhat, but read receipts do at least give confirmation as to when they've actually been read.
Safari
More and more of us are living online, and so Apple has spent no small amount of time finessing the Safari experience. Updates to the browser include practical ones to boost speed under the hood, as well as interface and usability tweaks that cut down on key presses and clicks. So, the separate address and search boxes have been merged into a single Smart Search Field which suggests both likely webpages and searches (with a choice of search engines), and Safari has riffed on the thumbnail tabs of the old iPad browser with a new preview system. Pinch in (or choose the "show all tabs" button next to the tab row itself) and a side-scrolling list can be navigated using two-finger swipes.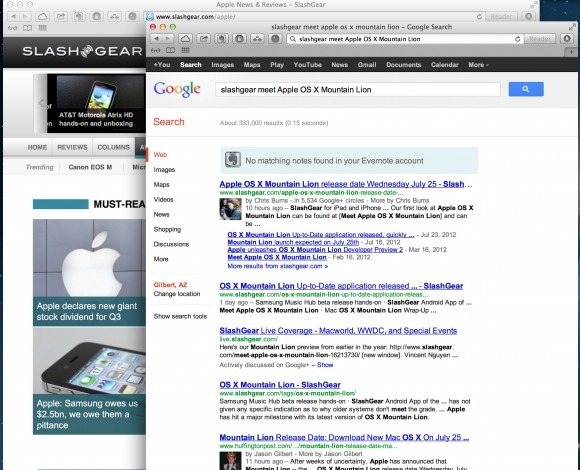 As of iOS 6 on the iPhone, iPad and iPod touch, there'll be support for iCloud Tabs as well, using the sync service to list what webpages you had open on each of your devices (even if they're turned off at the time). It also works for bookmarks and content in Reading List, though not if you're viewing a page with Private Browsing turned on. The Reading List also now supports offline access, caching pages for reading when you might not have a connection, and it cleverly recognizes articles spread across multiple pages and makes sure to grab each page rather than just the first one.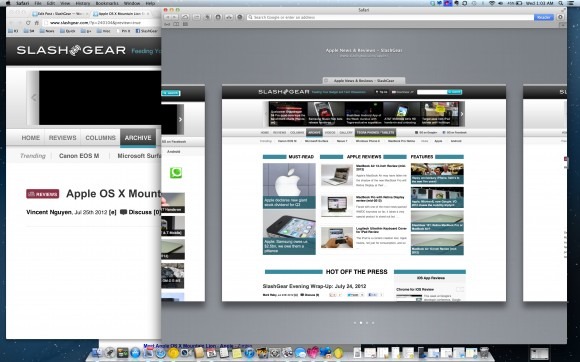 Privacy and security have been given a polish, with new support for the incipient "Do Not Track" privacy system. That works as a global Private Browsing setting of sorts, requesting compliant websites that they not track you (though not preventing your own browser from keeping a history record of where you've visited). And, if you've ever forgotten a password, the new feature in Password AutoFill which – after you type in your system password – shows a list of all the saved credentials Safari is holding, could save your from running through frustrating "Forgot my password" recovery tools.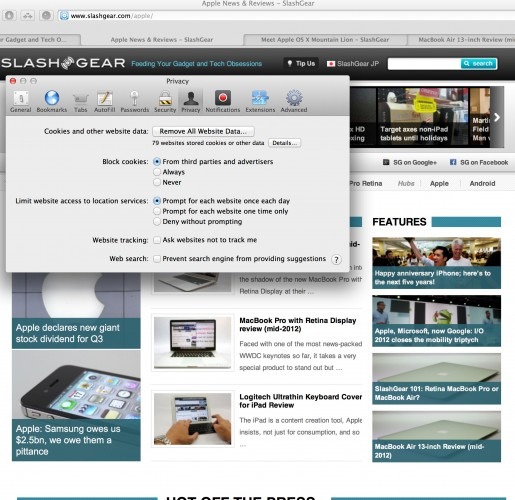 Behind the scenes, there's now hardware acceleration for the entire webpage, using your Mac's GPU to speed up text and graphics rendering, and to provide smoother scrolling. The jerkiness that could previously surface while Safari rendered other pages or your Mac was otherwise busy has now all but disappeared.
Gaming and Entertainment
Mac ownership isn't all social networking and productivity, and so Apple has brought Game Center across from the iPhone and iPad and integrated it into a cross-platform gaming system. All of the same gaming invitations, friend discovery, leaderboards and achievements are supported – albeit scaled up to suit the average Mac display – and you can play against other gamers no matter what device they're using. We can expect to see more games in the Mac App Store tie into Game Center, too, as developers take advantage of Mountain Lion's new gaming APIs to hook into the system.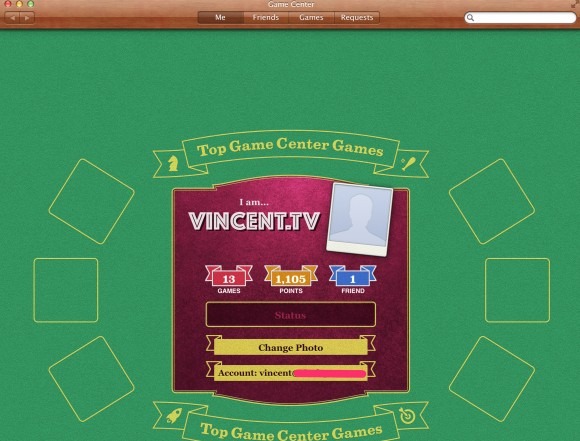 Meanwhile there's AirPlay Mirroring, linking your Mac with the $99 Apple TV. The new MacBook Pro with Retina Display may have an HDMI output now, but any Mountain Lion Mac will be able to wirelessly send a high-definition picture – complete with sound – to their HDTV. It's a painless process, too: when your Mac catches an Apple TV on the same wireless network, it automatically shows an AirPlay Mirroring menu item. AirPlay mirroring works on mid-2011 forward Macs (sandy bridge).
One click, and your computer screen show up on your TV. The resolution is automatically matched, up to 1080p, and we had no problems with judder or skipping with a MacBook Pro running Mountain Lion and a Full HD sample clip from iTunes. It's also possible to route just the audio through your TV speakers (or whatever sound system you have hooked up) through the System Preferences. It's great for communal consumption of slideshows in iPhoto or putting together a group playlist in apps like iTunes or Spotify.
Security and more
As OS X grows even more popular, so its profile among malware authors rises, and Apple has moved to protect its reputation for security with Gatekeeper in Mountain Lion. A digital signing system for developers distributing their software through channels other than the Mac App Store, Gateway can use the Developer ID to check that the app you're about to install is indeed just as the coder responsible intended it, as well as blocking installation of any app from a blacklisted developer.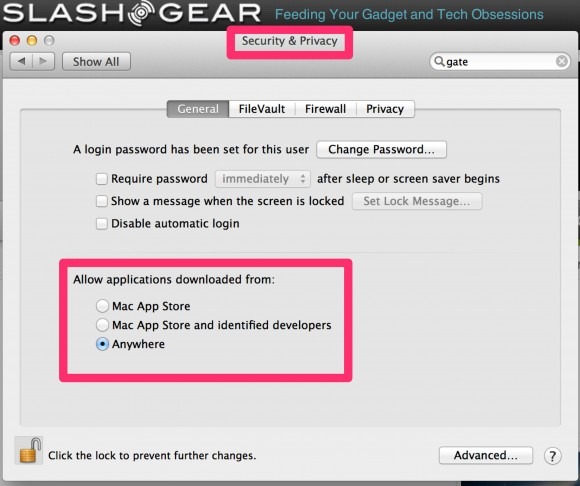 By default, Gatekeeper permits only Mac App Store apps and those with a valid, signed Developer ID to be installed. Unsigned apps flag up a warning message (which users can override on a one-time basis), or Gatekeeper can be instructed to allow apps from anywhere. It's worth noting that Gatekeeper is only effective for apps downloaded from the internet; if you're side-loading them from USB or CD/DVD then they won't be checked. At the other extreme – and ideal for malware-prone parents – Gatekeeper can be set to only allow software that comes through the Mac App Store.
Meanwhile, Mountain Lion now automatically checks for important security updates daily – rolling OS X and Mac App Store app updates together into a single install process – and can now optionally encrypt Time Capsule backups. There's also a new App Sandbox, where each piece of software runs in its own safe little silo: if it proves compromised by malware, it can't access other apps, user data, or the underlying Mac infrastructure.
Then there are the new features for Chinese users. With sales of Apple products in China up 300-percent in the most recent quarter, it's little surprise that the company has given some thought to how it could tailor Mountain Lion to suit users there.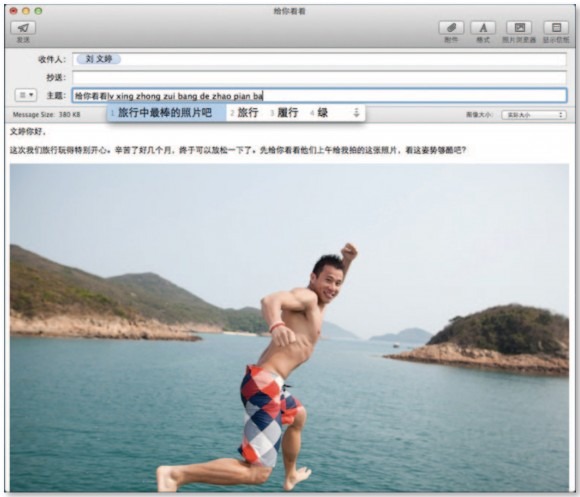 So, Mountain Lion gets streamlined Simplified Chines and Traditional Chinese text input, with the promise of more accurate and appropriate auto-suggestions pulled from dynamically updated dictionaries that keep pace with common usage trends (and sync any user-added words or phrases across multiple devices via iCloud). Pinyin auto correction and the ability to mix English and Chinese in the same body of text, as well as handwriting support for nearly 30,000 Chinese characters, are also included. Meanwhile, there's Sina Weibo, Youku and Tudou sharing options in the new Share menu, and streamlined setup for mail providers QQ Mail, 126 and 163.
How to get Mountain Lion
Like Lion before it, Apple will be distributing Mountain Lion via the Mac App Store rather than in boxed form. Priced at $19.99 – though that covers all of your personal Macs registered to the same iTunes account – you'll need to be running Lion or the latest version of Snow Leopard.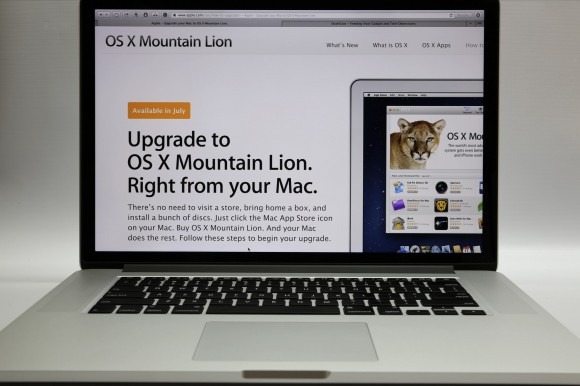 Not all Macs will be able to upgrade, however, due to the technical requirements of Mountain Lion. You'll need to have one from the following list in order to qualify:
iMac (Mid 2007 or newer)
MacBook (Late 2008 Aluminum, or Early 2009 or newer)
MacBook Pro (Mid/Late 2007 or newer)
MacBook Air (Late 2008 or newer)
Mac mini (Early 2009 or newer)
Mac Pro (Early 2008 or newer)
Xserve (Early 2009)
However, if you bought a new Mac anytime since June 11, you'll qualify for a free update to Mountain Lion under Apple's Up-to-Date program. You'll have thirty days from Mountain Lion's release to apply for a free update using the form here (http://www.apple.com/osx/uptodate/).
Wrap-Up
If there's a one sentence summary of OS X Mountain Lion, it's probably "You're getting a whole lot for twenty bucks." Apple weaves together elements from desktop, smartphone and tablet in a way that not only makes stepping over from iOS to OS X more straightforward, but which further refines the company's ecosystem promise: it simply makes more sense to pair a MacBook with an iPhone and/or an iPad, because they play so nicely together.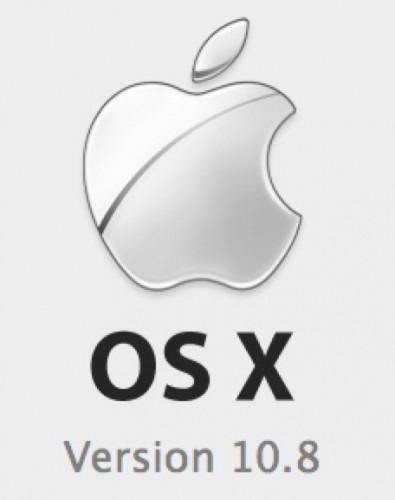 [aquote]Running Mountain Lion OS X on a MacBook Pro Retina display is worth its weight in gold[/aquote]
Where Lion's evolution toward that same goal proved jarring in places, Mountain Lion's polish rescues it. The three core advantages of iCloud, Notifications and Sharing are just as useful on the desktop as their counterparts are in iOS: they combine to iron out workflow annoyances in daily use. Like the best services, features like Power Nap blend seamlessly into the background: invisible in their operation but clearly bringing a benefit to the overall user experience.
Apple's obvious competition is Windows 8, due to arrive in a few months time. Microsoft takes a different approach with its desktop platform, but from what we've seen so far it lacks the comprehensively integrated ecosystem that Apple delivers. iCloud is the glue that makes iPhone, iPad and, now with Mountain Lion, Mac, each act as an extension of the same holistic whole. If you love your Mac, OS X Mountain Lion is a no-brainer upgrade.