SlashGear 101: Apple iBeacon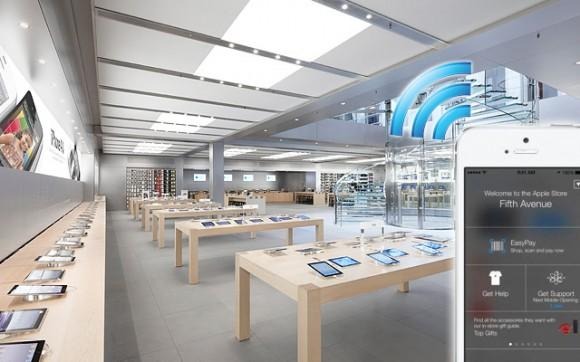 Apple launches iBeacon in its stores today, its hyper-local tracking system which turns iOS 7 smartphones and tablets into mobile terminals capable of interacting with retail displays and flagging up promotions. A much-anticipated feature of iOS 7, iBeacon could well be the next GPS, taking positioning technology indoors and benefiting users and retailers alike, at least in theory. Confused? Read on for the SlashGear 101.
Do I need a new iPhone?
No, though you do need to be using a relatively recent device and have iOS 7 installed. iBeacon is freshly added in the free iOS 7 upgrade released earlier this year, and it relies on Bluetooth 4.0 – or, specifically, the Low Energy (LE) part of the 4.0 standard – in order to allow short-range wireless communications without destroying your battery life.
That means you can play the iBeacon game if you're using an iPhone 5s, 5c, 5, or 4s, or alternatively if you've got an iPad 3rd-gen or later, an iPad mini or iPad mini with Retina display, or an iPod touch 5th-gen or later.
So what's the benefit?
Apple is rolling out iBeacon across all 254 of its Apple Stores in the US from today, and just as GPS can guide you from address to address, so iBeacon can help you navigate on a more granular level, such as between the aisles in a retail environment. Apple will use iBeacon to flag up promotions and offers when shoppers get close to certain displays or shelves – so, if you're near the iPhone table, you'll see iPhone-related information on your device – as well as to send shopper-specific messages, like a notification that an order is ready to be collected.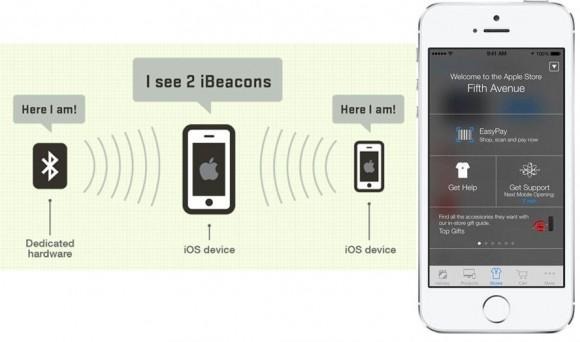 The clever part is that the beacons themselves can be adjusted – or even clustered together – so that the store is broken up into different "hotspots" for individual topics. Apple has installed around twenty per store, it's reported, to more precisely react to each iPhone user: they'll be able to prompt things like upgrade eligibility checks.
Isn't this a hit on my privacy?
Apple calls iBeacons "micro-location awareness" and the privacy settings come under the Location Services part of iOS 7. You'll need to have the Apple Store app installed in order to actually see any of the beacon-triggered messages, and to have given the app permission to access your physical position, too.
That per-app approach means each third-party application and service will need to specifically request location awareness before they can tell where you are; it also means you can quickly shut down any app which is overloading you with iBeacon messages.
Apple – and other retailers – hope that you won't reach for that shut-off switch, however, given iBeacon's potential. Physical location is the next big arena for targeted marketing, with advertisers and vendors eager to push individualized deals to specific people, either when they're inside a store or potentially just when they're walking past.
It won't be a Minority Report-style free-for-all, though: you'll need to have some sort of prior relationship with a brand, having already downloaded and installed their app to get the messages. Third-party developers can bake iBeacon support into their software using Apple's existing location services toolkit.
Okay, I'm convinced, will it only be at Apple stores?
Apple is putting its iBeacon money where its metaphorical mouth is, demonstrating the possibilities with the technology at its own stores, but it won't be limited to either the company itself or, indeed, retail environments. In fact, iBeacon has applications in public venues like sports stadium, museums, and shopping centers, helping visitors navigate through or find specific information about their favorite team or different displays.
"For example, a museum app can monitor for beacons placed near the museum's important exhibits" Apple suggests. "As a user approaches a particular exhibit, the app can use the relative distance of the beacon as a cue to provide more information about that exhibit rather than another."
In short, expect iBeacon hotspots to pop up in an increasing number of locations over the next few months, as more venues try to reach out and touch the iPhone or iPad in your pocket or bag.