This morning Apple revealed the HomePod, their first "home speaker" – or Siri Speaker, if you prefer. This device has the same processor as the most modern iPhone, no display, and a much more powerful set of speakers than an iPhone. It needs to be plugged in to a physical wall socket and it's able to do a litany of tasks if you ask it – through Siri, of course. Today we're having a closer look at Apple official.
Inside this speaker is a custom amplifier, tweeters, and woofer to deliver intelligently-directed speaker sound. This device rolls with a "wide range of deep, rich bass" as well as "smooth, distortion-free sound" – so says Apple. That's what we'll have to trust for now – until we get the opportunity to hear this device outside of a crowded hall environment.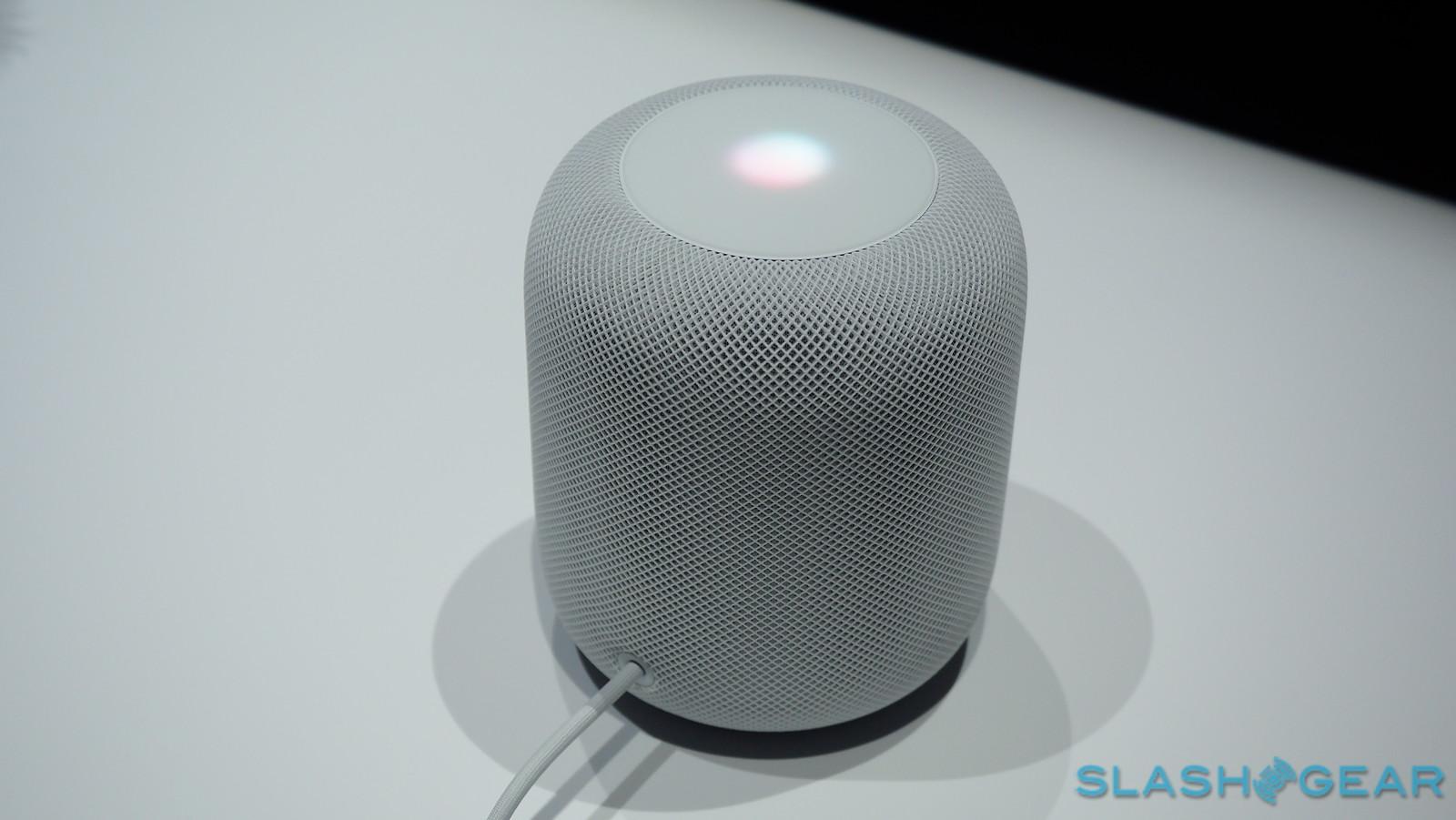 Under the hood of this device is an Apple A8 chip, processing information on a level above and beyond that of any other "smart" speaker. With this processor inside, the speaker is able to deliver high-quality sound as well as listen intently for commands for Siri. This device rolls with the ability to upmix both direct and ambient audio and hear the user's voice while audio is playing.
HomePod Specifications and Details:
• 6.8 inches high (172 mm)
• 5.6 inches wide (142 mm)
• Weight: 5.5 pounds (2.5 kg)
• Available in two colors
• 802.11a/b/g/n/ac Wi‑Fi with MIMO
• Multiroom speaker support with AirPlay 23
• High-excursion woofer with custom amplifier
• Seven tweeters, seven custom amplifiers
• Six-microphone array
• Internal low-frequency calibration microphone
• Direct and ambient audio beamforming
• Transparent studio-level dynamic processing
The HomePod will be available in black or white – for starters. This speaker is "wrapped in a seamless mesh fabric" that's made to look good and perform well with speakers blasting through it. The entire speaker is 6.8-inches tall and 5.6-inches in diameter, made to fit in with home decor without disappearing.
On top of this device is an LED array that reacts to and displays your voice as you speak. The top of this device also has a touchpad that allows the user to play, pause, or adjust volume. Don't call it a Nexus Q or an Amazon Echo or Google Home – it's different!
The Apple HomePod will be available later this year from all Apple Stores. The HomePod will cost a cool $349 when it's released in black and in white. UPDATE: Users will be able to purchase Apple's HomePod starting in December of 2017. For more details on the HomePod, head to our new HomePod feature from WWDC 2017.