Apple HomePod speaker release date and details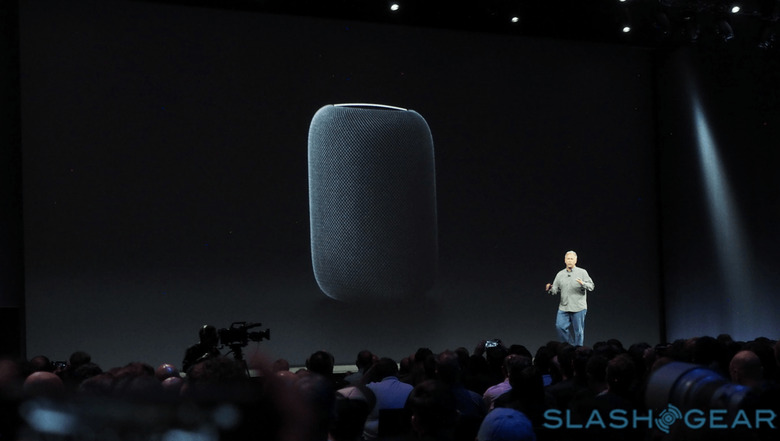 The Apple Home Speaker is what Tim Cook suggested would be Apple's attempt to "reinvent home music." This device, says Apple, is in line with the legacy of the iPod, and reinventing personal mobile music. Phil Schiller stepped on stage and detailed the speaker top to bottom as a piece of equipment that had not existed before – "Why hasn't this happened yet?"
Inside this device is a seven-speaker array of tweeters – that's on the bottom. Each of these speakers has its own driver, and they all use a beam-forming array. Inside are what Apple describes as precision acoustic horns – and the whole thing works with directional control.
Under the hood is an Apple-designed woofer for the deep base sounds. Also inside is the ability to roll with automatic bass equalization as well as dynamic modeling. This woofer is a 4-inch upward-facing base-blaster, and it's going to "rock the house" – says Apple.
Inside this device is an Apple A8 chip – similar to what's offered in the current most modern iPhone, the iPhone 7. Intelligent real-time acoustic modeling as well as audio beam-forming will be allowed by this chip. As will multi-channel echo cancellation.
With 6x microphones in the HomePod, users will be able to access Siri with relative ease. Siri will act as a new Home Assistant – not unlike Alexa does with Amazon's Echo lineup. Inside is the ability to control and/or deliver Music, News, Translation, Stocks, Traffic, Sports, Home, Podcasts, Reminders, Messages, Timers, General Knowledge.
The Apple HomePod speaker will be available in black and white – for starters. It'll be available through Apple later this year. It's rather round – or ovoid, if you prefer – and has a mesh frontside, and it's called HomePod. Wrap your head around that for a minute. HomePod will cost users $349 USD when it's available later this year.