The iPhone 8, Galaxy S8 (and Galaxy Note 8), Essential Phone, and Mi Mix (and 2) have a bit of competition in the Sharp AQUOS S2. This phone has a full-faced display, with minimal bezels, and a forward-facing camera set in its forehead. It also has a pair of cameras on its back lined up vertically, and a set of odd colors in casings to choose from. It's as if Sharp saw the playbook for every major smartphone brand and said, "yes, let's do ALL of this."
Sharp's phone uses Sharp's Free Form Display technology to roll with an 87.5-percent screen-to-body ratio. But you don't care about that, you care that the device has nearly the exact same solution up top as the Essential Phone. It's basically the same thing – except for the bottom, which uses a different solution altogether.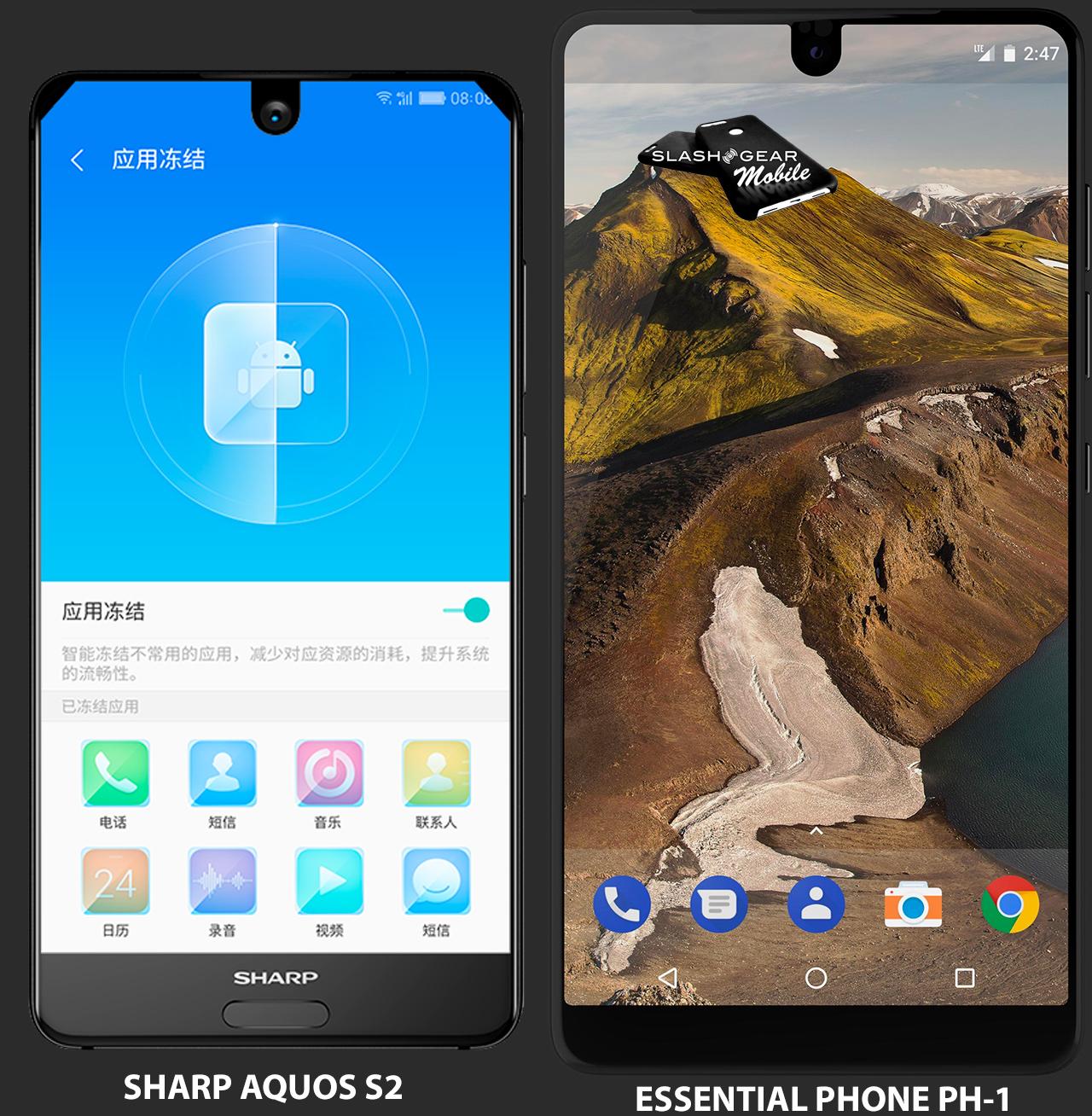 Thanks to the folks at KKJ.CN and MyDrivers, we've got a few hands-on photos here that give us insight into the sides of this device. The bottom has two speakers – or at least two speaker grilles – and a single center-placed USB-C port. At this point this looks like basically every high-end Android device on the market – and the iPhone.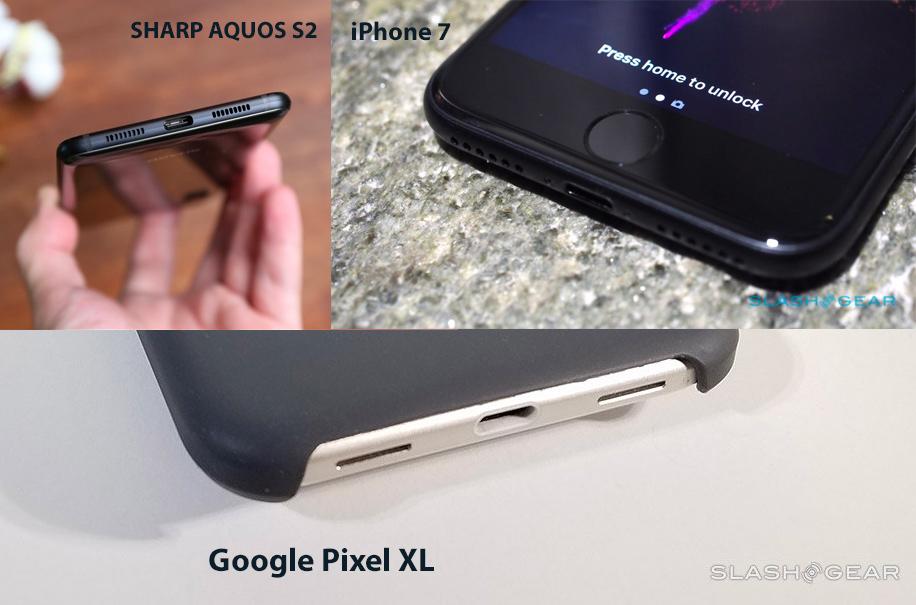 At the same time, this Sharp device has a display that looks sort of similar to what Apple's next superhero phone is tipped to look like. That's the iPhone 8 – or whatever they'll end up calling it – and a display that runs right up to the edges, too. It's the notch at the top that makes this display seem similar to Apple's OLED (as its rumored, that is).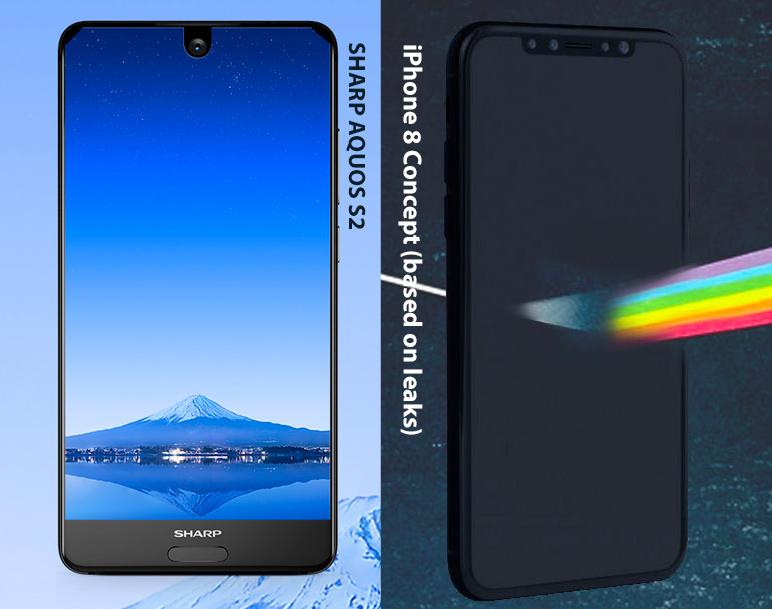 The LG V30 – and even the LG G6 – bare some resemblance to this new borderless Sharp phone. It's only the Mi MIX phone with such a small bezel that it ended up being too fragile that meets the Sharp device's closeness to the edge. See that device (with cracked display and everything) in an article on SlashGear from earlier today called iPhone 8 design leak: can Android phones compete?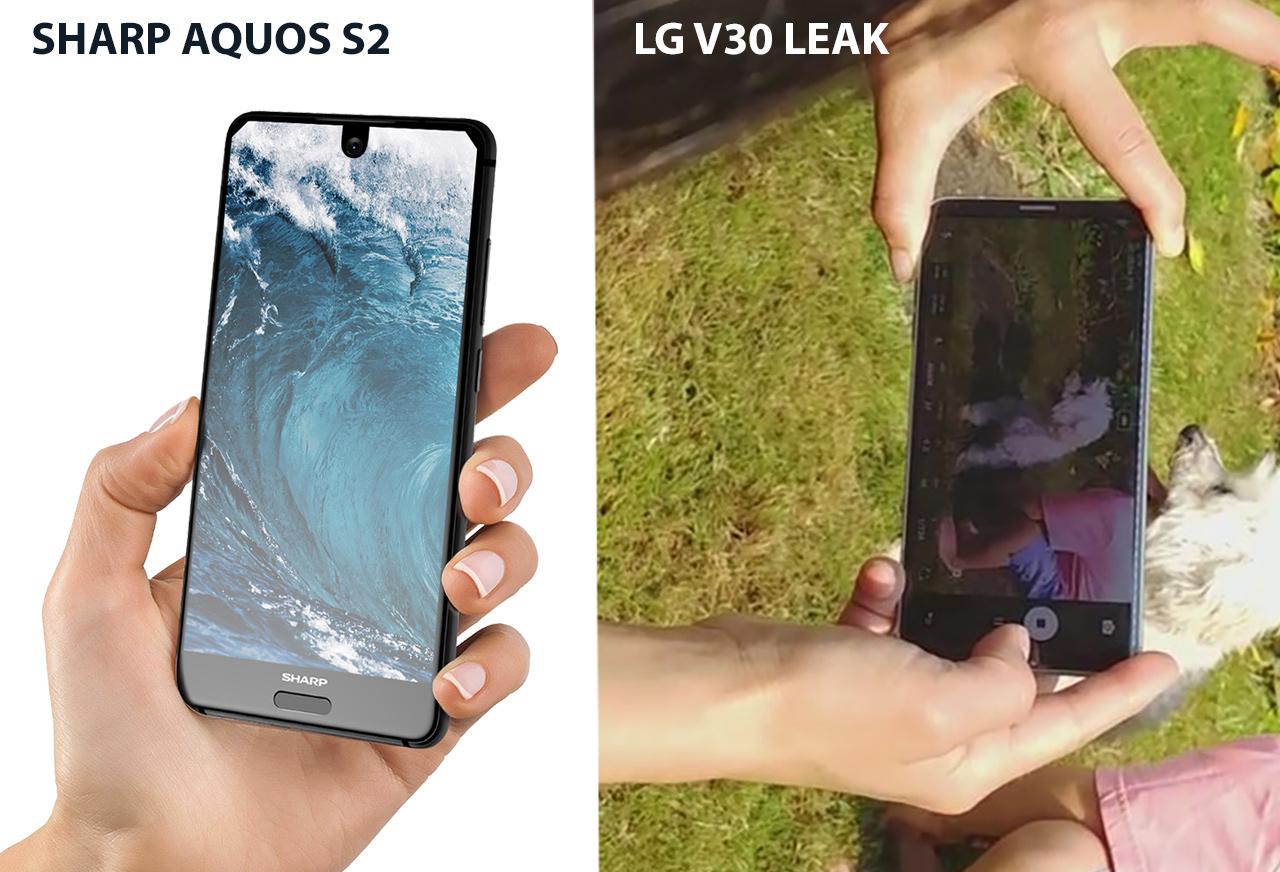 The backside of the Sharp Aquos V30 has a vertically-aligned set of two cameras. Below that is a dual-LED flash. This looks like what might very well have been one of Apple's design iterations for the next device. First, turn the iPhone 7 Plus' camera array 90 degrees, then place the LED flash just below it. Actually let's try putting it in the camera array between the cameras – there we go.
The Sharp Aquos S2 is an decent-sounding device for everything it has similar to its opponents. A 5.5-inch display in a device that'd feel natural with a much smaller display in the past, a Snapdragon 660 or Snapdragon 630 processor, and a set of cameras that's nothing to scoff at. Up front is a 8-megapixel 1.4um sensor with f/2.0 aperture, while around back is a combination of 12-MP and 8-MP sensors to capture "seven-level" bokeh effect photos.
This device is exceedingly inexpensive for how top-end it looks (and likely feels and acts). The Sharp AQUOS S2 with a Snapdragon 630, 4GB of RAM and 64GB of storage costs users 2,499 yuan (around $370). The better of the two (not ready for sale yet) comes with a Snapdragon 660, 6GB of RAM, 128GB of storage, and a "3D glass" backside costs 3,499 yuan (about $520) – we'll see if they come to the USA soon, but for now, they'll likely stick to China.