Set Google Maps as the default maps app on iOS with a few tweaks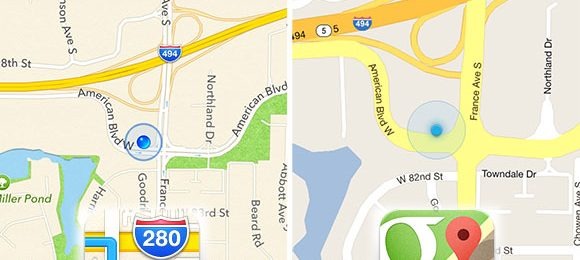 We're not surprised if you were ecstatic about Google finally releasing their own Maps solution on iOS last week — we were certainly excited as well. However, while Google Maps provides an excellent user experience, the app doesn't integrate with the iOS ecosystem as well as Apple Maps does. Luckily, though, there are a few solutions for both jailbreakers and non-jailbreakers alike.
For jailbreakers, there's a simple tweak called "MapsOpener" that you can download from the Cydia store. It's a free download, and once it's installed, it'll automatically route mapping information from other apps directly to Google Maps instead of Apple Maps. There's no settings you have to change or anything like that — the tweak will just start working as advertised. However, it does have an issue where it won't properly display an address from your contacts as well as Apple Maps does, but overall, the tweak is a must-have for jailbreakers looking to get away from Apple's solution. The video below does a good job explaining how it works.
For non-jailbreakers, you aren't completely left out of the equation. There are a couple of tweaks you can try out, and figure out which is more convenient or which one works the best for your needs. However, they don't technically make Google Maps the default maps app on iOS, but these tweaks will integrate with Siri, making it easier to get directions on the fly.
The first non-jailbreak tweak involves simply adding "via transit" to your command in Siri ("Give me directions to the nearest Apple Store via transit.") Siri will initially open Apple Maps, but will immediately switch to a list of "transport apps" where it will list Google Maps, and from there, you can click "route" and it will give you transit directions with Google Maps. From there, you can select car directions or walking directions from the top.
The second non-jailbreak tweak is an easy one, but it's a little complicated to gather your head around, since it involves several workarounds. Essentially, you save a custom URL as a contact, and ask Siri to find it. When she does, she can launch it and that'll bring up Google Maps with directions from your current location. It's certainly not a perfect solution and it only works with addresses you already know, like your home or work address, but it can still be handy when you find yourself in the middle of nowhere and need to find your way home.
Read our full review of Google Maps for iOS, and check out our side-by-side comparison between Apple Maps and Google Maps.