Samsung's Summer: Galaxy Note III, Galaxy Camera II, GALAXY S 4 LTE-Advanced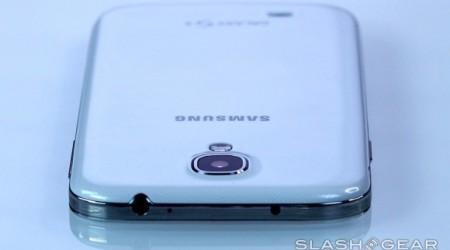 The clues continue to appear for the summer 2013 generation of Samsung devices, each of them riding in on the herald that was the smartphone GALAXY S 4. As this hero device brings in this generation's aesthetic style and software features, each of the following will come up: Samsung Galaxy Note III, Galaxy Camera II, and GALAXY S 4 LTE-Advanced. Then there's the Samsung Galaxy Zoom, another new camera/phone balance we've not yet seen.
The folks at Techtastic have shown a bit more proof this weekend for the first three devices, showing the GALAXY S 4 LTE-Advanced and Galaxy Camera II in name and suggesting the following specifications for the Galaxy Note III:
• 5.99-inch 1080p Super AMOLED display

• Qualcomm Snapdragon 800 quad-core at 2.3GHz

• Adreno 330 GPU

• 13-megapixel camera

• 4G LTE

• 802.11ac Wi-Fi

• Next-generation S-Pen
Under the hood, users will be working with Samsung's most current TouchWiz interface over Android 4.2.2 or higher. The most recent iteration of Android wont be quite as necessary with the Galaxy Camera II, but the GALAXY S 4 LTE-Advanced will certainly be on-board with Google's newest – or near-newest – mobile operating system. The Samsung GALAXY S 4 LTE-Advanced is also suggested to be coming with the Qualcomm Snapdragon 800, a processor that's not yet seen the market as such.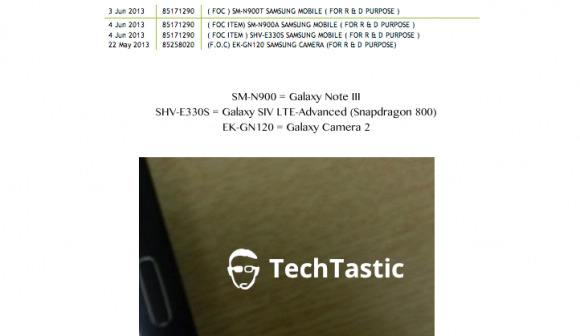 The Qualcomm Snapdragon 800 is a quad-core processor set one level above the Snapdragon 600, the processor found in the HTC One and the USA iteration of the Samsung GALAXY S 4. The Samsung Galaxy Zoom, aka Samsung GALAXY S 4 Zoom, is suggested to be coming with an unknown dual-core processor due to its focus on camera technology and is tipped to be the star of the June 20th "Premiere" event taking place in London.
While the Zoom, the GALAXY S 4 LTE-Advanced, and the Galaxy Camera II will likely be appearing in the June 20th event, (where you'll also find SlashGear covering live-in-effect), the Samsung Galaxy Note III is suggested to be appearing at a later event, likely to continue to push it as a hero device deserving of a single event's attention.