Samsung GALAXY S 4 Zoom appears in leaked images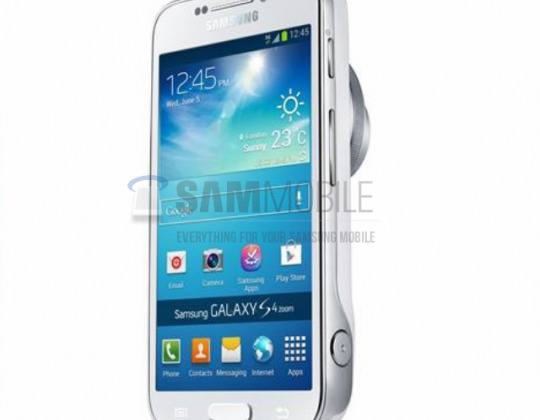 Rumor of a Galaxy Camera reboot called the GALAXY S 4 Zoom have been around for weeks now, with the device seemingly appearing in subtle ways both in May and this month. Now an image said to be of the handset has appeared over at SamMobile, showing a somewhat bulky Galaxy smartphone face with a lens housing on the back, making a hybrid of consumer digital camera and smartphone.
Back in early May, a Samsung device appeared on Bluetooth SIG showing the model number SM-C101, which is said to be the GALAXY S 4 Zoom. While the discovery didn't offer much of anything in terms of details, it did seem to confirm that the cameraphone is real. Things got a little more real, however, when the same device appeared on the FCC's website on June 1.
Following shortly after the publication of the product image by SamMobile came a handful of other pictures from the folks over at Techtastic. These images, which we have in the gallery below, show an interesting, sleek design that looks very much like a long, thin digital camera spliced together with a GALAXY S 4.
The images show a dedicated shutter button, meaning users will be able to hold the device up and snap a picture without touching the 4.3-inch qHD super-amoled display. Other specs include a dual-core 1.6GHz processor, 8GB of storage with a microSD slot for expansion, and a 16-megapixel sensor. In addition, there's optical zoom rather than a smartphone's standard digital zoom.
Connectivity includes Bluetooth 4.0, standard Wi-Fi, and GPS. The smartphone/camera hybrid runs Android Jelly Bean 4.2.2, and offers Samsung's TouchWiz. Word has it the device will be officially announced on June 20th at a Samsung event in London alongside some other products.
SOURCE: Android Community