Samsung Galaxy S4 Zoom apparently confirmed by Bluetooth SIG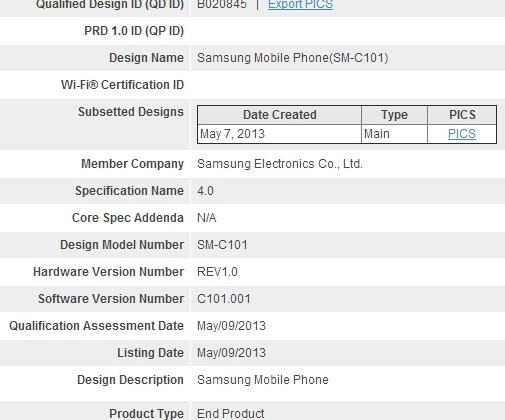 Rumors have been circulating that Samsung is getting ready to launch some other smartphones based on its popular Galaxy S 4 smartphone. One of the rumors that keeps circulating is that a smartphone called the Galaxy S 4 Zoom (SM-C1010 or SM-C101) will be coming to market. Some information has turned up over on the Bluetooth SIG website that appears to confirm that phone is in fact the works.
Bluetooth SIG is the special-interest group that certifies products that use Bluetooth technology. That means just about everything that hits the market rolls through their hands at one time or another. The latest device to surface in documents on the website of the Bluetooth SIG is called the Samsung Mobile Phone SM-C101.
That SM-C101 is the part number that's been rumored to go along with the Galaxy S 4 Zoom. The documentation on the website doesn't exactly offer a lot of details on the smartphone, but it does appear to confirm that the device is real and coming. Luckily, the rumors that have been circulating do have a few details.
The rumor says that the Galaxy S 4 Zoom will resemble the Galaxy S 4 Mini. The biggest difference between the two smartphones comes in the fact that the Zoom has a very impressive 16-megapixel rear camera features optical zoom, at least according to the rumor. Rumors also indicate that the Zoom may be coming in early June. Keep in mind that all of this is unsubstantiated rumor since that part number is only associated with the Zoom by rumor.
[via Unwired View]