Samsung's QLED TVs go on sale: The Frame "art TV" lands Spring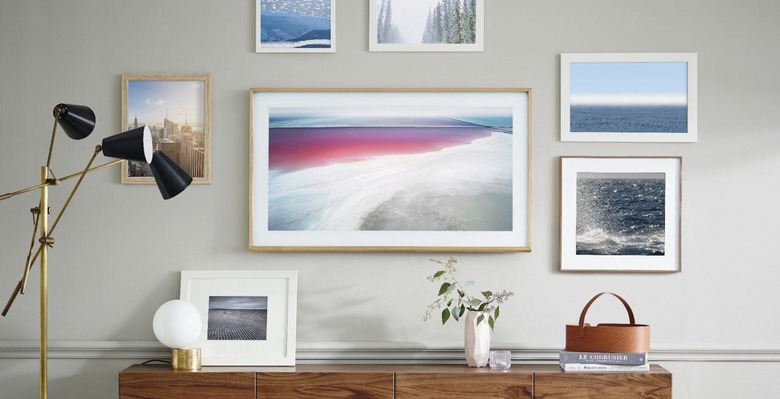 We may receive a commission on purchases made from links.
Samsung's 2017 QLED TVs have hit shelves, with the super-skinny Ultra HD sets that wowed back at CES in January also joined by a new digital picture frame. Priced from $2,799 (MRSP), the QLED TVs use Samsung's Quantum dot display technology for 100-percent color volume along with broader viewing angles than before. A new sound bar and Blu-ray player complete the 2017 line-up.
Pricing for the 2017 QLED TVs was confirmed in February, and as we expected the cutting-edge doesn't come cheap. Buy direct from Samsung and the 55-inch QN55Q7F flatscreen comes in at $2,799.99, or $3,999.99 for the 65-inch, and $5,999.99 for the 75-inch. It's worth noting that street price through Amazon, Best Buy, and others can be somewhat cheaper: the 55-inch QN55Q7F, for instance, is only $2,498.90 on Amazon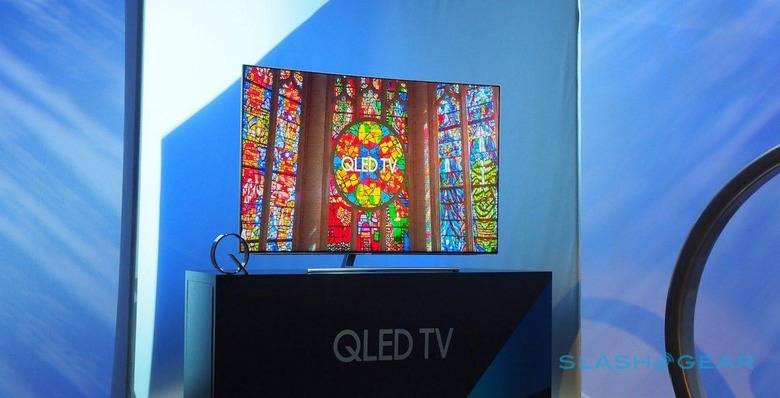 As for the curved versions, they're more expensive than the flat models. The QN55Q7C comes in at $2,999.99 for the 55-inch and $4,299.99 for the 65-inch. Step up to the flagship Q8C range, meanwhile, and the 55-inch is $3,499.99, the 65-inch is $4,799.99, and finally the 75-inch is $6,799.99.
All of the new models get Samsung's new software and remote, dubbed Q Smart. The Smart Hub has new streaming options, including Samsung's own TV Plus service for 4K content, and a music tile with various streaming audio partners. Voice control through the Samsung One Remote Control has been expanded to cover more services and features.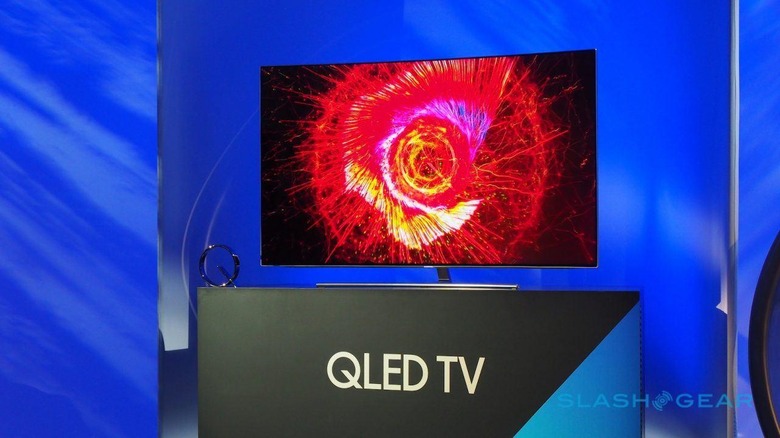 Meanwhile, with a no-gap mount the TVs look all the more like they've been painted onto your living room wall. A single cable – dubbed the "Invisible Connection" – links the display to a control box, thin enough courtesy of optical technology to paint over. If you'd rather, a Studio Stand props the QLED sets up like an easel, while the Gravity Stand has power-rotate for serving different viewing angles.
Samsung has some new accessories to go with its QLED TVs, too. The MS750 Sound+ Soundbar promises an integrated subwoofer and 5-channel sound from a single box, and can be used either standalone or docked into the base of a compatible Samsung TV to daisy-chain off its power with no extra wires. It'll go on sale this summer.
As for the UBD-M9500 Blu-ray player, that's the successor to last year's UBD-K8500, and supports UHD and HDR, has the Smart TV platform built in, and features Blu-ray to Mobile. The latter allows you to play two sources simultaneously: for instance, pushing internet content to a connected TV, while also playing a Blu-ray that streams wirelessly to a smartphone or tablet. It'll go on sale in April, priced at $399.
It's with The Frame that Samsung starts to get a little weirder. Designed in collaboration with Yves Behar, it's billed as "a lifestyle TV" that doubles as a digital painting when you're not watching Netflix. In short, it's a QLED TV with a picture frame around it, taking advantage of the no-gap wall mounting and super-discreet cabling to add to the illusion that it's a painting not a display.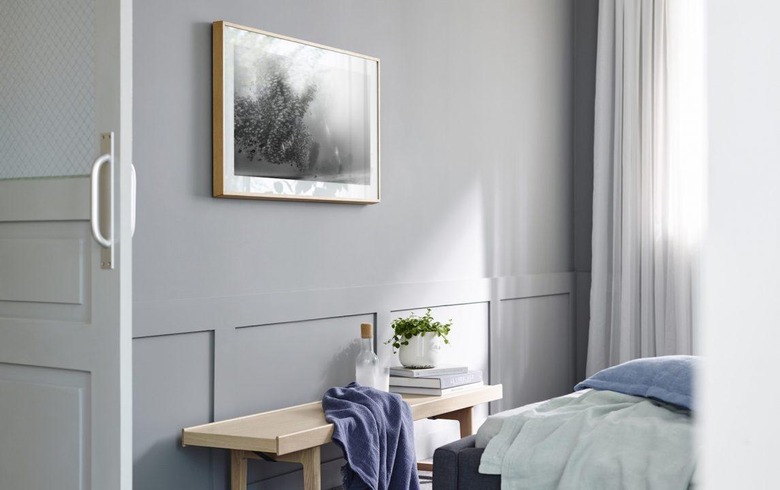 Normally The Frame works just as the rest of Samsung's TV line-up does, the difference showing up when it's turned off. Rather than just going into standby, it automatically switches into "Art Mode". Samsung includes over 100 different pieces of artwork, organized into ten categories like landscape, architecture, wildlife, action, and drawing.
Samsung will offer a number of different colors, bezels, and an optional Studio Stand for The Frame. It'll go on sale this spring, with pricing to be confirmed closer to release.
SlashGear uses Amazon affiliate links, and if you buy something we may get a small share of the sale