Samsung QLED TVs pricing revealed - thousands for tomorrow's tech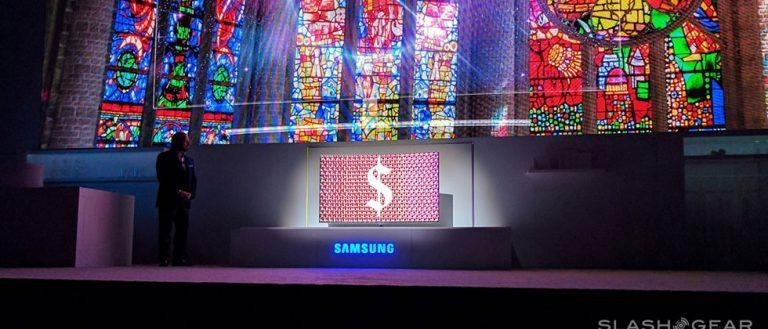 At this year's global Consumer Electronics Show, Samsung revealed their next big thing in ultra-sharp, ultra-colorful television technology. That was QLED – a new brand for a tier above the past's OLED. When we saw the first TV panels with QLED (Quantum LED) technology up front, we were sure they'd end up costing a pretty penny. As it turns out – we weren't entirely incorrect.
As we saw at CES 2017, these televisions are exceedingly bright and colorful. Exactly how bright is quantified with a peak luminance between 1,500 and 2,000 nits. Detailing is provided by nano-sized semiconductor Quantum dots – deeper "inky" blacks than on OLED sets. As Chris Davies said earlier this year, "Honestly, though the buzzwords may be flowing freely, it's hard not to be impressed by Samsung's 4K quality."
Above you'll see one of the flat screen QLED models from afar. Below you'll see a couple of curved models as well as another flat version a bit closer. It's difficult to describe the experience in seeing one of these TV sets in person – it's almost unbelievable. As if TV-bound display panels are being made so good, so fast, that it feels like Hollywood isn't prepared to bring on content worthy of the tech.
Purchase locations like Amazon and Best Buy are launching with Samsung to deliver a bunch of different sizes of QLED TV sets. There's a 55-inch Q7F 4K flat panel QLED TV set for $2,500 USD – that's the cheapest this line gets. There's a curved model 55-inch Q8C 4K model for $3,500, and a 65-inch 4K curved Q8C model for $4500.
• QN55Q7F Flat-screen 55-inch 4K QLED $2,500
• QN65Q7F Flat-screen 65-inch 4K QLED $3,500
• QN75Q7F Flat-screen 75-inch 4K QLED $6,000
• QN55Q8C Curved-screen 55-inch 4K QLED $3,500
• QN65Q8C Curved-screen 65-inch 4K QLED $4,500
UPDATE: Above is a list of the 5 models made available by Samsung as of this morning. We'll expect additional models in the near future – but for now, this is it. Look like a collection of prices with which you'll be able to get onboard?